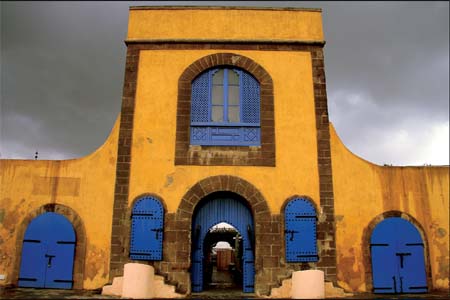 Charms of Casablanca
Issue 60 September 2009
Rambling around the boulevards and beaches of Morocco's largest port, Joseph Downing discovers an extraordinary gem perching on the edge of the Atlantic ocean.
Immortalised in popular imagination by Humphrey Bogart in the film of the same name shot in Florida and bypassed by most tourists that flock to Morocco, Casablanca (or Casa to locals) is a city with an image problem. However, the real travellers and the guidebooks are starting to sit up and take notice of Morocco's Art Deco inspired, vibrant and buzzing commercial capital. Those that do make it are in for a real feast of culture, architecture, cuisine and trademark Casa atmospheric moodiness.
It was during a stay in Marrakech that my wife and I decided to go on the hunt for a bit of "real Morocco" and boarded the Casablanca Express. Our expectations were filled with images of Humphrey Bogart, Ingrid Bergman and the rest of the cast of lovable rogues conducting all kinds of clandestine business in the smoky and ever full Rick's Café Americain. However, we both knew that this was a film shot thousands of miles away in Florida, so would these images have any bearing on reality? Also, the guidebooks were conflicted. My 2006 edition tried to politely pan the city, while a 2009 version was full of praise for Casa. Who should webelieve? The only way to find out was to go.
It was with some trepidation that we stepped from the train as it pulled into Casa's long haul station, Casa Voyagers. As we left the station and began to feast our eyes on the faded Art Deco grandeur of a city almost exclusively painted white, the atmosphere was electric. Grand café terraces full of people drinking mint tea, snappily dressed men going in and out of saloon doors of buildings that would not look out of place in Cannes or Nice, and all the time that feeling that you are close to the sea. It felt like we had been transported back to 1930s Algiers and had a view on a different world.
It turns out that this level of French influence is not surprising given Casablanca's history. Inhabited since the 7th century, Casablanca was a modest port and sometime home to pirates with a population of 10,000 in 1880. After the arrival of the French, the population exploded and by 1920 had reached 110,000. The city is laid out fairly logically in grand boulevards that all lead to the Place des Nations Unies in the centre of the downtown area. Added to this, the abundance of cheap taxis (bargain hard) mean that nothing is impossible to get to within 15 – 20 minutes.
Our exploration of Casa began in the old French built downtown area next to the Art Deco Cinéma Rialto, designed by French architect Henri Prost. This district radiates south and east from Place des Nations Unies and while this is an area purported to have no sites, scratch below the surface and it has plenty. Its mix of Art Deco, Spanish, French and neo-Moorish architecture is a constant architectural feast which downtown Casa freely dishes up. Every street explored, every corner turned gives up another faded Art Deco jewel, most of whose stories will remain unknown. The hotel Lincoln is an amazing example of this, especially when viewed from the snack bars across the road at the Marche Centrale where you can get possibly the best brochette sandwich and chips for less than £2. After this, the charming pedestrian area of downtown makes an excellent place to stop for a mint tea and coffee and watch Casa speed past in all its glory.
The Parc de la Ligue Arabe is next on the list, which is the city's largest park and faces onto the Cathédrale Sacré-Coeur, which is not only a stunning example of Neo-Moorish architecture, but also contains some amazing stained glass windows. Due to its erratic opening times, a few dirhams carefully placed into the hands of the caretaker means one can see it all alone. Almost hidden behind gates not a million miles away geographically, but a universe away architecturally, is Casa's small old medina. While nowhere near as grand as the medinas of Fes or Marrakech, the medina in Casa is nothing if not real.This is what the hidden streets of Fes or Marrakech are like, with their gated riad houses, small workshops and little stores selling everything from car parts to CDs. The area has undergone a renovation programme in recent years, which has included the restoration of its impressive walls and colonial era clock tower. Exiting the medina one has the option to move out onto the main sea road next to the port that stretches up to Casa's best known attraction. As we left the medina, we could see the impressive Hassan II Mosque. Built on reclaimed land, with over half of its structure sitting on tthe edge of the Atlantic Ocean, it was inspired by the Qur'anic verse, "The throne of God was built on water". It has the highest minaret in the world and is the third largest mosque behind after the Masjid al-Haram (Grand Mosque) of Makkah and Al-Masjid al-Nabawi (Prophet's Mosque) in Madinah. It was also remarkably designed by a French architect, Michel Pinseau, and incorporates many modern features such as retractable ceilings and heated floors. Bar some white granite and glass chandeliers from Italy, all the marble, wood and plaster originates domestically, with over 6,000 Moroccan craftsman working 24 hours a day to complete the project between 1986 and 1993.
"The mix of Art Deco, Spanish, French and neo-Moorish architecture is a constant architectural feast which downtown Casa freely dishes up."
It truly is a grand spectacle – the cathedrals in St Petersburg or Paris can fit inside – and one that gets better with every detail. The mosque was so impressive, in fact, that I found myself unable to take pictures, as they could not do justice to such a thing of beauty. From the intricately painted ceilings to the marble floors and the beautifully tiled hammams in the basement, it was a feast for the senses. What most struck me, however, was that this was all still possible in the 20th century. I have often found myself at an ancient Muslim monument or Italian cathedral and wished that such feats of architectural excellence were possible today, and that we weren't just limited to glass and steel.
The proof here is that it is possible, and shows beautifully the most striking feature of Morocco as a whole: its ability to effortlessly blend the old with the new, the foreign with the domestic, the Islamic with the non-Muslim. The fact that the commissioned architect was French is another testament to this, and this is a building all Muslims should visit, celebrate and hold up as an example of the truly tolerant nature of our faith.
Casa is unique for also containing another fascinating blend of modernity and tradition, the charming Cartier des Hobous. A short taxi ride from the city centre, Cartier des Hobous or the "new medina" is unique in the Muslim world for being a new section of a city, built in the 1930s, but modelled on the ancient Arab medinas. A brainchild of the French, this area was built to solve a chronic housing shortage in Casa, and aimed to marry the best aspects of traditional Arab building with modern facilities and innovations. The result is charming, and is the most considerate and well-built modern district of an Arab city I have ever seen.
Perhaps the most beautiful example is the old Mahkama du Pacha, which is now being used as a town hall. A large building that flanks the main square, it is free to enter and wander around in. It is a tour de force of symmetrical arches, tile work and woodcarving, and is usually empty of visitors giving it a very serene and composed atmosphere. Also in this area is a true culinary gem, the Patisserie Beni Habous, with perhaps the best pastries in all of Morocco. Given the national obsession with all things sweet, this is a high accolade indeed, but the smell of real almonds as you enter, and the sublime and delicate flavours of the pastries confirm this. Their signature dish, however, is the famous pastila, which is composed of chicken, fish or pigeon with almonds, currents and spices wrapped in filo pastry, baked and served with a dusting of cinnamon and icing sugar. This traditional wedding dish is prepared freshly, and takes about an hour to make, but is definitely worth waiting for.
After all of this running around, we did what any self respecting Casa resident would do, and headed to the beautiful, sandy beaches near the Hassan II Mosque. It was poetic to end our visit to Casa in the shadow of its crown jewel. The views of people playing around on the public beaches and the impressive views out to sea were amazing. A tip for the future is that Casa's impressive sea front is undergoing one of the largest urban renewal projects in Africa.
When finished, its glorious stretch of coastline will be modelled on Nice in the South of France, with cafés, restaurants, leisure facilities and a grand promenade. Already the results are stunning, with the fresh sea breeze and open views making a welcome change from the hustle and bustle of downtown. For those who would like a more private experience, or for more female friendly bathing, check into one of the many beach clubs with private pools, changing facilities and beach huts. Also, jutting out from the mainland on a small island only accessible at low tide is the Shrine of Sidi Abderrahman.
Seemingly out of place in the middle of the sea next to North Africa's largest port, the shrine complex and the tiny medina-like neighbourhood that has sprung up around it, with its bright white walls, is a real treat, and perhaps one of the most unique shrines in the world. There really is more beauty in this city than it is given credit for, and should be a part of anyone's Moroccan itinery. Just bear in mind that Casa's beauty is not neatly packaged, and takes some effort, a few taxi rides and a keen eye to unwrap it.
The impressive Hassan II Mosque sits on the edge of the Atlantic Ocean inspired by the Qur'anic verse, the throne of God was built on water.
Places to stay:
1. Hotel Rialto
9 Rue Salah ben Bouchaib, near central market and next to Rialto Cinema. A midrange option with a nice bright central courtyard and amazing views of the famous Art Deco cinema Rialto across the road.
2. Hotel Terminus
Ave Bahmad, Place de la Gare, Casa- Voyageurs Station. Budget option conveniently located across from the main Casa Voyageurs train station. Staying here means you are a little removed from the action but you don't have to travel far wit luggage.
3. Hyatt Regency Casablanca
Place des Nations Unies, +21222431234 sales.casablanca@hyattintl.com. For those looking to splash out on some luxury digs, with some of the best views in the city of the Hassan II Mosque. Also well served with facilities, the hotel has a pool, fitness centre, several good restaurants and live entertainment in the evenings.
Things to do

1. Art Deco Walking Tour
Start off from Place Mohamed V and take in boulevard Mohamed V, Boulevard Moulay Youssef, past the Cathédrale du Sacré Coeur and up to Place Oued el Makhazine, with the pedestrian's portion of the city centre deserving some additional attention. Combined with plenty of tea breaks on the grand café terraces, it can't be beaten.
2. Pastila and Pastries
Patisserie Beni Hobous 2, Rue Fkih El Gabbas, derb Habous +21222303025. For the gourmets out there, pastila and pastries at Patisserie Beni Habous might not do any favours for the waistline, but it will be a meal never
to be forgotten. A calorie-burning after dinner stroll around the charming Cartier des Hobous will add the finishing touches.
3. Take a Hammam
Solidarité Feminine, 4 Rue Ahmed Chowki, Palmier 022992394. This hammam is not only one of the cleanest and best looking hammams in Casa, but is also a great place to be pampered while helping out local unemployed women. Run by a charitable collective, Solidarité Feminine offers training, education and employment to single mothers who might otherwise be marginalised in society.
Share this


Link to this
Printer Friendly