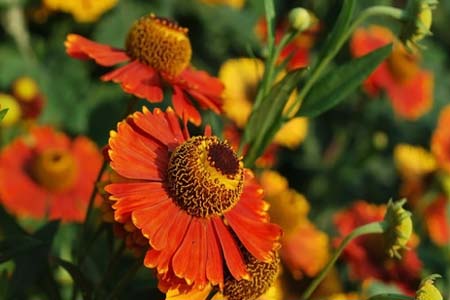 Good life Express
Issue 60 September 2009
Episode 18: Painting with Flowers
The colours you choose can make all the difference to the feel of a garden, Sarah Joseph looks at some of the colour options.
When we started sorting out our garden, our issues were about clearing out the junk and putting in some shape. We shifted bags of stones, metal, builder's debris and weeds out of the garden; and soil, grit, manure and coarse sand into the garden. Then we started experimenting with vegetables and herbs in our raised beds and with fl owers reserved for pots and hanging baskets. Now we need to take the garden to a di erent level, and just like you might when you want to decorate a room, we are beginning to think about colour palettes for the garden.
Carnival
Just like the wonderful fl oats at a carnival, the carnival garden palette is a riot of colour. There really is no colour which is off limits, as pinks, reds, oranges, yellows, blues, and purples combine to bring about a cheery festival feel.
Fairy Delights
I grew up reading the Flower Fairies by Cicely Mary Barker. If you did too then you will know that every flower has its own fairy, however I still associate fairy delights with the soft blossom flowers. If you want a fairy colour palette then it has to be soft pinks, lilac and delicate blues.
Serenity
If you want your garden to be a place of peace and tranquillity then the colour palette of choice will be white. Of course nature, like Dulux paint, has a whole array of whites, from bright white to lemon white, to apple white, to rose white – ultimately white with a hint of...
Sunshine
If you want to bring a smile to your face, then consider bright yellows which will provide a touch of sunshine in your garden. Yellows can range from very pale to strong and vivid. If you are after the sunshine effect then choose from the darker end of the spectrum, and blend with oranges to give a bright warm glow to any corner of your own patch of rural bliss.
Autumn Collection
Your colour choices can be seasonal, so do not feel limited. You may have serenity in spring, carnival in summer, but autumn brings with it a change that leads to the rich rustic colour palettes. Warm and rich oranges, deep yellows and burnt umber will form the backdrop to this selection.
Share this


Link to this
Printer Friendly