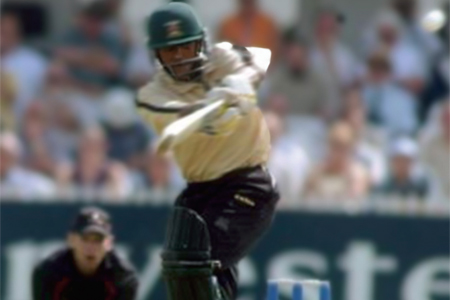 Hitting Sixes, Praying Fives
Issue 4 Mar / Apr 2004
Bilal Shafayat, at 19, is poised to become England's next Anglo-Asian Test batsman. Bilal was selected for the England A team who are currently on tour in Malaysia and India.

All 14 players originally selected in September for the ECB National Academy's programme this winter have been included, along with the Kent batsman, Ed Smith, who made his Test debut against South Africa last summer. The chairman of selectors, David Graveney, said "This is a fantastic opportunity for England A and we are very grateful to the BCCI (Board of Control for Cricket in India) for allowing the team to compete in India's main domestic competition. Having discussed the composition of the squad with Rod Marsh, we felt that the squad would benefit from the tour of India and will give Bilal Shafayat the ideal opportunity to further complete his development as a player."
The tour schedule will see England A play three one-day matches against India A as well as participating in India's first class competition, the Duleep Trophy. There are particularly high hopes for Bilal Shafayat, who has been hailed as "a teenage prodigy" by many cricket pundits. According to Academy chief Rod Marsh,"Bilal Shafayat is something different."
Shafayat is a cavalier cricket watcher's dream. He has the wrists of gilded youth, winged feet and breathtaking strokes. But he also displays maturity in his judgement of length and has the added benefit of light footwork while possessing the all important sporting elixir, namely mental toughness, and that elusive English cricketing quality - confidence.
His England Under-19 coach Paul Farbrace calls him an "unbelievable talent, as good a cricketer as has come through our system. The only question is where does he go now. I would like to think Test cricket." Two years ago Shafayat became the youngest debutant for Nottinghamshire in the County Championship, making 72; last year the youngest centurion. He was only the second Englishman to make two centuries in an Under-19 Test, and then last winter led England to their first ever U-19 Test victory in Australia, chipping in with seven wickets and 174 runs. He is an extremely talented allround cricketer and his medium-pace bowling and solid wicket-keeping ability are both useful additional skills to his credit. He rarely fails to make runs, particularly during crucial situations for Notts.
"I feel very good about my game, very positive," he assures me. "I would like to play for England as soon as possible." I hope to be doing so within a year, or earlier if God wills it to happen for me."
Shafayat possesses the exuberance and confidence of a youth and is single-minded in his passion for the sport. He even turned down a place at Loughborough University so that he could concentrate on his cricket. Ask him his strengths and he answers that it would be easier to mention his weaknesses. His boldness is palpable. "I just want to go out there and break records and do something that other people haven't yet been able to achieve," he breezes.
Shafayat was also a talented footballer, and underwent junior trials for Nottingham Forest. Does he ever regret giving up football to pursue cricket? "We're aware what cricket is when we choose it," he explains. "We know they come for the love of the game and we play for the love of the game. I couldn't see myself training every day for football but cricket is something I enjoy, and I have played for nine years without ever wishing I was doing something else."
Shafayat's parents, who immigrated from Jhelum in Pakistan before any of their children were born, travel and watch most of his matches with the enthusiasm of proud parents and fanatical cricket fans. His father Mohammad was a bus driver who retired 10 years ago as a result of ill health and decided to spend more time with his children. Bilal was born in Nottingham on July 10, 1984 and as the youngest he fell under the fatherly eye. "He is still a boy, there are things I can help him with," Mohammad Shafayat says. "I want him to be a good human being and a good British citizen as well as a good cricketer."
Bilal's parents, his older brother and two older sisters could not be more supportive of their sporting sibling's cricketing ambitions. "They've been so supportive and my dad accompanies me everywhere and I thank God for that."
Bilal is committed to his career yet as a Muslim he is careful to maintain his faith and continues to study the Qur'an at his local Nottingham mosque. "The best way of describing Islam is that it is a complete way of life, more than people usually perceive a religion to be. It keeps your feet on the ground, teaches you everything in life that you need to know. It moulds you into a better human being. It builds bridges between other faiths. I don't drink and I perform my prayers regularly." "In cricket I would like to be even better than my hero, Sachin Tendulkar. Imran Khan has also been very inspirational in my life. As a cricketer he has broken records, accomplished himself as a fast bowler, proved himself to be a fine batsmen. He is an all rounder and more importantly, is a great ambassador for his country."
Bilal is bullish when contemplating facing up to the menacing speed of Brett Lee or Shoaib Akhtar. He has no doubt that he can cope with the psychological pressure of playing with the world's best? "Why not?" he says without hesitation. "I would back myself 110 per cent." And why not indeed. Bilal's ability as a Muslim and as a cricketer paves the way for a bright future for cricket hopefuls in England.
Share this


Link to this
Printer Friendly