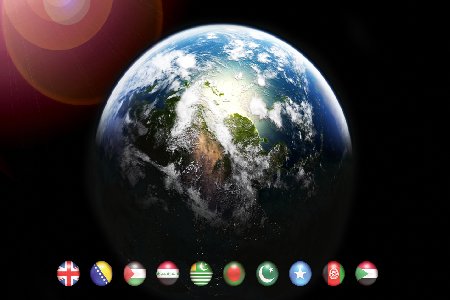 Around the World in 10 Iftars
Apprentice Stars Serve 1000 Meals for the Homeless
On Friday, 11 September 2009, former stars from the hit TV show, The Apprentice, will be teaming up with IF charity and other aid organisations including The Salvation Army, to share a Ramadan IFtar meal (breaking of the fast) with London's homeless.
People from all communities are invited to attend the event called 'Around the World in 10 IFtars', which takes place in East London's Altab Ali Park - to raise awareness about homeless communities around the world.
Former Apprentice celebrities, Tre Azzam, Shazia Wahab, Majid Nagra and Syed Ahmed will be donning their aprons and chef hats to help serve large quantities of biryani (rice and chicken), prepared for over 1000 local homeless people.
Local MP George Galloway and Baroness Pola Uddin will be speaking at the event, alongside the Mayor and Leader of Tower Hamlets, Councillor Ahmed Omer and Lutfur Rahman (respectively).
George Galloway said "Around the World in 10 IFtars is a wonderful opportunity to recognise the plight of homeless people in our own city. Over the subsequent nine days, 1000 IFtars will be provided around the world countries affected by conflicts or natural disasters, including Sudan, Bosnia, Palestine, Afghanistan, Kashmir and Bangladesh."
Highlighting the plight of homeless people in the borough will be Kathleen Isaac from homeless charity, Thames Reach, and Deborah Whittle from local shelter, Hopetown - part of the Salvation Army.
Other Ramadan delights being dished up on the day include samosas, pakoras, Indian sweets and an exotic fruit salad. The meal will be served at sunset; with any remaining food distributed to various homeless shelters around the Capital.
Entertainment will also be provided, with exclusive live performances from artists including Muslim hip hop group, Mecca2Medina, Abdullah Rolle and British stand-up comedian, Prince Abdi.
· IFtar 10 000 – Around the World in 10 IFtars will take place in association with Islamic Relief, Muslim Aid, Muslim Hands, Islamic Help, Muslim Charity, Human Appeal and Interpal.
· Homeless charities and shelters supporting the BIG IFtar include Thames Reach, Whitechapel Mission, Salvation Army (Hope Town and William Booth House), LA Aldgate and Providence Row (Dellow Centre and Hackney Road).

For more information visit http://iftar.ifcharity.com
Share this


Link to this
Printer Friendly