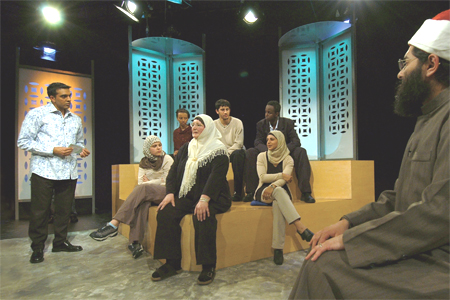 behind the scenes with Shariah TV
Issue 5 May / Jun 2004
First featured in issue 5 - May/June 2004
Click here to go to the Issue 5 archives
Shariah TV is a radical new programme both for and about Muslims.

These were the words used by Aaqil Ahmed to describe this new and revolutionary programme. Aaqil is the Editor of Religion at Channel 4 and responsible for the commissioning of this five-part series.
Muslims in Britain are accustomed to being placed under the microscope when programmes are made about them - programmes which seemingly intend to enlighten wider society on the peculiarities of the faith. Shariah TV is a groundbreaking series that seeks to provide Muslims with a platform on which they may obtain much needed advice on Shariah matters.
Recording of the show was preceded by a year of planning and a pilot programme before the final go-ahead was received from Channel 4 for its production. A great deal of thought went into creation, and quite vitally, Muslim involvement in the planning stages was paramount.
I went behind the scenes of the shooting of the first programme which focused on 'Consumerism'. There were four panellists to answer the sometimes challenging questions, and 20 audience members. The panellists were: Mr Mohammed Paracha, a solicitor with city firm Norton Rose who is also part of the Bank of England Working Party on issues such as Islamic mortgages. He was called upon for his expertise in finance and Shariah; Ruqqayah Waris Maqsood, a writer and expert in Islamic family law matters. Sheikh Ibrahim Mogra and Imam Shahid Raza, both from Leicester mosques and each possessing expert knowledge on all areas of Shariah law. Each was highly positive about the programme and had differing reasons for their involvement.
When scoping for panellists, over 80 scholars across Britain were consulted to gage interest in, and the viability of, the show. The response was mixed, but mainly positive. As many Muslims will understand, there was a need to identify a spectrum of scholars to represent the wide ranging views of Muslims in Britain.
I spoke to each of the panellist to understand what prompted their involvement in this project. Imam Shahid's concern was the challenge faced by younger generation British Muslims. He hoped to answer some of their many burning questions, stating that, "some of the current issues faced by Muslim society may have more than one answer or solution, so to deal with these in the presence of more than one expert or scholar will help the audience to understand the matter clearly and they will be able to get the endorsement on various opinions from more than one expert."
As the programme got under way, it was clear that there were indeed many differences in opinion between the advisers; however, the broadness of Islam means that as long as the opinions were appropriately backed up by Qur'an or Sunnah, they were valid. Imam Shahid was also concerned that divisions should not arise due to different opinions, explaining that "the purpose of the programme is not to have conflict in the community". He continued, "there is a long history of diverse opinions in Islamic law in theology and fiqh. That is acceptable in Islam." Different opinions will arise but it is clearly up to the Muslim community to ensure it does not create unease in communities.
Mr Paracha agreed to participate in order to share his knowledge of Islamic finance with a generation of people to whom it is becoming an increasingly important factor in their lives. With the development of various Islamic finance initiatives, managing finances in a halal way has never been more open. Mr Paracha stated that he wants to "bring awareness of Islamic finance to the people of the UK." He recognises that for Muslims, conventional banking had become a part of life, however, there are more products now catering for Muslims which Mr Paracha wants to highlight. Sheikh Ibrahim Mogra encourages Muslims to become involved in the media, "Muslims complain about the portrayal of Islam in the media but they fail to understand that to have a positive image they must interact with the media." Shariah TV is an ideal opportunity to do this as it allows Muslims to demonstrate to wider society what it is like to live as a Muslim in British society and the challenges that are faced in staying true to Islam as well as fulfilling the wider needs of individuals in this society.
He explained how Islam is usually viewed as a strict religion with a long list of do's and don'ts. The reality is that it is not a religion plagued with difficulties. It simply facilitates an easier life in this world through the code of Islam, which is organised and disciplined. Sheikh Mogra views Shariah TV as a perfect opportunity to convey this.
Ruqqayah Waris Maqsood is firmly in favour of "moderate Islamic programmes". In her opinion, anything that is an accurate and true portrayal of Islam is positive.
Every possible step has been taken to ensure that Shariah TV is relevant to Muslims. Ajmal Masroor, a prominent London Imam is a consultant on the programme. He expressed his belief that "it is about time we challenged the stereotypes of Muslims," and he believes this programme will appeal to both Muslim and non-Muslim audiences. The producers of Shariah TV soon realised they had undertaken a huge task and as Ajmal explained, they always felt the need to balance Shariah depth with language that is easy to understand.
"The purpose of the show is to answer challenging questions that most young Muslims face today but who do not have access to scholars in order to ask them. These questions will be answered for Muslims and also non-Muslims," Ajmal is confident.
Many Muslims are sceptical of pre-recorded programmes due to the distorting powers of the editing room and the resultant unfavourable impression of Muslims that have frequently occurred. Ajmal encourages greater trust in this production because of the involvement of Muslims in all stages of planning.
While many Muslims were in favour of the programme, the number willing to participate was not as great as Nadia Khan, a researcher on the programme hoped. She explained that there were many people with personal questions who were very reluctant to come on to national television to discuss them. Others expressed scepticism about the show, and were of the view that so many different opinions would simply spread more confusion in people's minds.
During her research, Nadia spoke to young people who had made mistakes such as becoming pregnant before marriage and some who professed to be 'gay'. However, none of these people were willing to take part in the show.
So Rahman, was chosen to present the programme and was involved in the show from the pilot stage. The producers clearly understood the importance of having a Muslim presenter who comprehensively understands the issues. From So's experience, many non-Muslims who have contact with Muslims, especially children, tend to hear all the prohibitions in Islam without understanding the reasons behind them. He felt that the programme would help to, "dispel many myths".
The topics to be covered by the five part series includes:
Perceptions
Consumers
Family
Citizenship
Faiths Encountering Islam
Each is then subdivided into further specific areas.
The questions asked in the 'Consumer' programme included:
Can Muslims go to pubs if it is required by their professions to socialise in this setting?
Is organ donation halal?
If food is marked with a 'suitable for
vegetarians' sign, does that automatically make it halal?
Are mortgages halal?
Is it permissible to take out a student loan?
To find out the answers to these and many other questions, tune in to Shariah TV. The series begins on Tuesday 27th April 2004, 12.00am, Channel 4. And don't forget to give your feedback to Channel 4 in order to encourage future productions and push towards prime time airing.
Share this


Link to this
Printer Friendly