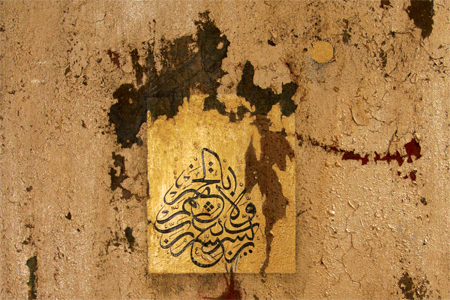 Art with a conscience
Issue 5 May / Jun 2004
First featured in issue 5 - May/June 2004
Click here to go to the Issue 5 archives
Islamic art is rising like a phoenix from the ashes of its past life to be reborn as rich and alive as before. The renaissance is the collective attempts of innovative work by British artists such as Vaseem Mohammed who combine classical and post-modernist styles to appeal to the audience of today.
Starting off with virtually no artistic background, Vaseem has come a long way to establish himself as a renowned British Muslim artist. "I come from a retail management background but I got bored with it so I left. I ended up doing a foundation course which then opened up so much for me. I spent one year on my own basically just painting and experimenting." Vaseem embarked on a year long course at Tower Hamlets College where he focused on graphic design to teach him the essentials.
Vaseem's individuality came through at the early stages of his teaching when he refused to conform to the standard and style asked of him. "When I was doing my art and design course my teachers couldn't help me. I was very stubborn, they used to say you can't do that and I never used to listen to them." Vaseem felt a void in the teaching he received due to his interest in Islamic art and culture. "I needed someone to guide me and eventually I met an amazing Sudanese man who was a 70-year-old master calligrapher who could do exactly this." His guide was Osman Waqiallah, a revered artist whose work is displayed in the Vatican. Osman nurtured Vaseem's talent for calligraphy which is now a trademark of his paintings.
Initially Vaseem's work was experimental and it is due to this exploration of techniques that an individual, striking style has emerged. Vaseem's work has two distinct characteristics. One uses calligraphy as the heart of the piece juxtaposed on top of modernist, abstract style work. In his own words Vaseem describes the calligraphy as, "a representation of Islam's stability and presence in an ever-changing world."
Vaseem draws heavily upon his childhood experiences living in the East end of London in the 1970's. "Those memories inspire me; dilapidation, paint peeling off and things like that. In my parents house, which was over a hundred years old I used to peel at the wall paper, as children do, and there was decades of wallpaper there, layers and layers and subconsciously I started using that in my work."
The surrounding work is done in layers using acrylic and gouache producing different textures and forms. "I keep stripping the layers of paint and eventually there comes some sort of an order. It is symbolic of the environment and the state of the world today. There is so much beauty in the world created by Allah and then there is man's destruction of it, whereas the calligraphy always stays intact like the Qur'an. The text is always the same and that is to illustrate that the Qur'an is always constant whereas the world is ever-changing and evolving."
The art of calligraphy was favoured in Islam to figural images to convey its core conviction of the use of figural arts as possible idolatry. Islam's theocracy then looked to calligraphy for religious expression. Vaseem made a conscious decision when embarking on his career to abstain from using animate images in his work in accordance with this. He found that rather than restricting him in his work this opened up avenues for artistic expression by urging him to experiment with abstract styles. The use of calligraphy in Vaseem's work adds an abstract beauty which draws the eye to the heart of the painting and gives it a depth of meaning.
The calligraphy used is varied and each painting has a complimentary style and design to fit in with the ethos of the piece. Kufic calligraphy has been used in both the traditional and ornamental styles along with the more elaborate Thuluth and oriental Sini styles. The style is chosen depending on the theme of the piece and for its aesthetic beauty. In each case the relationship between the inscriptions and the disorder of paint produces an effect on the viewer urging them to question and understand the complexities of the piece and its message.
Vaseem's path to artistic expression was intertwined with his path to Islam. "I became more aware of Islam at the same time as I got into art. I guess one thing leads to another. It was first an interest in Islamic heritage and the arts as opposed to the religious side, which eventually came later." His work has a political message along with a religious sensibility and is representative of world events occurring at the time. Vaseem hopes for his work to expose a wider audience to Islam. "I work firstly to bridge the gap between Muslims and non- Muslims. Also it is another window introducing people to Islam. As well as what is happening at the moment and in the past, I've found it is a good way of attracting people and engaging them, in debate and discussion especially.
Architecture is another distinct feature of Vaseem's paintings. The walled cities he paints incorporate the trademark domes, arches and intertwining alleyways that are a signature of Islamic architecture. The paintings were inspired by a trip to Multan, a walled desert city in Pakistan. "There are many saints and monuments in Multan. These (the paintings) are views of the city showing how light works with architecture. It forms my own interpretation and it's just done, it isn't drawn out. I carve them out and use light and dark, very much like trying to take manuscripts and putting them in different elements and contexts."
The paintings share an expression of isolation yet also represent a global community. This is indicative of Vaseem's own feelings of isolation both amongst the western and Islamic community. The walled cities are often mistaken for paintings of Morocco and other countries with Islamic heritage showing the unification of the architecture and Islam. Architecture in Islam tends to follow certain decorative principles which span all buildings and objects. The same ideas forms and designs recur across the Islamic world which prevail differences in art quality and execution of style explaining the familiarity of Vaseem's paintings.
During his early career Vaseem exhibited his work at Spitalfields market in the east end of London before eventually opening his own gallery nearby. These days he works on commissions as well as private work. He has just finished a commission for an MBI international private jet which involved a set of complimentary paintings. He has also produced props for a forthcoming film called Redlight Runners. The film is being directed by Michael Madsen and the story involves the forgery of a ninth century Qur'an which Vaseem was commissioned to reproduce. This involved learning staining techniques to age the Qur'an and detailed study of calligraphy in that era resulting in a masterful replica.
Vaseem plans to travel further afield for inspiration and to exhibit his work. "My future plans are to go to the Middle East and Saudi Arabia to exhibit in a gallery called Zamzam, one of the biggest galleries in the region. There is a client of mine who is going to take me over and I am hopefully going to do some work for the Saudi royal family."
Vaseem is introspective with regard to his inspirations. He prefers experiences, emotions and situations which affect him personally rather than taking inspiration from other artists. "To be honest I don't really look at much art, I just do my own thing, and I've always been like that. I refer to books but most of my stuff is kind of experimental."
There will be an opportunity to view Vaseem's work in an exhibition being held in the Business Development centre (opposite East London mosque). His work will be exhibited along with other Islamic artists as part of black history month in October. The collection will include arts as well as crafts from young British artists focusing on Islam and is sure to be well worth the visit.
For further information on Vaseem's work you can contact Vaseem Mohammed on vas_mohammed@hotmail.com.
Share this


Link to this
Printer Friendly