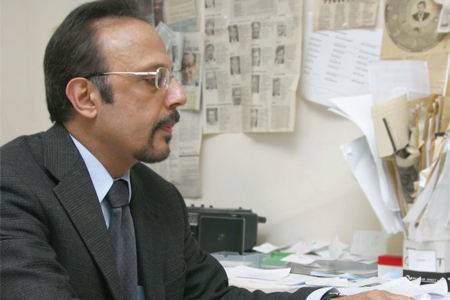 A week in the Life of Ahmed Versi
Issue 5 May / Jun 2004
First featured in issue 5 - May/June 2004
Click here to go to the Issue 5 archives
Ahmed Versi is the versatile editor of Muslim News, arguably the UK's first national Muslim newspaper. He discusses the fast-paced world of newspaper journalism with Anfal Saqib as well as the diverse interests that make up his typical week.
There is no such thing as a typical day or week in my life; working for Muslim News means that at any moment a single telephone call or alert sees me re-shuffling my entire schedule for a good story. Today, for example, I re-arranged for the emel photographer to meet me in South Kensington rather than here at the Muslim News office as an opportunity arose this morning to interview one of the most senior female advisers to the president in Iran and this is a constant example of what happens.
I divide my time between my role as editor of Muslim News and work with my local community in Harrow. I am a pharmacist by profession and work as a locum part-time when I have the opportunity.
Generally I arrive at the Muslim News office at 8.30 am and skim over the daily newspapers, tabloids and broadsheets - including weeklies, the ethnic minority press and faith publications to get a feel for the tone and nature of the day's news. I will then work through my emails and spend some time updating the Muslim News website, which I do several times a day, making it the Muslim community's most up to date location to access news. With 1.5 million hits every month it is in fact the most well-used Muslim News resource, attracting a range of readers from 16-60!
I always endeavour to make Muslim News, which has been freely distributed for the past ten years, stand apart from other ethnic minority publications – we have always featured articles that are not necessarily reported elsewhere. We have our own network of news gatherers but as Muslim News relies wholly on volunteers, as editor, I sometimes have to undertake tasks that other editors would not always do – such as the newspaper's accounts for example, or arranging distribution, securing advertising as well as writing news and conducting interviews.
I have recently returned from a trip to Oman where I attended the executive meeting for the Muslim Women's Olympic games. I was elected vice president of the Islamic Federation of Women's Sport, the organisation that oversees these Olympic Games. We meet three times a year in locations across the Islamic world and are currently planning for the next games in 2005. Of course, the games themselves are conducted in a strictly female-only environment including coaches and referees and no photography or footage is taken except during the opening and closing ceremonies and when medals are awarded. These games take place every four years and it was in October 2001 that a case was proposed for Muslim women from non-Muslim countries to take part and so, at very short notice, a team from England competed for the first time in both Badminton and five a side football. The team received a standing ovation. What this really brought out – bearing in mind that the games took place in Iran shortly after the attacks on September 11th, was that the UK flag carried by the England team did not invoke any anti-British feeling and through this example I am convinced that Muslims in Britain have a key role to play in bridging the gap between the eastern and western world.
The Muslim News 'Awards for Excellence' which take place annually also take up a considerable amount of my time. They are increasingly more high profile and it is essential that the panel of judges represents the diversity that exists within the Muslim community in Britain. Plenty of attention is given to detail, from the seating arrangements down to ensuring that the person doing the Qur'anic recitation and the compere all serve to break the most common stereotypes about Muslims and particularly Muslim women.
Muslim News is a monthly newspaper so I normally spend the last Friday of every month writing the editorial. The week before we go to print, we select the most relevant national and local stories that have been collected over the preceding month. As long as they have not been reported elsewhere, it doesn't really matter if they are printed a few weeks later.
I would say that as it has developed over the years, Muslim News has accomplished a considerable amount – the newspaper has contributed to forming a religious identity, acting as an umbrella for a diverse range of ethnic groups. The paper has also changed stereotypes through its choice of language as a medium of communication. On weekends I am quite heavily involved in work with my local community – either through delivering talks to young people, discussing issues from current affairs to sport to Qur'anic topics. I also deliver classes in citizenship, helping young people to understand parliamentary procedures, elections and how the political system operates. I always encourage them to read newspapers to keep themselves up to date and encourage them to read these critically, identifying any bias, forming opinions and responding.
Building confidence is of huge importance so each week the young people take it in turns to present a news item, which boosts a host of other skills including effective communication both written and verbal, being persuasive, arguing a point and being objective.
I like to spend one day a week on weekends, with my family and also dedicate some time to keeping fit. I play badminton and football, or go swimming and certainly enjoy a game of cricket!
Being a pharmacist by profession, I finance myself through locum work - and this takes up the time I do not spend doing work for Muslim News. Luckily it is quite flexible so I can adjust it according to my other priorities – and so far it has worked out well.
Share this


Link to this
Printer Friendly