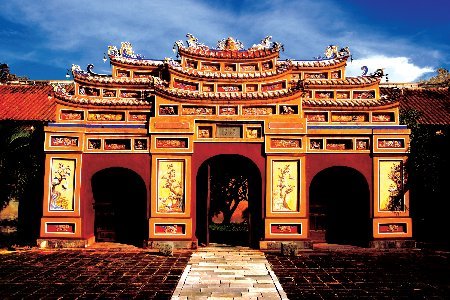 Voyage to Vietnam
Issue 61 October 2009
Though tainted with the image of war, in reality Vietnam is graced with remarkable natural beauty and a thousand hidden stories. Nabeel Osman journeys to sample a holiday destination with a difference.
Occupying the eastern coastline of the South East Asian peninsula, Vietnam is bounded by China to the north, by Laos and Cambodia to the west, and by the Gulf of Tonkin and the South China Sea on the east and south. The energetic, traditional cities, tranquil coastlines, breathtaking scenery, overwhelming history, culture and variety of people makes Vietnam one of South East Asia's best kept secrets. It is quite clear that Vietnam is on its way to becoming a tourist hotspot. Indeed, I myself stumbled into Vietnam on the enthusiastic recommendations of fellow travellers in Thailand and Cambodia. I was not disappointed.
This beautiful country has managed to maintain its charm despite the rapid increase in the number of tourists over the past decade. Whether it is a family holiday, honeymoon, travelling with friends or a solitary adventure, however long you spend in Vietnam, you'll only leave wanting more. Much more. Many westerners still imagine Vietnam through the lens of war; it is in reality a country filled with captivating natural beauty and serene village life. Its islands and beaches are among the finest in South East Asia.
Over two decades have passed since Vietnam was officially united and during that time the wounds of Vietnam have undergone a remarkable healing process. If you are fortunate enough to visit this land, I can reveal some of the key places to centre your Vietnamese adventure around. These places offer a taste of all the different flavours Vietnam has to offer.
Ho Chi Minh
The largest city in Vietnam is Ho Chi Minh, formerly Saigon. In the early 1990s, the government encouraged foreign investment, and with recent policies, trade agreements, and treaties Vietnam has been positioned for peace, growth and prosperity in the 21st century. Those policies have worked in tandem with preserving the wealth of history that Vietnam has to offer. Much of that history can be found in this city. Previously known as the Museum of Chinese and American War Crimes, the War Remnants Museum is now the most popular museum in Ho Chi Minh and is very popular with western tourists.
This is a historical treasure chest of the Vietnamese war, providing an opportunity to find out the stories of victims of US military actions. Despite the relative bias of the exhibits, this experience illustrates the true brutality of war. What's more, the tunnels of Cu Chi are in easy reach from Ho Chi Minh. This series of connecting underground tunnels is part of a much larger network of tunnels that underlie much of the country. The Cu Chi tunnels were the location of several military campaigns during the Vietnam War, used by Viet Cong guerrillas as communication and supply routes. In these hidden tunnels were hospitals, food and weapon caches and living quarters for numerous guerrilla fighters. Part of the tunnel network remains open to explore. Provided that you are less than a size 34" waist (!), you can crawl around these tunnels and experience firsthand the ingenious features they boast. This is all part of a day tour, which teaches you a great deal about the unspoken Vietnamese war.
Dong Nai
In January 2006, Vietnam's largest mosque was opened in Xuan Loc, Dong Nai, just south of Ho Chi Minh City. Islam in Vietnam is now seeing a renaissance, with new mosques being completed. After the first Muslim envoy to Vietnam was sent in 650 CE by Caliph Uthman, centuries later during the mid-19th century, many Muslim Chams emigrated from Cambodia and settled in the Mekong River Delta region, bolstering the presence of Islam in Vietnam. The isolation of Cham Muslims in central Vietnam resulted in an increased syncretism with Buddhism, until recent restoration of contacts with other global Muslim communities in Vietnamese cities.
There have been substantial attempts by the Vietnamese Government to improve its image internationally. Restrictions on religious freedom have been eased and many different followings are emerging in harmony with one another. As a result, Vietnam is developing into a very cosmopolitan country.
Dalat
When travelling the country from south to north, many people break up their journey by stopping in Dalat. Dalat offers a cool climate set in mountainous regions which provide a wonderful retreat from Vietnam's hot weather.
This quaint village has a colonial French signature all over it with small wooden cottages, misty mountain tops and romantic pine forests. Dalat is great for outdoor adventure activities given its rocky terrain. I opted for canyonning (abseiling down waterfalls) during my stop over. The tour company collects you from your hotel, takes you to the rocks, trains you all day and then lets you loose on the waterfalls. This is quite a popular destination and there are lots of nice hotels, restaurants and cafés to cater for tourists.
Hoi An
From Dalat I went to Hoi An, an exceptionally well-preserved example of a South East Asian trading port.
The buildings and street plan reflect the influences, both native and foreign, that have combined to produce this unique heritage site. The city of Hoi An is one of the quietest in Vietnam. Cars are not allowed in the main streets and, unlike in the rest of the country, motorcycles do not blow their horns all the time. Many visit for the numerous art and craft shops, and for the tailors who produce made-to-measure clothes for a fraction of what they would cost in the West. Le Loi Street offers the best for this if you want quality. You can barter with the budget tailors and find yourself paying £30 for a tailored suit.
China Beach
On the periphery of this market town is the most unspoilt, endless white sand of China Beach. The main beach is officially around the Non Nuoc resort hotel. Locals say that the real China Beach is at My Khe Beach, about 5km north of the hotel.
China Beach extends north and south of the Marble Mountains (a popular tourist attraction). This is a trendy strip for beach activities like windsurfing, snorkelling, swimming and sunbathing, yet given its sheer size, it provides the ultimate resting point, where you will always find a quiet spot to treat like your very own private beach. There are lots of good places to eat in and around China Beach and in Hoi An. Vietnamese food is some of the most delicious you will find the world over. It has a slight variation on the standard Thai dishes you may expect, and you will often find restaurants serving cuisine from all corners of the globe. Menus generally cater for everyone's taste and the food is always very good quality and healthy. There are a handful of fresh seafood restaurants along China Beach offering different daily specials, likely to be fish caught that day. You will not be disappointed. And after dinner try Vietnamese coffee – it beats most coffee shop offerings the UK has to offer hands down!
Hanoi
After managing to find a cheap Air Asia flight, I journeyed from Hoian to Hanoi, the capital of Vietnam. Hanoi is considered the cultural centre of Vietnam, being home to the Temple of Literature, site of the oldest university in Vietnam. It served for more than 700 years as a centre for Confucian learning. In 2004, a massive part of the 900 year old citadel was discovered in central Hanoi, near the site of Ba Dinh square. The city boasts more than 1,000 years of history, and that of the past few hundred years has been well preserved.
On the more recent side of history, check out the modern approach to life in Hanoi: if you like designer clothing and accessories, you will absolutely love Hanoi's massive indoor markets. If you're looking for something a little more humble, there are always the outdoor stalls spread with the more affordable and cultural merchandise. Once you have soaked up all the city has to offer, old and new, it's time for a visit to
Ha Long Bay
Ha Long Bay Ha Long Bay is a few hours away by coach. You can go for a day trip, but I would thoroughly recommend that you go on at least an overnight trip, if not for two or three nights. From the marina, you will go out on what's called a 'junk' (a sleeper boat).
Ha Long Bay features more than a thousand awesome limestone karsts and islands of various sizes and shapes along the 120-km coastline of Bai Chay Beach. Its waters are host to a great top seven storeys: Thien Mu Pagoda of Hue, constructed in 1844 variety of ecosystems including offshore coral reefs, freshwater swamp forests, mangrove forests, small freshwater lakes, and sandy beaches. This is one of the most picturesque places in the world, especially if you have the opportunity to see both sunset and sunrise. Premium excursion providers arrange activities such as a cave visit and kayaking during your time out on the junk.
If you want photos: Vicente Guerrero Gimeno something more mature or privacy for you and your family, you can hire your own junk with a crew to take you out for the day. Ha Long Bay is a spectacular way to bring your visit of Vietnam to an end.
Planning your trip
As I first started to plan my trip around Vietnam, I read travel guides, looked on the internet and asked English-speaking locals so that I could make a suitable itinerary. In reality, you find that your itinerary writes itself. Upon arrival, you will be amazed at how easy it is to travel from one place to the next. I travelled from south to north, but met many people along the way who were going from north to south and then onto Cambodia.
The advantage of not planning your trip so rigidly is that when you find you want to spend more time in one place, there is nothing to stop you. I remember finding myself spending an extra three days in Hoian upon finding China Beach! Despite having more than two weeks to play with, during my visit, I felt I was on a squeezed time schedule. There is a lot I saw, but there is even more that I missed, such as the Cai Rang floating market and the Mekong Delta. Yet, to attempt to tell you all about what I saw in a short review of this vast country would be difficult; to tell you about all you could potentially see – impossible! Be sure to have a travel guide with you or at the very least research the areas you want to visit before going. Don't be afraid to ask the locals and other tourists for travel advice once you are there too.
Everyone is very receptive and welcoming. Have plenty of US dollars; the Vietnamese Dong can be useless in places and is very difficult to change back if you have any left over. This is truly a magnificent country, one which I would strongly recommend visiting sooner rather than later. Much of South East Asia has had its natural beauty, Vietnam still retains its charm. It is a great holiday destination which offers everything to make the perfect getaway: natural beauty, history, culture and above all, an opportunity to relax!
FACTS ABOUT VIETNAM

Caliph Uthman sent the first official Muslim envoy to Vietnam in 650 CE
Vietnam was colonised by the French in the 19th century
The Vietnam War occurred from 1959 – 1975, fought between the communist North Vietnam and the government of South Vietnam, supported by the US
75 million people live in Vietnam
Vietnam is the world's second largest rice exporter after Thailand. Last year it exported 5 million tonnes compromised by too many tourists affecting the development of land
.
Share this


Link to this
Printer Friendly