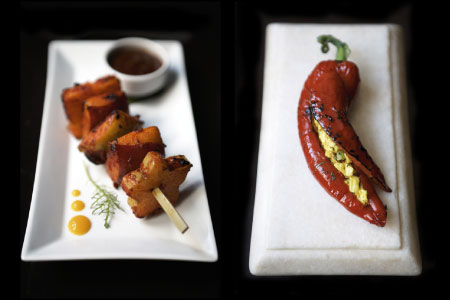 Cinnamon Kitchen & Anise
Issue 61 October 2009
Review by Remona Aly
9 Devonshire Square
London EC2M 4WY
Cinnamon Kitchen is a new concept in Indian cuisine which experiments in what it calls modern Indian tastes and fuses them with a European twist.
The restaurant itself has refrained from going all 'ethnic' on its interior decor. Though there are a few hanging lamps, its look is modernised, and it is more cramped than cosy as you weave your way in and out of the mass of tables within the main restaurant area. The open grill gives off a smoky atmosphere which adds to the experience, but if you want to enjoy more space, just outside there is a bright and airy dining area that gives a courtyard feel, ideal for summer evening meals.
Before I begin, I must give fair warning – the meat is sourced from different suppliers, so it will not always be halal. If you are a hardcore meat eater like my brother (who, when I cooked Vegetable Chilli once, sincerely asked 'But where's the dinner?') this will not satiate your carnivorous palate. But if, like me, you are trying to reduce your meat intake on considering how much meat is consumed by the Muslim community in the UK alone (Muslims consume an estimated 20 per cent of all lamb and mutton produced in Britain even though they make up just five per cent of the population), you and your vegetables can enjoy the higher moral ground with this menu.
My lamb eating companion was a little disappointed, but was willing to try out new tastes, and new tastes were certainly the order of the day as we sampled some quite unique dishes. For starters, we tried the minced vegetable kebab grilled with rose petals. Crumbling to the touch of your tongue, mixed with a small bite of chilli and the surprise of flower petals, this was a new taste bud sensation. To vary the texture of the starters, we also ordered corn soup and sweet corn kebab. The soup was delicate and light and felt like velvet on the tongue. It had just the right amount of sourness which worked well with the sweet corn.
For mains we opted for fish and enjoyed king size prawns and an authentic sea bream dish, the latter of which my companion confessed smelt like something her aunt would cook in Bangladesh. Authenticity aside, on first look the main courses did look slightly on the ungenerous side, but bulked up with a side order of spinach and broccoli, and realising yet again that our eyes are larger than our stomachs, our complaints were soon satisfied. The greens were gently cooked in cumin and garlic, simple but utterly delicious. The bream itself was fresh and not over-cooked and was decorated with whole zeera. The prawns – one of the steepest dishes on the menu in price at £20 – were perfectly juicy and tender. The prawns came with kedgeree, which for me was a little too 'ghee-ified' but was sensational for my companion. The chefs at Cinnamon Kitchen certainly don't hold back on the spices in this restaurant, which delightfully hit the back of your throat. To cool the fire of the chilli, we tried a cinnamon and pear cooler which was the perfect drink to complement the food.
Time for dessert, which offered an Indo-European twist, with our orders of coconut brulee, chocolate fondant with cardamom, and banana tartine with cinnamon ice-cream. All were refreshing, delicate and delectable, the perfect end to a perfectly meat-free meal. Only a veggie kebab's throw away from Liverpool Street, Cinnamon Kitchen is definitely worth a try.
Share this


Link to this
Printer Friendly