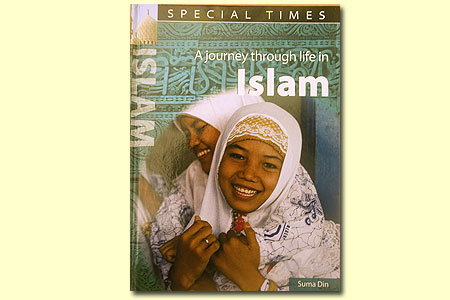 A Journey Through Life in Islam by Suma Din
Issue 61 October 2009
Review by Ayman Khwaja
One in a series of books exploring the six world religions: Judaism, Christianity, Islam, Buddhism, Sikhism and Hinduism, 'A Journey Through Life in Islam' by Suma Din is very much a key companion for a young child, curious about their religion.
With a fun, interactive layout and brightly coloured fonts, this publication is a perfect addition for the living-room bookshelf or a school library.
A wealth of information divided into the stages of life and worldly experiences ranging from birth and adolescence to marriage and death, this book provides a personal and sensitive insight into the intricacies of the Muslim lifestyle.
Brimming with large, colourful pictures, which provide a first-hand, tailored experience into the practice of Islam, allows children to comprehend the religion with greater ease. Fact pages listing a wealth of relevant websites serving as the best information sources on the religion act as the perfect conclusion for a curious mind.
A great 'over to you' section incorporated into the individual chapters of the book allow children to test their knowledge on what the book has taught them about Islam; a definite recommendation for the Religious Education curriculum, which is always seeking out the best in religious publications.
Share this


Link to this
Printer Friendly