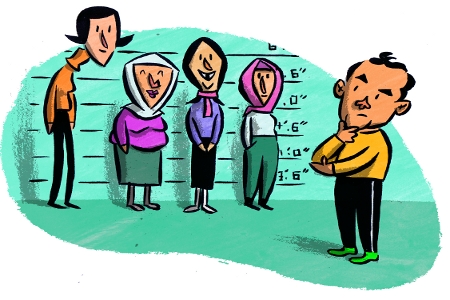 Love in San Francisco
Issue 61 October 2009
I thought I fell in love last week again. This time though, I realized what falling in love has always been each time my emotions have run through everything described in those Brazilian love songs about what it's like to be "lost and lonely believing life was only" this solitude, until the character in the song meets his beloved. I don't know the singer but at least in my case it's not love, and I think it would be safe to call it fixation, a specific form of infatuation that is neither a part of love nor a step towards true love.
I was at an 'Islam-in-the-arts' fundraising event in San Francisco where some college students were show casing new Muslim artists in spoken word and hip-hop in order to raise funds. I am the first to show support for any tasteful artistic expression, as much as I am the first to show up at any event where I might meet someone to get married. If I can get married and show support for the arts all in one day, that would have been a pretty accomplishing day I think.
So I went with two friends this time, Aisha and Zaid. I arrived at the hall, which was set up like an auditorium, and before I even began to network, I saw Aisha and Zaid standing inside at the appetizers table already onto someone – a really elegant professional-looking Desi or Arab girl with a headscarf. I walked up slowly, shot a quick glance at her hand to find that she was not wearing any kind of engagement ring, and proceeded to make my way into the conversation. "Who's that?" I whispered to Zaid. "Hey man salam alaikum where have you been ? Hey have you met Zahra? She's a friend of ours from college." First, why did they not tell me about her before? Second, why has every classy-looking Muslim girl I have fallen for had a name starting with the letter Z.
I introduced myself, and she responded with a winning smile and sincere look, and the conversation proceeded as expected, though it turned out she was one of the spoken word performers. She performed about an hour later reading out a rhymed prose piece about sincerity and keeping things real, by which point I had decided I had to pursue the situation. She was artistic, into the faith, had those sincere eyes and winning smile, elegant, in short everything I was looking for. I made sure we exchanged info. Two weeks later I had Aisha set up a meeting between the three of us at a coffee shop under the pretext of talking about grad school I talked to Aisha and Zaid about her who had nothing else to say for the following two weeks leading up to the meeting but "Oh Zahra is awesome, so cool, so religious, so funny, so artistic, so this, so that." We get to the coffee shop, she has that same winning smile and sincere eyes, and what's the third thing that comes out of her mouth to Aisha? "Did you see Noor at that event two weeks ago? Did you see how fat she got?? She was like a freaking whale man I couldn't believe it! I don't know Zahra sometimes in my performances I just wanna tell people to put the cookies down you know what I'm saying? Anyway…" And then she turned to me with that winning smile "Hey salams sorry I didnt say hi when you came in."
I think in a movie, this would be the part where the driver slams the break and the car comes to a screeching stop. Are you serious? And could she not at least wait until I was just not at the table to talk trash about whoever Noor was? Two weeks of anticipation and high hopes for this? Well, in her defence, I guess her poetry about sincerity and keeping it real hadn't quite made it into the sphere or sensitivity and respect yet, or at least she hadn't figured out what discretion was about. But then the scarf on her head and the Islamic catchwords in her poetry did indicate that she was a Muslim, in which case the concepts of respect, sensitivity, and etiquette I think should be the first things that come with actually "believing."
Well, so much for love, or rather, so much for fixation on images of people, and more importantly, so much for girls whose names start with the letter Z! But hey I still believe that love is out there. I think I need to just "keep things real" as Zahra said that day on stage.
Share this


Link to this
Printer Friendly