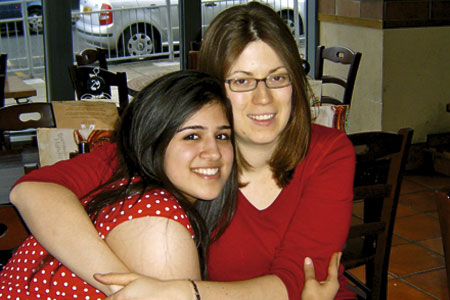 Lessons in Friendship
Issue 61 October 2009
Teacher-student duo, Ranny and Ayman tell us how their friendship always gets top marks.

Ranny
"I can't do it! I just can't do it," so went Ayman's life-long commitment to making things more complicated than they really needed to be. I remember first meeting her in our GCSE English class, September 2002. She was moody and quiet (this later changed drastically!) but seemed to show a great love and appreciation for literature.
Our relationship soon developed past the student-teacher model over many essays, class discussions, A*s and tantrums. It reached a pinnacle when she started coming in with this bright-yellow hoodie, first thing Monday morning when I was lucky to receive a grunt! She'd bring the hood down over her face and sit on the floor, cross-legged by the radiator.
I guess we're quite similar and that's why we get on so well. She's like a Pakistani 'mini-me' (albeit with a lot more family dramas!) We share a great love of English literature and the theatre as well as Ayman's love of my baby Molly. I've always admired her enthusiasm and lust for life. She has a natural flair for all things creative and is passionate about the things and people she loves in life. I love her melodramatics and her sense of humour. She has a maturity well beyond her years and a wonderfully generous nature.
Just watching Ayman grow from a crazy, slightly angsty teenager into a confident, mature young woman has been a privilege. I guess our relationship is quite unusual in that she's the only student I have ever kept in contact with after she left school and most definitely the only student whose house I have been to for dinner, cake and a random jewellery party!
The student-teacher relationship can be quite challenging at the best of times but I think it got easier once she left school – it was then that I knew I considered her a close friend. Of course it's not easy to completely eliminate that part of our relationship; I still recall all her craziness during school. One incident in particular that I continue to tease her about was when she was 14 and she decided not to speak to me for six weeks (quite a problem in the student-teacher relationship) when I made a flippant comment about one of the boys in our class and Ayman's feelings (or not) for him! Although it has been many years, that story can still wind her up!
Ayman
"Oh, woe is me! Cheer up, Koala – it could be worse!" the infamous Ranny-words that would pull my grumpy, hormonal teenage self from the depths of my self-imposed misery back into the real world! Referred to lovingly as 'Ranny' by all those who quite rightly adore her, Nicole Ranson always meant much more to me than just a teacher. Not only did she encourage and intensify the innate passion I had for English literature but she also taught me to adopt an optimistic attitude towards life. I don't think either of us realised the influence she had on me until much later – giving a young, insecure girl the confidence to believe that her thoughts and perceptions are valuable and insightful is a mammoth achievement and perhaps the ultimate desire of every teacher. Ranny certainly did that for me, showering the pages of my English book with compliments and words of encouragement with her infamous purple pen! She most certainly made me the writer I am today.
Her genuineness is what attracted me to her. She always took a no-nonsense attitude towards me – encouraging individual thought and expression, even if sometimes it didn't correlate with the chosen syllabus. She gave me the creative license to explore and enlightened my bizarre ideas with coherence. She always had a very motherly quality, which I'm sure is something that was strictly prohibited in her job description, but it was instinctual for her. She's just affectionate and loving by nature, hence her now being a wonderful mother to her beautiful baby Molly who I just adore!
By the time I left school, we had already established we had more than a student-teacher relationship. Since then, she's remained a crucial part of my life. I remember sending her a collection of frantic text messages my first day of university; after realising her friendly face was no longer smiling back from the front of the class, replaced instead by a grumpy old man who chose to torture me with Chaucer. There were no 'Who Wants to be a Millionaire'-style classes, no theatrical-interpretations of texts, no creating real-life trenches to recite poetry in and no more purple pen! But as usual, Ranny got me through that with reassuring text messages, lunches and dinners. She's always been my most consistent friend; always considerate, supportive and loving. She recently took me to watch Hairspray: the Musical for my 21st and we, as usual, danced and sang the night away!
Share this


Link to this
Printer Friendly