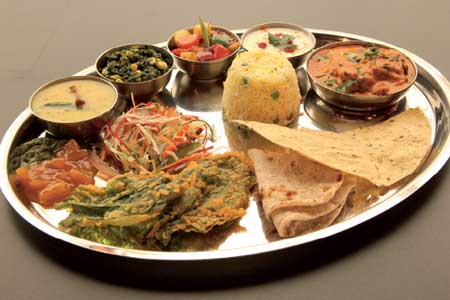 Masala Zone
Issue 62 November 2009
48 Floral Street
London
WC2E 9DA
www.masalazone.com

Review by Hira Rana and Anoushka Suchowa

Amidst the hustle and bustle of Covent Garden, nestled away yet noticeable, is a popular haunt frequented by all curry lovers alike. Masala Zone is located just near the station; you can't really miss it with its authentic decor and vibrant atmosphere enticing those passing by.
Every dish lists the ingredients and a short description accompanied with a spice-o-meter. Staff are helpful and willing to explain any dish in detail.
Drinks have a taste of India such as their Masala Coke which is teamed up with cumin, cardamom, lemon and mint; adding a kick to your average glass of coke. It is an acquired taste, however and if you aren't a fan of spiced drinks I would avoid this option.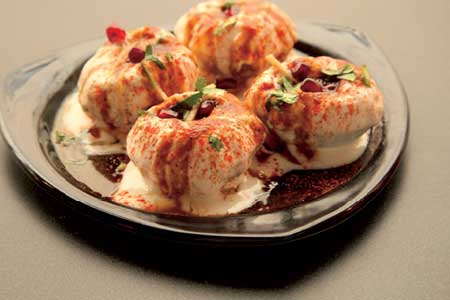 Masala Zone offers a variety of starters using tomatoes, chick-peas, onions and coconut. One starter known as 'Dahi Puri' is a common favourite in Punjab. It consists of chickpeas and masala stuffed in a fried puri covered in yoghurt and coriander and a tangy tamarind sauce. It is surprisingly light for a starter with a balanced blend of spices. For the main course, if you want to truly experience the taste of backstreet India, the traditional Thali is definitely the dish for you. There are three different types to choose from. We had the grand Thali (very grand indeed – if you go for this option, I would skip the starter as this is like a starter and mains together). Then there's the regular Thali and a great ayurvedic Thali for those who are diabetic. The Thali dish is a combination of foods served on a stainless steel platter. You can expect a main dish (chicken, lamb or veg), paired with lentils, potatoes and aubergines as well as salad, naan, chutney and yoghurt. Be warned, the portions are large and may take some time to finish. Nevertheless the idea behind the Thali is to share with friends emphasising the Indian way of eating.
Masala Zone is not the traditional family eatery; the location tends to attract city workers, tourists and locals. Pricing is up to £20 a head. On the whole, I would recommend this place for those willing to try something authentic and new. If you enjoy a fast paced and aromatic feel, the Masala Zone experience is one that is sure to transport you on a culinary journey with a bit of culture thrown in.
Share this


Link to this
Printer Friendly