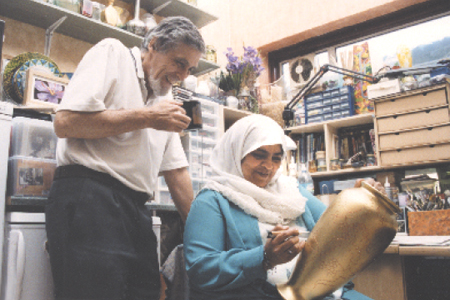 Muslim Marriage - Iffat & Jalal
Issue 6 Jun / Jul 2004
First Published on July/August 2004To access the issue page, click here
Iffat
"Ten years is a long time, and we've come an even longer way in what we are doing with our lives. Ten years ago I was a single mum with four children, the youngest just a baby. I knew I wanted to get married again even though I thought I didn't have much chance-who would marry a divorced mum with teenagersI thought? When I took the difficult step of divorce, I asked Allah to guide me towards a husband who would take me closer towardsAllah, and I had to trust in this prayer and have faith. Eventually I joined a Muslim marriage bureau and was not concerned at all about race or colour of a future husband - all I was concerned about was someone who genuinely knew their faith.
Through the marriage bureau, when I first met Jalal with my mother and brother, he was not what I'd expected. Not quite the image I had in my head! Anyway, first appearances aren't everything and my mother encouraged me to consider the person. So I prayed and asked for guidance for the next few days until a second meeting when we met with my children present too. Once I saw more of his personality, and that his faith was most important to him I knew he was the right person. Our wedding was a small occasion with close friends and family.
I am Pakistani and Jalal is English - very English (cricket, football, loads of tea and baked beans to be precise!) so I had to adapt after marriage. For example, I adapted my cooking and general way of living - which we have man ylaughs about now. I also had to adjust to visiting and making ties with non-Muslim step children, a close Uncle of Jalal's and his first wife with whom I have good relations (I've even got favourite recipes from her!). All that took time and the intention to learn.
When we got married we both agreed that we had to make our marriage work, we decided there was no other option and we've kept to that. So we overcame difficulties together. We also promised never to quiz each other over past marriages, although we would each be there if the other wanted to talk about anything. Again, we made that commitment and we've stuck to it.
Although I am forty six now, life with Jalal has meant new beginnings in many ways. Since my childhood I always had an interest in art but in those days 'art' wasn't seen as a useful thing to go into, so in a way I buried it. Being married to Jalal, he encouraged me to nurture my abilities especially as I was searching for some way of being useful and to affect humanity. My art work started when he and I were passing a craft shop and he persuaded me to buy a set of glass paints. I'll always remember what he said 'There's no harm in having a go, just try, you might be good at it.
That was about seven years ago and since then the glass painting is at the focus of my energies. The more involved I got the more there was to do; Jalal spent days and days going
to car boot sales with me, buying interesting shaped vases and glassware and then it just took off. I took courses in art techniques, and was blessed with guidance from the calligrapher Abu Mustafa. Jalal and I are both inspired by the beautiful creation all around us and like to spend time outdoors together. This too has been a huge inspiration for much of my artwork which focuses on natural textures and designs of the Creator. Eventually my frames began to sell and Jalal always supported me with transporting my work to exhibitions, bazaars and conferences.
I find my work extremely fulfilling and currently I am painting verses of the Qur'an, Prophetic sayings and experimenting with mixed media in new ways. I am delighted to see my childhood dream of doing art come true.
Much of the proceeds go to support other charities, primarily my husband's charity Al Ansar for the education and welfare of disadvantaged children in Pakistan. I couldn't have done it without the patience of my husband as well as support from family. I don't have the pressures of 'Where's my four course meal?' when Jalal comes in from work, and he's been willing to sacrifice a many other interests so that I can dedicate time to my art.
Working on my art and with Jalal's charity has resulted in us growing stronger in our faith. This is what I had prayed for so many years ago."
Jalal:

"Being a revert, and living alone is not an easy life. Before I met Iffat through the Muslim Marriage Bureau I wanted to be part of a family. When I was looking to get married it didn't bother me whether I married someone who had been married before or not. That was of no consequence to me.
Our second meeting was arranged to talk more and meet the children. When I asked Iffat's eldest daughter what she thought, she said she was alright with us getting married 'as long as you don't take my mum away.' It was after this that I came to the decision soon enough that the practising Muslim lady I was looking for was Iffat.
Culturally there were many differences in our upbringing and way of living. I'd grown up through the sixties flower power era and was for a while, your archetypal hippie with flowers in his hair wishing everyone peace, (I wanted to change the world!) whilst Iffat had a fairly traditional Pakistani upbringing mainly in England, but with strong ties to her roots. So from the outset we knew we were quite different and unconventional, but our faith was the common ground.
We started married life in Iffat's house and in the ten years since have transformed it to make it our home that reflects the new direction our lives have taken. It was difficult at first to move into someone else's life. I had to adapt to the extended family who were all very accommodating.
Like Iffat, I too was searching for some way of doing things for the benefit of others and had spent time volunteering for a few charities, but I still didn't feel I was doing all that I could. I spent a great deal of time in the early days with her art work, carrying frames and her huge vases and lamp stands everywhere, and even got the nickname of 'Eyore- the donkey' in the process. But I didn't mind –I felt it was important to help Iffat make the most of her talent and creativity.
The turning point for me came through Iffat's wish to go to Pakistan and visit her relatives in February 2001. It was my first time in Karachi when my enquiries about charity work started to bear fruit. I came across a charity there called Al Madad who organise and run night schools and other projects in order to educate children of very badly off households. After a very steep learning curve of setting up a registered educational charity called Al Ansar, I began to raise funds and work with Al Madad to help those living in the outskirts of Karachi in extremely deprived areas.
The charity gains much from Iffats support. She donates some proceeds from the glass painting to the charity and she usually accompanies me on a number of my trips to Karachi to oversee the development of school buildings, health centres as well as meeting families with children we support through our Orphan project. Once a friend of Iffat's asked her why she'd brought me to the slums of Pakistan (the depths of Orangi Town) and she replied 'It wasn't me that brought him here, he brought me!'
My tastes have grown and changed over the years too. I enjoy more of the Pakistani culture when we're over there than my wife does. Recently, Iffat did some glass paintings in the schools that our charity funds. That's where her new career of painting and mine of voluntary charity work meet in a tangible way. Apart from that, whatever development may occur, from Al
Ansar employing more teachers and medical staff in the health centres, Iffat always encourages me to work for this goal of bettering other people's lives. With the many difficulties I've faced in Pakistan, not least in the language and climate, I've needed her support.
At the age of fifty five, I am taking early retirement as a Primary school teacher and hope to move with Iffat and our youngest daughter to Karachi to devote more time to the charity work. At the same time, Iffat's looking at new developments in teaching glass painting and mixed media techniques to young girls when we go there too.
When we take stock of the past ten years, we are astounded and bewildered at the progress and change that's happened. The pace at which our projects are developing is scary sometimes - but then again we're newly married by some standards with a host of goals and dreams to fulfil together!"
To find out more about Iffat's art and the Educational and Health projects of Al- Ansar contact: jalauddin@freenetname.co.uk
Share this


Link to this
Printer Friendly