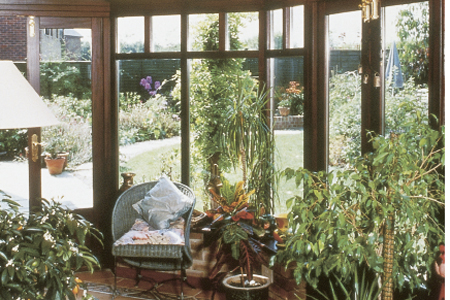 Cool Conservatories
Issue 6 Jun / Jul 2004
First Published on July/August 2004
To access the issue page, click here
Add a conservatory to your home and you can recreate the warmth of sunnier climes. Growing palm trees and tropical plants will add the trademark features of an Islamic garden. Conservatories are notonly an ideal place to relax during the summer months. With appropriate heating and air conditioning they can be the highlight of your home all year round.
A conservatory can adopt the decor of your home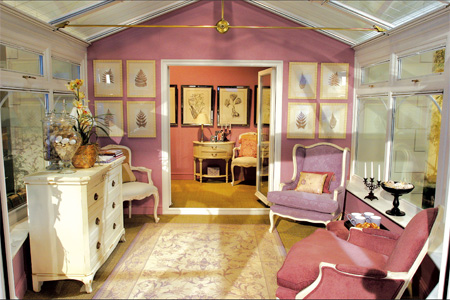 GET A COOL NEW LOOK FOR YOUR CONSERVATORY
■ Adding a conservatory is a great way to extend and develop your home. But, to make the most of the additional space, you will need to think carefully about what layout, design style and decoration to choose.
■ Anglian Home Improvements, the leading conservatory and replacement window company, has teamed up with celebrity designer Linda Barker to produce a video and DVD called 'The Cool Conservatory', which demonstrates just how flexible and functional a conservatory can be.
■ Linda gives advice on how to achieve the right look for your conservatory, which should reflect your lifestyle and the way you want to use the additional space. Using the Regency and Victorian styles of Anglian conservatory, and two very different families as case studies, Linda creates two contrasting design ideas to suit the requirements of each family.
A room for busy family life
■ First, Linda demonstrates how to achieve a bright, contemporary room to suit the needs of a family with young children. She uses vibrant, fun colours and fabrics that can be easily cleaned, together with hard-wearing and low maintenance flooring. Whilst a substantial dining table and chairs, matching sideboard and a variety of storage boxes for toys and books, continues the practical theme.
Heating and cooling your conservatory
■ Don't forget when designing your conservatory that you'll want to use it the whole year through and at all times of the day, so think about heating, cooling and lighting options. Linda says: "It's worth remembering that a conservatory is made of three quarters glass, so blinds and curtains are very important for appearance, privacy and for controlling light and heat."
A little bit of luxury
■ Next, Linda turns her attention to the interior of a Victorian style conservatory, creating a sophisticated country classic look, ideal for an older couple who no longer have to consider practicalities and can at last please themselves!
■ Using lavish furnishings and fabrics to create a room perfect for elegant yet informal entertaining, Linda comments: "I've opted for a soft colour palette that creates a wonderful sense of calm and relaxation".
■ Remotely-controlled roof blinds add a further touch of luxury, and natural sea grass flooring helps link the
house to the garden.
Linda's top tips

■ Consider how you will use your conservatory and design the space around these needs.
■ Extend flooring from the conservatory into the adjoining room to add to the feeling of space.
■ Choose heavier weight fabrics for blinds if you're overlooked by your neighbours and want your evenings
to remain private.
■ Make a scaled drawing of your conservatory on paper and decide where furniture will go before you commit to
buying or moving anything.
To find out more about Anglian Home Improvements log on to www.anglianhome. co.uk or call Freephone 0800 500 600.
Share this


Link to this
Printer Friendly