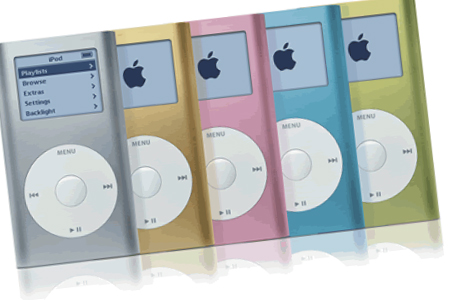 Gadgets
Issue 6 Jun / Jul 2004
First Published on July/August 2004
To access the issue page, click here
Words Yaser Ali
Apple iPod Mini
£175
from www.appleimports.co.uk
For more info on iPod Mini visit
www.apple.com
Apple have squeezed all the best features of the iPod into a case weighing just 3.6 oz. It also features an anodized aluminium case that resists stains and scratches but because it is so much smaller, it can only
store about 4GB of audio compared to its older brother which has a capacity of up to 30GB. However 4GB is still enough space
to store around 1000 tracks. It has a 1.67 inch backlit screen and like its (slightly) bigger brother, iPod mini gives you over 25 minutes of skip protection and lasts up to 8 hours on a single battery charge. iPod
mini also includes four fun games you can play. The iPod buttons have been moved under the wheel and as a result the iPod mini 'Click Wheel' gives you the enhanced durability and sensitivity of the iPod Touch Wheel. The device is also available in an array of shiny colours including silver, gold,
green, pink and blue.
Sony MZ-NH1 HI MD Walkman*
£261
from www.hifibitz.co.uk
For more info on Hi-MD visit
www.sony.co.uk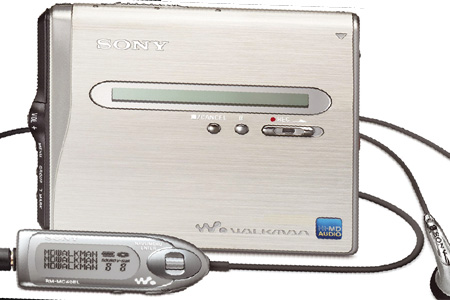 Hi-MD is a next-generation disc format recently launched by Sony, providing high capacity, quality, versatility, and speed. The new 1GB high-capacity Hi-MD disc can store an extraordinary amount of information - up to 45 CDs onto one 1GB disc (using ATRAC3plus technology). By using a newly developed 'linear PCM' mode you can record and playback uncompressed audio, preserving its full audio quality. Hi- MD discs can store not only audio, but also video and PC data files. The Hi-MD format can be applied to conventional Mini Discs too, approximately doubling their capacity.
The Sony MZ-NH1 comes equipped with a durable aluminium front cover, a three line backlit remote, a stylish charging stand and adaptor, digital amplifier and 100x real time transfer a vast improvement on last year's
models. Those looking to spend less money with an emphasis on functionality can opt for the slightly chunkier models at reasonably lower prices.
Nokia 6230
£309
from www.Handsfreewarehouse.com
In Graphite or pearl white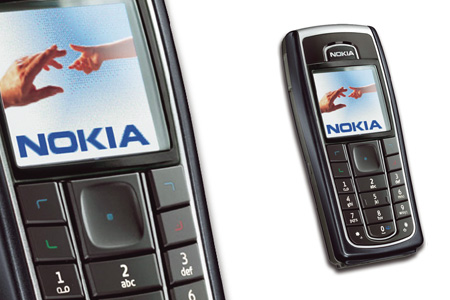 The 97g Nokia 6230, successor to the heavier although successful 6310, has a host of new features not seen on previous Nokias. As well as tri band capability, Bluetooth wireless technology and an active 65,536 colour display, it boasts an MP3 player using the popular Multimedia card format. It also has an FM radio which can be set to go off as your alarm and
a Digital VGA camera which can take pictures in a resolution up to to 640 x 480. Another new addition is its video recorder. Don't expect fl awless quality with this kind of video camera, but none the less it comes in handy during those unexpected camera moments.
R/C Porsche GT2*
£59.95
from www.boysstuff.co.uk
This rechargeable 1/10 scale remote control Porsche GT2 comes with a metallic graphite fi nish and offi cial Porsche logos and bodywork detail. The extra large wheels feature alloy effects and thick rubber tyres,
and fully working headlights light up as the car moves. It boasts accurate full function radio control, plus six-direction movement. The outstanding feature of the R/C Porsche GT2 is its speed which reaches up to
around 20km/h! The R/C Porsche GT2 works over an approximate range of 60ft
(20m). Measures 45 x 17 x 14.5cm (L x W x H).
Al-Muhaffiz -
Electronic Companion*
£132.95
from www.simplyislam.com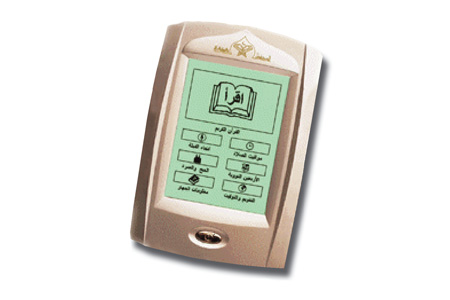 This new piece not only has the whole of the Holy Qur'an (recited by Sheikh Huthaify) with English translation, but it also contains Nawawi's 40-Hadith, the Islamic Calender, Hajj and Umrah information explaining in detail how to perform Hajj & Umrah. It also gives prayer times and Qibla direction for over 1100 cities. The alarm emits the sound of the Adhan and can be set at user defi ned time intervals. You can also set it to repeat ayats which is particularly useful if memorising the Qur'an. The large backlit screen measures 3" x 4.5", whilst an electronic bookmark saves the latest opened page of the Holy Qur'an.
Share this


Link to this
Printer Friendly