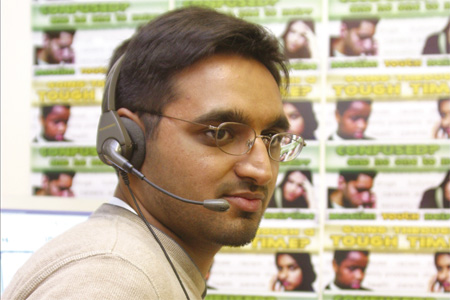 A week in the life of Mohammed Sadiq Mamdani
Issue 6 Jun / Jul 2004
First Published on July/August 2004
To access the issue page, click here
Young Muslims are battling to reconcile conflicting cultures and identities at home and within the community. Trapped between inter-generational and inter-cultural conflicts they find themselves having to make uneasy compromises as a consequence of being confused, mis-understood and isolated. The lack of support systems both within their own communities and mainstream service providers fuels the sense of isolation and need.
The concept of a faith and culturally sensitive support service for young Muslims evolved out of my own experience of the identity conflict so prevalent in young Muslims growing up in the West.
From humble beginnings in a bedroom where the year long pilot for the Helpline was held, the Helpline has now outgrown its first office and has relocated to Swiss Cottage. We have a rapidly expanding team of staff and volunteers and I am proud to say the Muslim Youth Helpline has become a lifeline to thousands of young Muslims all over the country.
Shifts are three hours long and the counsellors respond to any number of issues ranging from physical and sexual abuse, to depression, self-harm and drugs abuse, and often young people's concerns about education, employment and the family.
It's not as glamorous as it sounds to be running orworking at the Helpline but it is deeply satisfying to know that each and every call you take is making a difference to someone in need. For many of our clients we are the lastpoint of call, as they have literally no-where else to go. I guess this is what keeps our volunteers so dedicated, shift after shift.
We have to be prepared to deal with all issues no matter how difficult, explicit or taboo they are for our community. A shift can involve a suicidal caller crying down thephone, followed by someone utterly unable to articulate the pain of enduring years of abuse as a child, followed by someone who's run away from home. A call can last foranything from a few minutes to hours and often an email response can take up to two hours to construct. We have to respond to each and every client with sensitivity and a non judgemental attitude.
In addition to co-ordinating the 25 volunteers and 5 Helpline supervisors that come in on a shift basis to take the Helpline calls, a typical work in the MYH office involves much more behind the scenes work than is immediately apparent.
During office hours when the Helpline is not open we are always on the go - sending out publicity material to advertise the service, developing contacts with professionals to add to our referrals database, coordinating
monthly meetings of our Board of Trustees to discuss strategy and direction, keeping up with funding applications and requirements of existing funders, sending out volunteers to give talks and workshops at youth clubs and community centres, preparing the next round of recruitment at least six months in advance. A training programme usually lasts nine days and involves co-ordination with at least five external trainers so there is a lot of work involved.
A great deal of time and money is invested in the training of volunteers in the belief that the skills that are developed and nurtured as MYH counsellors will be utilised long after they have left and continue to make an impact at many different levels and throughout their lives.
There was never any doubt in my mind that there was a need for a support service for Muslim youth and the demand for it, however overwhelming, is expected. What we are trying to do now is use our experiences of talking
to young people to identify and respond to the needs of Muslim youth on other levels. The Helpline itself is quite limited in being an immediate response service with its operation governed by strict rules of confidentiality designed to protect the clients. We have requests from clients for things we simply cannot do through the helpline, for example, put them in touch with others who can share common experiences.
One of the projects that we are working on behind the scenes is an interactive web forum for young people who can write and publish articles on the issues we deal with as a helpline. The site will have a complete referrals database for young people to identify other professionals or support agencies, a discussion board for young people to debate the issues that they feel are important to them, providing a medium for the exchange of ideas.
Having now returned to Oxford University to finish my Arabic degree, I am not always in the office on a day to day basis – at least not during term time. The management committee has undergone a re-structuring to accommodate for the constant changes in the life of the Helpline and the rapid expansion of opening hours and additional projects.
Although I am back university, my effort and commitment to the development of MYH remains the same. I am still involved in the governance and strategic development of the projects. The work never stops although we're also working in the sector where we strive to work ourselves out of a job!"
Mohammed Sadiq Mamdani has won the Telephone Helplines Association 'Helpline Volunteer of the Year 2003'. Muslim Youth Helpline has been awarded the Phillip Lawrence Award 2003, Young Partners Award 2003 and the Muslim News Award 2004 for Community Development. Contact: Admin 0870 774 3518 or info@myh.org.uk. Helpline: 0808 808 2008 or help@myh.org.uk.
Share this


Link to this
Printer Friendly