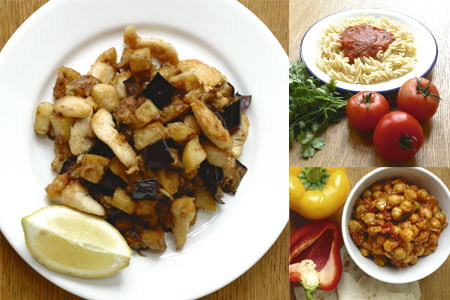 Food - Student Fares
Issue 7 Sept / Oct 2004
If your idea of student meals is a tin of baked beans then think again. These quick recipe ideas will provide you with tasty sustenance to get you through and they wont cost a fortune either. Not a student? Don't worry you don't have to go back university to enjoy these tasty recipes. The speed and ease of them will make them a favourite with the cook of the house. The taste of them will make them firm family favourites.
Potato and Aubergine Combo
Instead of just chipping your potatoes, cut into cubes and make this fantastic dish that will wow your friends and feed your stomach.
2 medium potatoes - diced

1 aubergine - diced

1 onion- chopped

cumin seeds (jeera)

juice of half a lemon
1. Deep fry the potatoes and put to one side
2. Deep fry the aubergines and put to one side
3. Fry the onion and a sprinkling of cumin seeds - season with salt
4. When onion is brown, add the pre cooked potatoes and aubergine
5. Add the lemon juice and mix all together
Tip : Only add a little oil when frying the onion because the aubergine and potatoes will have oil in them Make a meal of it!
■ Add some pre-fried chicken breast strips.
■ Serve with basmati rice, yogurt sauce and salad.
Tomato Sauce Pasta
If the taste of ready made pasta sauces doesn't put you off then the price and the ingredients list should, however there is a quick, easy and cheap answer – the humble can of chopped tomatoes. In ten minutes you will have a sauce that tastes good and doesn't break your bank balance.
1 onion – chopped

1 tin of chopped tomatoes

1 vegetable stock cube

2 bay leaves

salt to taste

fresh basil if you have it (!)
1. Chop and fry the onion until slightly brown
2. Add salt and the stock cube
3. Add the tin of tomato, bay leaves and fresh basil (if you have it)
4. Use the can as a measure and add half a can of water
5. Simmer for 10 minutes.
6. Take out the bay leaves and blend with a hand blender.
7. Serve with your pasta of choice
Tip : Make the sauce in bulk. It can be frozen once cooled and then used as and when. Make a meal of it!
■ Fry some mince meat or alternatively use a breast of chicken cut into strips. Season with a little salt. Add the sauce and simmer for a couple of minutes.
■ Mix into your pasta of choice.
■ Sprinkle with cheese and place under a hot grill.
■ When the cheese is bubbling and golden, serve with a salad.
Chickpeas
Don't spend £5 at you local Indian takeaway on a dish that will cost less than a pound to make at home.
1 onion - chopped

some fresh chillies (optional)

_ tea-spoon turmeric (haldi) powder

_ tea-spoon chilli powder

salt to taste

mustard seeds (optional)

1 tin chickpeas

2 fresh tomatoes finely

chopped or half a tin of chopped tomatoes

fresh coriander chopped (if you have it)
1. Fry the onion until brown, seasoning with salt.
2. Add the fresh chillies now if you are using them.
3. Add the turmeric, chilli powder and mustard seeds
4. Continue frying for a couple more minutes.
5. Add the chickpeas, mix and gentle fry
6. Add the tomatoes either fresh or tinned.
7. Simmer for 10 minutes
8. Add the fresh coriander
Tip : Putting a lid on when cooking will give the dish more sauce. You can add a little hot water if you feel yours doesn't have enough.Make a meal of it!
■ Buy some freshly cooked naan from the local takeaway as these are diffi cult to make by yourself !
■ Serve with some yoghurt sauce.
Share this


Link to this
Printer Friendly