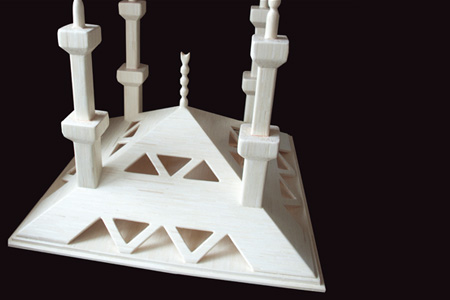 A Week in the life of Babar Ahmad
Issue 65 February 2010
'Masjid Yusuf' (above) was made by Babar Ahmad in prison using approximately 25,000 matches.

Fighting extradition to the US, Babar Ahmad has been detained in Britain without charge since 2004. He details his prison life.

Prison life consists of routine, routine and more routine. This is what turns days into weeks into months into years, before you realise it. My winter routine begins at 5.30a.m. This serene period is my private time for prayer, supplication and reflection. I have a long list of people that I pray for, including others detained unjustly throughout the world and all those that have supported me and my family over the last six years.
After a light breakfast I usually exercise for up to an hour. Some days I use the rowing machine. Other days it is weight-training. Exercise is vital in prison to maintain healthy blood circulation and prevent muscle wastage.
Following exercise I phone my family and sometimes, solicitors. Having committed solicitors lightens the prison experience enormously because they are always there for you. However, prison phone rates are several times more expensive than a street phone box. Most of my weekly expenditure goes on phone credit. I am known as a "phone warrior" to other prisoners - sometimes they joke that I should have bought shares in British Telecom!
I read The Guardian and The Times every day. I also read periodical newspapers and magazines from Islamic and non-Islamic publishers: left-wing, right-wing, Arabic and English. Some of these I pay for, others are paid for by the prison or publishers themselves. I like to know what is going on in the outside world. I keep a file containing media articles about me going back the six years that I have been in prison.
I also read a variety of Islamic and non-Islamic books, especially on history, law and current affairs. I enjoy reading prison memoirs and real-life stories of people who have overcome extreme hardships yet they survived to tell the tale. Such books renew my hope and inspire me.
I make time in the week to answer letters. I received one this week from the actress Vanessa Redgrave writing how much she enjoyed her visit to see me. I fall short in replying to all the mail that I receive, but I always try my best to respond to letters from fellow prisoners elsewhere in the Prison System. Words from one prisoner to another are very special because both relate to each other's suffering.
This week I had the monthly body-strip and cell search that all Category A prisoners are required to undergo. As usual, nothing illicit was found on me.
I have been held in isolation since December 2008 and only permitted to associate with six other prisoners. The legality of isolating un-convicted prisoners for no valid reason is being litigated through the courts but it is a slow process.
My parents visit me every week. Members of my local community have organise a rota amongst themselves to bring my parents to see me. They wait in the prison car park throughout the visit then drive them three hours back to London. All in all, it is an 11-hour round trip, longer if there is traffic. Others frequently give my parents envelopes of cash to help pay for visits' expenses. It is unsung heroes such as these that I pray for every single night.
2009 was a good year for me. After five long years of legal proceedings the Metropolitan Police finally admitted that, during my arrest in 2003, they subjected me to "grave abuse tantamount to torture". My family's press statement outside the High Court on that sunny March afternoon made news headlines around the world. Relatives phoned the family home from near and far, whilst others brought flowers with congratulations. When you have suffered setbacks and disappointments for years on end, winning for once makes you feel on top of the world.
In the late hours of ever night I listen to the faint sound of prisoners in neighbouring cells reciting the Qur'an. Last Ramadan, within our small, isolated unit of seven prisoners, the Qur'an was completed over 30 times. Many pleas went up to The Almighty that month. Every night, when I lie down to sleep I wonder whether this will be my last night in captivity.


www.freebabarahmad.com

Share this


Link to this
Printer Friendly