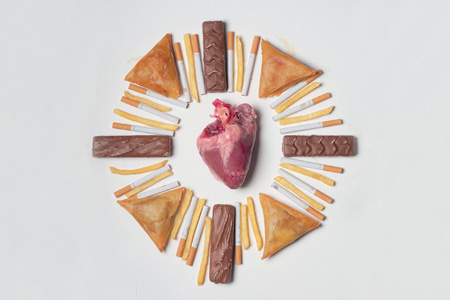 Targeting The Cause of Heart Disease
Issue 65 February 2010
The next time you look at the clock, keep in mind that every seven minutes someone in the UK will die from heart disease. Dr. Noreen A. Kassem discusses the ins and outs of the leading cause of death in men and women.
Since almost half of heart attacks occur without warning, it is important to know your risk factors and how to prevent a heart attack or stroke. While cardiovascular disease is the leading cause of death of men and women, it is preventable and treatable. Cardiovascular disease includes many conditions:
hypertension (high blood pressure), heart attacks, strokes, angina (chest pain), atherosclerosis (hardening of arteries), heart valve disease and arrhythmia.
Inheriting Health

According to medical research from McMaster University in Ontario, Canada, individuals of Asian descent (India, Pakistan, Bangladesh and surrounding areas) are more likely to suffer from heart disease than individuals of European or Chinese origin.
The British Heart Foundation states that the death rate from coronary heart disease is 46% higher in Asian men and 51% higher in Asian women than the overall UK population. People of African descent also have a higher incidence of high blood pressure which leads to heart disease.
Differences in heart disease between ethnic groups may be due to genetic factors as well as diet and lifestyle.
Understanding the prevalence of heart disease in certain groups is important to increase awareness and to prevent and treat this disease.
Heart Age: Is Your Heart Older Than You Are?

Your heart can age much faster than you do. This depends on several factors such as poor diet, inactivity, poor sleeping habits, being overweight, smoking and chronic stress. A cardiac assessment and fitness stress tests can determine your heart's health and your risk of cardiovascular disease. A nutrition and exercise program can then be tailored to you to keep your heart your age or even younger.
Anatomy of a heart attack

A heart attack; a coronary; myocardial infarctionwe may have heard the lingo, but what happens during a heart attack and how can it be prevented or treated? A heart attack occurs when blood supply to part of the cardiac (heart) muscle, called myocardium, is reduced or cut off altogether. The heart works endlessly to supply blood to the body, however it first supplies itself with oxygen infused blood to keep its own cells alive. Coronary arteries are narrow, branched arteries responsible for carrying blood to the heart muscle.
Blockage in the coronary arteries is caused by the build-up of hard fatty or cholesterol plaque or deposits, which accumulate over time, narrowing the arteries. This is called atherosclerois or coronary artery disease (CAD*).
When a blockage or clot occurs, the flow of oxygenrich blood to the heart is interrupted and the area of the heart muscle supplied by that artery is damaged. Over time this can weaken the heart muscle and cause angina (chest pain) and arrhythmias (problems with the speed or rhythm of the heartbeat). Heart failure is a condition in which the heart is so weak or damaged that it cannot pump enough blood throughout the body.
If the blood clot completely obstructs blood from streaming through the artery, the area of heart muscle that the artery feeds is suddenly deprived of oxygen, triggering a heart attack. Within minutes cardiac muscle cells begin to die. Spasm of the coronary arteries or not enough blood flow when the muscles are exerted may also cause a heart attack.
The severity of a heart attack is determined by how long the blockage lasts, how much heart muscle is damaged as well as which part of the heart is affected. Most heart attacks are not fatal the first time they occur. Symptoms can vary from mild to severe, with almost a quarter of heart attacks being silent and without symptoms. Silent heart attacks occur most commonly in people with diabetes and are very dangerous as heart disease may then be left unknown and untreated.
*CAD is the most common type of heart disease. Lifestyle and diet changes along with medicines, medical procedures or surgery can effectively prevent or treat CAD in most people.
To read the rest of this feature, get your latest issue of emel magazine>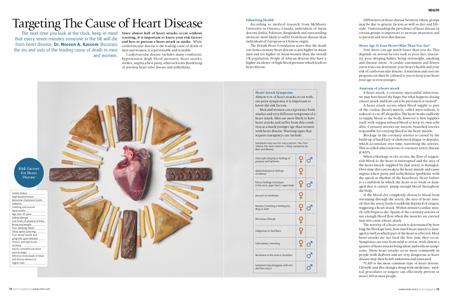 1) Delivered to your door for only £3.50 with FREE Postage and Packaging
You can get your latest issue of emel with FREE Postage & Packaging.
Click here for terms and conditions
Call us on 020 7328 7300 or email info@emel.com.
2) Find your Local Stockist
Your latest issue of emel is also available in stores nationwide including WHSmith and Borders.
3) Subscribe for one year - now only £29.95
You can subscribe for only £29.95 (that's 50% off the standard UK subscription price) and get 12 issues delivered straight to your door, every month..
Call us on 020 7328 7300 or email info@emel.com
Share this


Link to this
Printer Friendly