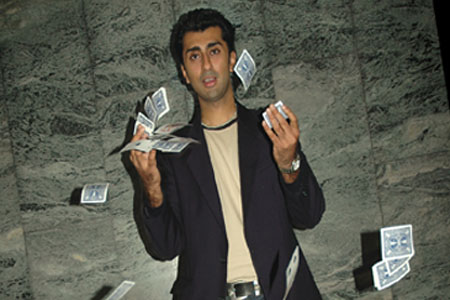 A Week in the life of Jawwad Rasheed
Issue 9 Jan / Feb 2005
I am an engineer by day and my typical workday starts at about 8:30am and goes on until 6pm. I am also a keen sportsman, so I have cricket practice on Thursdays, matches on Saturday and Sunday. Slotted into this schedule is an evening of magic at a private club on Tuesdays. During the winter, special magic conventions and lectures are added to this schedule. For me, magic is a hobby rather than a career choice; although it does provide a small income, it is something I practice ultimately for enjoyment and as my own personal passion rather than as a professional pursuit. The rest of the week is dedicated to social events, my family and my friends.
Summer is the perfect backdrop for weddings, where magical entertainers are often popular guests. This is probably because they don't require as many accessories as, say, singers or performers. I generally perform table to table - or 'close-up magic' – using coins and cards; those seated at each table are able to participate and observe my performances literally from a seat away.
The most attractive feature about magic is its ability to bring out that moment of wonder in adult faces, which we often lose as we get older. It's funny how single men are generally more sceptical and sometimes react quite aggressively to what they see because they can't understand it, while family men are emotionally more receptive and react more positively. I think the fascination with magic is a way to revert back to that excitement, that bewilderment we feel as children, when confronted with something inexplicable, something out of the ordinary. To bring out that gasp of astonishment in the audience, to know that the audience is genuinely moved by what they are being shown is also an incredibly satisfying moment for the entertainer. Moments like these spur me on to do better.
My passion for magic began through a combination of both coincidence and fate. I was on my way from University and needed a book to read for the journey home. Naturally, being a student, I had my eyes open for the bargain buys and two 60p books caught my eye; one on magic, and the other on angling, which I luckily left behind! A 60p purchase soon evolved into a full time fascination, and from this point onwards I began practicing the techniques, direction, presentation and humour required for the role. I joined a private magic club, which is great because it allows me to see other magicians in action and observe their style and techniques. I would never copy a trick, but instead gain inspiration from what I see; it also gives me the opportunity to show what I can do! I love performing, and ideally would like to feature in a theatre created essentially for magic performances, like the Magic Castle in Hollywood, which holds magic shows twenty-four hours a day.
My family were very supportive of my interest in magic and would often ask me to perform for their friends and relatives, but after a while it was becoming too much! Ambiance is an important element when performing, and I found that the home setting was making a difference to the performance. I am used to table magic, with a lamp and an intimate audience setting. These provide a framework for the performance and add to the sense of intrigue and mystery, which I rather enjoy!
I realise there are some Muslims out there who see magical entertainment as prohibited in Islam. However close up magic is purely a form of entertainment. I'm not some sort of voodoo expert, not at all. Performing tricks is about perfecting a skill and showing the audience something different. There is not a contradiction between conjuring and Islam, so long as the act is limited to entertainment and not used negatively by either the performer or the spectator.
I wouldn't say magic is intellectually demanding, but it requires a certain systematic way of thinking and the ability to convince the audience. To a large extent, the skills required for a magical entertainer are applicable to any performer; to be able to warm to the audience within the first few minutes, to have good persuasive skills and the ability to read people and predict their reactions quickly. These skills are also crucial in more practical fields like my own, engineering, so luckily work and pleasure both intertwine. Most importantly, magic requires practice, practice and more practice….typically I practice for about an hour each day, but there is no allotted 'practice time' - I just enjoy doing it, consciously or unconsciously. To create new tricks I become a spectator, and try to see the performance from the eyes of the audience. This is a real challenge for any magical entertainer, so naturally it feels great when new performances are successful.
My goal with regards to magic is to be well respected within the Magic Circle and to be acclaimed for my performances. Eight months ago I participated in my first competition against approximately twenty other performers, some from the exclusive Magic Circle. There were three awards to be won at the competition, and I managed to bag the prize for technical excellence, which was a truly memorable moment for me. Recently I was invited to a magic event held at the house of director Stanley Kubrick- a highly surreal experience, with butlers and Kate Moss of all people!. Events like these are added bonuses; they are fantastic opportunities to learn and observe, but ultimately, it's about working hard to be good at what you do. I firmly adhere to the Islamic principle of work and reward; if you put in the effort, Allah will grant the rewards.
A couple of years ago I had a bad run with sports injuries, dislocating my shoulder, undergoing a knee operation and breaking a finger. These injuries meant that I couldn't participate in the activities I loved, like magic, cricket and playing the violin. Being a naturally fiddly person I found it difficult, and wondered what I would have done had I become permanently disabled in some way. From this point on, my belief in Islam strengthened, and I have learnt to really appreciate what I have, and to make the most out of the time we have been given here.
Share this


Link to this
Printer Friendly