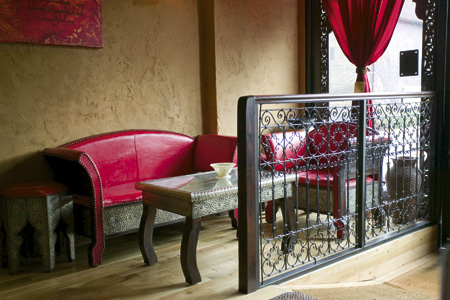 The Red Lounge
Issue 65 February 2010
Review by Henrietta Szovati

We all have a bit of Simon Cowell in us at times. For me, this side of my character comes out where food is concerned. Sometimes I am slightly easier on myself and the food I am eating; but other times, I can be picky, particular and ruthlessly critical of what I eat. It is hard to judge which of my food moods I am going to be in, which can be unfortunate for a restaurant if I am about to review it.
I was in my critique mode when we headed to the Red Lounge, a ladies only establishment in Walthamstow on an ordinary Tuesday evening. I caught myself criticising the deco from the street, the red lights dimmed to entice customers and questioning whether a ladies only restaurant would be worth running as a long term business venture. As I opened the door, I walked into a different world. The cosiness, the perfectly chosen deco and authentic Moroccan feel won me over.
Eating out in London is more than going to a great restaurant. It is about the whole dining experience and engagement of the senses. Often, food is just a small addition to the pleasure. Not in the Red Lounge. The two dedicated ladies running this establishment have created a warm and friendly environment where you feel nourished. There is a wide variety of food without the menu being overwhelming. The taste is rich and exciting. Dishes are intended to be served as little bites which make it an ideal place to lounge with friends. Yet I cannot imagine a better place for a professional meeting where you will be treated with elegantly served drinks, fresh juices and a satisfying lunch.
We tried the warm chicken salad, that was a twist of Waldorf salad but richer. The samosa in chickpeas and Greek yoghurt challenged me but won at the end. It was healthy enough to be my main meal but light enough to have more food to savour. The Moroccan tagine came as a surprise. I rarely find non-Moroccans who can actually cook tagine. It takes more than a few juicy prunes and dates to be thrown together to make a tagine a success. But here, this lamb tagine carried the whole idea of the restaurant- slow cooked preparation, flavoursome courage and bold expression of success.
Overall, there are only a few things I would change on the menu such as taking off jacket potatoes or perhaps bringing in a few fish dishes just to make it even more sophisticated.
I have been to restaurants where amazing food was lost in poor decoration. I also know that a beautiful surrounding will not make you forget what you actually put into your mouth. However, the Red Lounge has it all. Hats off to the two women who had the vision, the strength and skills to cook it up!

The Red Lounge
313a Hoe Street, Walthamstow
London E17 9BG
Tel: 020 85207826

Caters for women only and families (selected days only) and is HMC registered.
Share this


Link to this
Printer Friendly