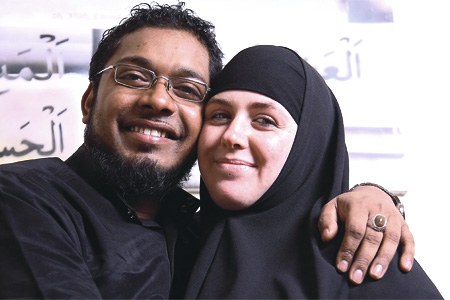 The Keyboard to Happiness - Maryam and Mohamed
Issue 65 February 2010
Both divorced and each with a young child, Mohamed and Maryam weren't sure if they'd find the companion they were looking for. Muslim matrimonial site SingleMuslim.com united the two.

Maryam
My family are atheists. I was as well until I went to Egypt. I met with the local people and it changed my opinion of Islam altogether. I observed a warmth within the people, and saw that women wore hijab because they themselves wanted to; it wasn't forced upon them. It was perceived as a symbol of empowerment for the women there and that really intrigued me. It was also the first time I heard the call to prayer. That had a monumental affect on me and I was immediately drawn towards Islam.

Mohamed
I was born and brought up in Oldham and have a big family – five brothers and three sisters. My father died when I was six so that gave me a different outlook on society. I took on a great deal of responsibility very early and thankfully became more practising.
At 21, I had an arranged marriage in Bangladesh in 2004. I was suffering from a great deal of stress at the time but agreed to the marriage. Unfortunately, we encountered a great deal of problems which couldn't be resolved and we subsequently divorced. I recognised early on that there were great differences in our perceptions and ideas. In a relationship, I was looking for respect, understanding and comfort, and I didn't find these in my previous marriage.
To read this marriage feature in full (which includes both of their full accounts), subscribe to the magazine. Options are listed below>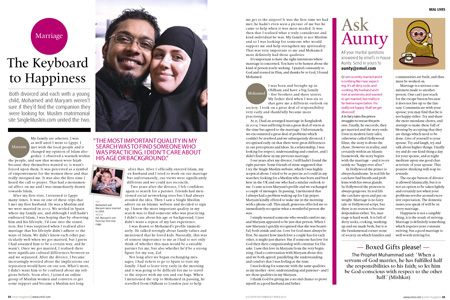 1) Delivered to your door for only £3.50 with FREE Postage and Packaging
You can get your latest issue of emel with FREE Postage & Packaging.
Click here for terms and conditions
Call us on 020 7328 7300 or email info@emel.com.
2) Find your Local Stockist
Your latest issue of emel is also available in stores nationwide including WHSmith and Borders.
3) Subscribe for one year - now only £29.95
You can subscribe for only £29.95 (that's 50% off the standard UK subscription price) and get 12 issues delivered straight to your door, every month..
Call us on 020 7328 7300 or email info@emel.com
Share this


Link to this
Printer Friendly