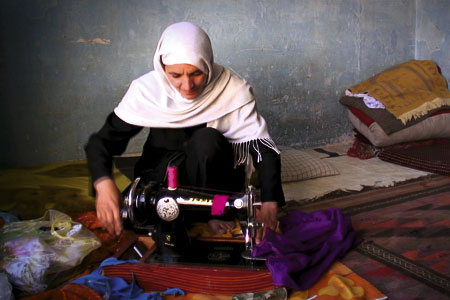 Sold into Wedlock
Issue 65 February 2010
Decades of war have scarred Afghanistan. One group within this proud, but torn nation have suffered more than any other and continue to remain unheard. Mary Breen discusses the current situation for women in Afghanistan.
Afghanistan is currently big news. Media pundits and 'ordinary' voters argue passionately about whether the UK government should go ahead and 'pay' Taliban foot-soldiers in an attempt to stop the fighting; others argue over whether Western governments should be in the country in the first place. Throughout this country's violent history of Soviet invasion, tribal civil war, the Taleban, and British and US involvement, one very significant group has continued not to be heard - Afghanistan's women. One charity which hopes to address this is Womankind Worldwide. Working in Afghanistan since 2003, its aim is to make women's voices heard.
Working with a local partner, the Afghan Women's Resource Centre (AWRC), Womankind has its base in the capital, Kabul. Both the organisations strive for practical solutions to the problems faced by Afghan women. And there are a lot of problems. With the second highest maternal mortality rate in the world, eight out of 10 women illiterate and almost 9 out of 10 women affected by domestic violence, the issues in Afghanistan are very slow to improve. Partawmina Hashemee, AWRC's Director, details the banned practice of offering money for a girl, "Forced marriage because of poverty breaks my heart – even girls as young as eight. They don't get to go to school or to go out. They are told 'you are not allowed to go to visit your family. We paid for you, now you have to work.'" Such selling of young girls is rampant along with exchanging her as restitution for a crime, debt or dispute.
To solve such issues, Womankind and AWRC believe in the need to lobby for change. Afghanistan is still one of the most dangerous places in the world to be a woman. They argue that urgent legal reform is needed to tackle the violence against women and to put an end to early and forced marriage. Better representation and increased participation of women in decision-making – and more social and educational 'spaces '– are essential, Hashemee argues.
However, lobbying for change, cannot replace essential grassroots work. Informing decision-makers about women's rights and providing training to Muslim leaders and young men in 'Women and Human Rights' to help reduce violent attacks on women who enter public life or take part in debates, are just part of the work that Womankind and AWRC undertake. Staff and volunteers travel out to communities in hard-to-reach towns and rural areas where they work to set up community centres, offering women and girls practical training in reading and writing, computer and food-processing skills.
The passion to change things for women and girls is what enables Partawmina Hashemee and her colleagues to reach out to more communities and work with men to ensure that changes are significant and accepted. This, however, isn't always a straightforward process. In 2009, Afghanistan's government was forced to back down on a controversial 'personal status' law after an international outcry over sections that appeared to legalise marital rape.
To read the rest of this feature, get your latest issue of emel magazine>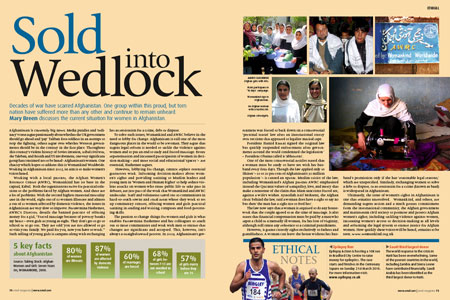 1) Delivered to your door for only £3.50 with FREE Postage and Packaging
You can get your latest issue of emel with FREE Postage & Packaging.
Click here for terms and conditions
Call us on 020 7328 7300 or email info@emel.com.
2) Find your Local Stockist
Your latest issue of emel is also available in stores nationwide including WHSmith and Borders.
3) Subscribe for one year - now only £29.95
You can subscribe for only £29.95 (that's 50% off the standard UK subscription price) and get 12 issues delivered straight to your door, every month..
Call us on 020 7328 7300 or email info@emel.com
Share this


Link to this
Printer Friendly