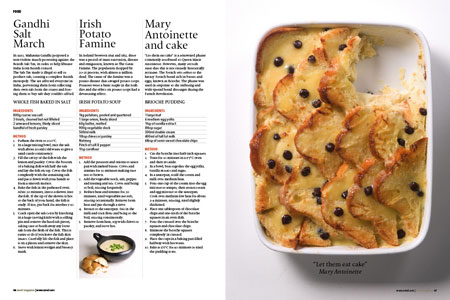 Revolutionary Food
Issue 67 April 2010
Food is one of man's greatest necessities and is often at the front line of political turmoil. Fatema Zehra discovers ingredients which sparked riots, revolutions and resistance.
Gandhi Salt March
In 1930, Mahatma Gandhi proposed a non-violent march protesting against the British Salt Tax, in order to help liberate India from British control.
The Salt Tax made it illegal to sell or produce salt, creating a complete British monopoly. The tax affected everyone in India, preventing them from collecting their own salt from the coasts and forcing them to buy salt they couldn't afford.
Whole fish baked in salt
Ingredients
800g coarse sea salt
3 trouts, cleaned but not filleted
2 unwaxed lemons, thinly sliced
handful of fresh parsley
Method
Preheat the oven to 200°C.
In a large mixing bowl, mix the salt with about 500ml cold water to give a sand-castle consistency.
Fill the cavity of the fish with the lemon and parsley. Cover the bottom of a baking dish with half the salt and lay the fish on top. Cover the fish completely with the remaining salt and pat it down with your hands to form a smooth surface.
Bake the fish in the preheated oven. After 30 minutes, insert a skewer into the fish. If the tip of the skewer is hot to the back of your hand, the fish is ready. If not, put back for another 5-10 minutes.
Crack open the salt crust by knocking in a large carving knife with a rolling pin and remove the hard salt pieces, taking care to brush away any loose salt from the flesh of the fish. This is easier to do if you leave the fish skin intact. Carefully lift the fish and place it on a platter and remove the skin.
Serve with lemon wedges and buttery mash.
To enjoy the rest of this feature, get your latest issue of emel magazine >Read Below<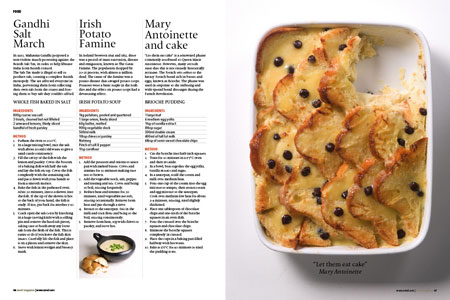 1) Delivered to your door for only £3.50 with FREE Postage and Packaging
You can get your latest issue of emel with FREE Postage & Packaging.
Click here for terms and conditions
Call us on 020 7328 7300 or email info@emel.com.
2) Find your Local Stockist
Your latest issue of emel is also available in stores nationwide including WHSmith and Borders.
3) Subscribe for one year - now only £29.95
You can subscribe for only £29.95 (that's 50% off the standard UK subscription price) and get 12 issues delivered straight to your door, every month..
Call us on 020 7328 7300 or email info@emel.com
Share this


Link to this
Printer Friendly