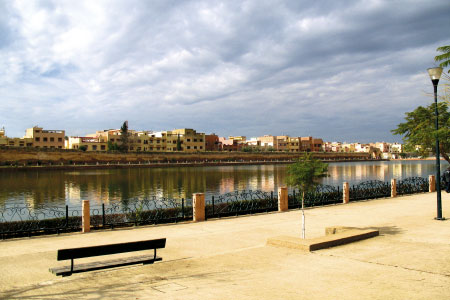 Meknes, The Imperial City
Issue 67 April 2010
Once the capital of Morocco, the majestic Meknes has been long overshadowed by its better known siblings. Words and photography by Joseph Downing.
An impressive imperial city, Meknes is famous for its ornate gates, madrassas, shrines and palaces; all adorned with intricate plaster work, carved wood and mosaic tiles – a true gateway to the wonders of mysterious Morocco.
It was as a single young man that I was moved to visit the part of Morocco where Meknes is located. While reading Ziauddin Sadar's, 'Desperately Seeking Paradise'; I came across the tale of a young Zia meeting a Sufi teacher, who embraced Islam in Fez. The young Zia was so moved by this man's teachings; he felt he had to go back to the source of this wisdom, and he packed his bags and went to Fez. At the time, I was working an uninspiring, grey and temporary desk job in London and this really struck me. Was it that simple to get to these mythical places clad in bright tiles, brass lanterns, and burbling fountains? It was some weeks later that I boarded a 5.30am flight on a cold February morning, heading directly to Fez. This trip would take me on a journey around the mythical city of Fez itself, up into the Atlas Mountains, around some serious personal realisations, and down again to Meknes.
It was once I arrived that I learnt that Meknes existed as early as the 8th Century, when it was little more than a small kasbah. Settled by the Miknasa Berber tribe in the 9th century, the city steadily grew but saw its golden age under the famous Moulay Ismail, who ruled the sultanate of Morocco between 1672 and 1727. It was during this time that Meknes was adorned with beautiful mosaic fountains, gates, gardens and mosques that earned the city the nickname 'City of the Hundred Minarets'. Craftsmen were drafted in from all over the kingdom to adorn this new capital with fine art in an effort to make it a Moroccan Versailles. However, the work was never completed as Meknes lost the status of capital to Fez.
Despite this, it is no surprise that Ismail's tomb is one of the most famous in Meknes. As the founder of the city, Ismail considered himself to be a ruler superior to Louis 14th, and his Kingdom of Morocco superior to France. He is known to have suggested to Louis to embrace Islam, even offering to marry one of his daughters. His tomb is a grand affair with an outer courtyard in green tiles and yellow plaster and an inner section decorated in full Moorish glory with tiles, lanterns and burbling marble fountains. This tomb is actually the setting for some of the most famous photos of Morocco.
Today, Meknes is home to just under one million people, and sits at the centre of a rich agricultural region. Alongside its history as an important political centre, the city has a rich spiritual history of producing some of North Africa's most famous Sufi teachers, shown today in the city's abundance of tombs which are regularly visited.
To enjoy the rest of this feature, get your latest issue of emel magazine >Read Below<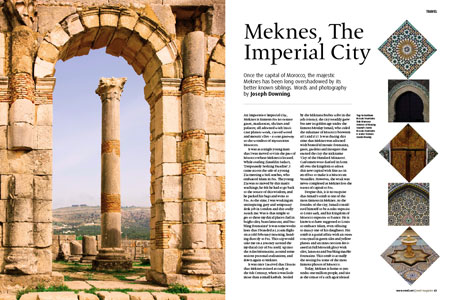 1) Delivered to your door for only £3.50 with FREE Postage and Packaging
You can get your latest issue of emel with FREE Postage & Packaging.
Click here for terms and conditions
Call us on 020 7328 7300 or email info@emel.com.
2) Find your Local Stockist
Your latest issue of emel is also available in stores nationwide including WHSmith and Borders.
3) Subscribe for one year - now only £29.95
You can subscribe for only £29.95 (that's 50% off the standard UK subscription price) and get 12 issues delivered straight to your door, every month..
Call us on 020 7328 7300 or email info@emel.com
Share this


Link to this
Printer Friendly