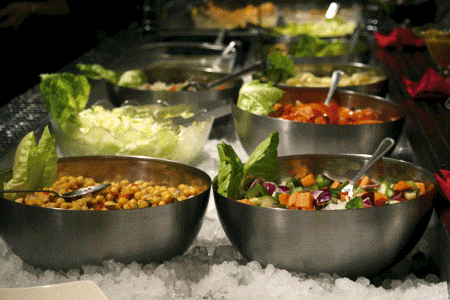 Kitchin N1 - Restaurant Review
Issue 67 April 2010
Review by Heana Chowdhury
Kitchin N1, an easy walking distance from King's Cross station is just the ticket you need to enjoy a buffet-style restaurant which caters for large and small groups of friends, family and business people in the heart of London. An open plan restaurant with the kitchen dominating the restaurant floor, it serves four main types of cuisine: Italian, Thai, Chinese and Indian, offering a wide selection of mouth watering dishes for both vegetarians and non-vegetarians in a modern spacious setting with a relaxed and pleasant atmosphere. Open daily, the restaurant has a set menu for lunch at £8 and a dinner menu of £14 during the week, as well as various special offers throughout the week.
I ventured out on a bleak winter's night with a fellow foodie and after being warmly greeted by the Nepalese manager and exchanging pleasantries, we began to tuck into the food.
For starters we chose a selection of foods from the salad bar as well as hot appetizers. We had chickpeas, corn, mushrooms and vegetable pakoras accompanied by various sauces. We particularly enjoyed the chickpea salad, flavoured with mint, red onion and lemon. The kebabs and chicken tikka were succulent with a mild yet distinct spicy flavour, enhanced further with a dash of sweet mango and yoghurt chutneys.
We began our main course with Thai food and had yellow curry, sweet and sour chicken and beef curry with steamed rice. The yellow vegetable curry was perfect; it contained courgettes, mushrooms and green beans cooked in a very flavoursome sauce which lingered on the taste buds leaving you wanting more and being a buffet, more we did have!
We then moved over to the Indian quarter and served ourselves generous portions of chicken and lamb curries, bindi dopiaza, motar mushroom and aloo saag accompanied with pilau rice and naan bread. The curries were cooked in a strong sauce and the vegetables dishes were balanced with the right amount of spices and were soft but thankfully not mushy. Our final stop was the Chinese wok station where we chose fresh ingredients and sauces for a beef and vegetable stir fry, cooked by the chef and fervidly devoured by us.
By this time, we had eaten to our hearts content and not left much room for dessert, but it wasn't a course we were going to pass on. I picked the fruit platter of pineapple, melon and orange, along with a slice of strawberry sponge cake, and my friend chose apple pie and carrot halwa, all which made a sweet ending to our Kitchin dining experience.
www.kitchin-n1.com
Share this


Link to this
Printer Friendly