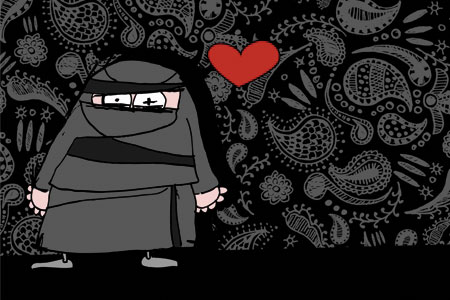 The Reluctant Mullah
Issue 67 April 2010
by Sagheer Afzal
Review by Robi Chowdhury
"You don't know what's written for you, no one does, but that doesn't mean that you can't do your utmost to make sure that it's just as good as the dream, if not better."
Musa is an idealist to say the least. Being a passionate madrassa student, he spends many of his evenings reflecting over the big questions in life. One such evening, he decides to wear an abayah left in his room, to try and get a better understanding of what Muslim women think. He is caught out (with hilarious consequences) which leads to his withdrawal from the school and sent home to re-evaluate his life.
Upon arriving back home in East London, he is ordered by his old grandfather that he must find a bride for himself within a month, or the prospect of an arranged marriage from his homeland in Pakistan looms over him. Being forced to submit to family life proves difficult for Musa who has spent most of his time within the walls of an Islamic school.
This debut novel by Sagheer Afzal is essentially a hilarious tale of identity and self discovery with some very strong and serious messages. Initially, I thought that the story would just be a simple tale of a holy man and his personal battle with faith and culture. I had been wrong, as our protagonist's way of thinking had been different from those that you might find in other similar stories.
Musa's friends and family, being central characters are crucial in this tale, all carrying different personality traits. As their characters develop one by one during the course of the story, you begin to realise that this tale is not just about Musa alone. Sagheer uses his characters (and their traits) as catalysts to unravel a cache of archetypes that can be found within a typical Brit/South Asian Muslim community.
I would liken Sagheer Afzal's writing style to that of Nick Hornby as he injects humour tastefully throughout the course of the story by keeping it very personal (with Musa) and then giving the rest of the characters small subplots of their own.
The Reluctant Mullah is a warm and insightful tale of a devout mans search for happiness within the foliage of culture, tradition and faith. A thoroughly entertaining and eye opening read.
Share this


Link to this
Printer Friendly