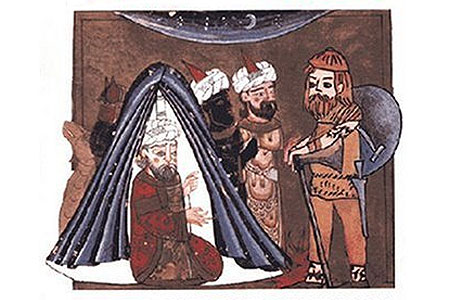 Ibn Fadlan's Journey to Russia: A Tenth Century Traveller from Baghdad to the Volga Rive
Issue 67 April 2010
by Richard Frye
Review by Tam Hussain
After the Bolshevik Revolution in 1917 Velidi Togan, leader of the Bashkirt Republic, was arrested and condemned to death by Lenin. Togan managed to escape and joined local forces in Central Asia to fight the Red Army. Togan, a Muslim, found refuge in Persia. There, being a scholar at heart, he found himself leafing through a 10th century treatise in the library of Meshed. This treatise of Ibn Fadlan not only made Togan a professor of Turkish at Bonn and Istanbul University, but it also became a key document for scholars of Slavonic and Turkish studies. But increasingly in the 21st century when Islam is often in the spotlight and following Edward Said's Orientalism, Ibn Fadlan's treatise has gained in significance as it is one of the earliest travel narratives of Muslims dealing with other cultures. In this light then, Ibn Fadlan's Journey to Russia deserves attention not only because it sheds light on Central Asia and Russia, but also because it gives us an insight into how Muslims in the past dealt with the 'Other'.
We know very little about Ibn Fadlan apart from the information that he supplies about himself. He embarked on the perilous journey through Transoxania with the object of providing monetary aid, medicine and religious instruction to the newly converted Bulghar king. Ibn Fadlan's embassy failed in achieving its objectives except perhaps for the latter. In spite of that, the description of his endeavours is fascinating for its frankness and attention to detail. Unlike other more famous Muslim travel narratives, Ibn Battuta for example, there is no hint of embellishment. His account remains engaging due to his seemingly disarming honesty. The reader finds himself empathising, almost visualising the wry smile of the author when one of his newly converted Turkic servants picks out a louse from his clothing and relishes it as a delicacy. Or the comedy of the scene when the author tries in vain to convince the new converts that free mixing whilst bathing naked was not advisable.
Frye0, Emeritus Professor of Near Eastern Languages and Civilisation at Harvard, keeps the language clear and simple, accessible to the specialist and lay reader alike. However despite his numerous publications, some of his remarks in the introduction are quite frankly curious. For example, his comment that the Jizya was a Persian institution smacks of the Persian cultural chauvinism found in the Shu'ubiya movement of the 9th century. The reader must also be aware that Ibn Fadlan's manuscript is an incomplete one. It stops abruptly after his fascinating encounter with the Vikings. However, Frye has a solid introduction placing the man in his era. He includes other travel accounts, itineraries, sections on realms of the caliphate, trade, the peoples of the region and a good glossary. Ibn Fadlan's Journey is a welcome addition for anyone interested in the Muslim contribution to the region.
Share this


Link to this
Printer Friendly