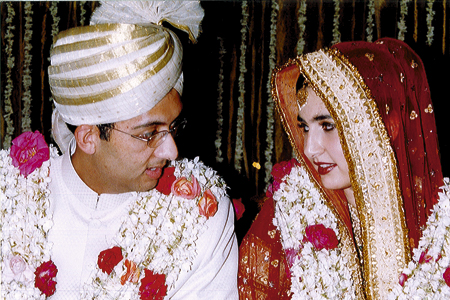 Intersecting Paths
Issue 68 May 2010
After compromising on a 16 hour drive and meeting half way, Abdullah and Natasha have enjoyed a nine year marriage based on mutual respect and understanding.
Abdullah
In 1999, I had started my first real job after college - 600 miles away from home, which was until then in the rural south of the United States. My new hometown was by sharp contrast amidst affluent suburbs, golf courses, perpetually snarled highways and a hectic purpose by which city folk seem to be obliged to live their lives; namely the metro Baltimore/Washington DC area. I was having a fantastic time making new friends, experiencing diverse cuisine and travelling.
A very dear friend of my father wished to introduce me to his niece, Natasha. I stood my ground by saying that it was impossible to drive 16 hours on a weeknight to meet her. He reciprocated with a hadith from Bukhari which roughly states that a man marries a woman for four reasons: wealth, status, beauty and religious devotion, but the Prophet said to marry the religious woman, "else you be a loser." I came back with the five hundred and one things I had to do in preparation for my six month absence. Then he threw the big one at me, "… but she has all four of those qualities," he said. That was the end of that argument. So, we both drove until our paths intersected somewhere in between, off a highway exit in New Jersey. Indeed, she had those qualities and I have discovered many more in the last nine years of our marriage.
We have always understood and counseled each other that besides the fact that shaitan is an avowed enemy of mankind, out of all the evil he perpetuates, he gets the most pleasure in causing division within a marriage. Many times I have caught myself being filled with evil thoughts in a time of weakness or anger when clearly those thoughts had nothing to do with my poor wife. It is during these times that one must be careful not to act on such thoughts. It is perfectly logical, therefore that according to the Sunnah, the seeking of forgiveness is prescribed in times of anger.
One may conclude from our story that all frivolity in my life ended with our union. This however, is the farthest thing from the truth. Another point is that love, affection, bond, memories etc. that define the richness of a relationship are cultivated by time. To put this into perspective, I offer the following reflection. From the age of five, I attended a boarding school and was away from my parents for nine months out of a year. This experience conditioned me to become emotionally independent. After we got married, Natasha would leave for four to five weeks in a year to visit her parents, 10 time zones away. The first couple of years, I was fine in her absence because of the emotional independence I developed during childhood. After some time however, when she would leave, I realised that I started to miss her more and more every time she was away. Then finally, a time came when it became too painful so we decided that from then on, we'd take vacations together. The point is this: marriage is a wonderful journey punctuated by happiness, laughter, shared interests, differences, challenges and difficulties. But the greatest joy lies in worshipping our Creator together. We pray to The Almighty to grant successful marriages to all who are married and to those who are yet to be married.
Natasha
Abdullah and I met in the summer of 1999. I was nervous when our parents decided to meet for the first time at an ISNA convention in Chicago attended by 30,000 people. All day, Abdullah tried to spot us in the convention halls within the gigantic maze of the expo building. Finally, out of desperation and lack of success, he stood at the bottom of the escalator with his mum and sister checking out each passing girl, looking for me. After a long day at the convention, we met for dinner and our families stayed up chatting until 3am. This was the chaotic beginning of a wonderful coming together of two families.
During our first meeting, I was on holiday from India. Later that summer I returned to India but we kept in touch via phone and email and soon we felt the need to meet each other in person once again. My father wanted to meet Abdullah's family and get to know them since he wasn't present at the Chicago meeting and soon I was back in the US spending a week with Abdullah, our respective parents and his sister. His family arranged for us all to spend a week at the beach in coastal South Carolina and the wonderful holiday culminated in an engagement.
Being an only child, the wedding was a major event for my parents. They planned it over several months, going over every detail while I enjoyed doing the shopping. After the wedding, my parents and I went for Hajj. Looking back, I think that's why I didn't shed a tear on my wedding day. Though, when the time did come for me to pack my bags and move half way across the world, it was another story.
Moving to America was a mixed bag of emotions. I was happy to be with my husband but sad to be away from my home and family. Over the next few years, America did become home and my husband my family.
Getting to know each other was a wonderful experience. We laughed and fought, enjoyed each other and figured out what makes the other tick.
Marriage does change a person; it makes you discover your strengths and uncover your weaknesses. We have learnt a lot from one another and continue to do so every day.
Over the past nine years, Abdullah has become more like me and I more like him. I rely on him for advice as well as the little everyday things he does for me to make my day go more smoothly.
Share this


Link to this
Printer Friendly