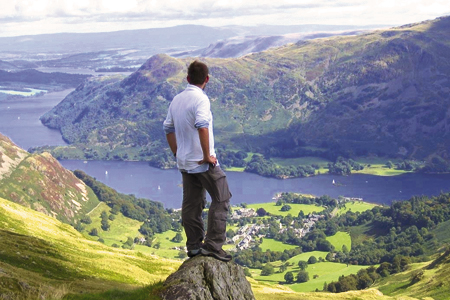 Countryside Getaways
Issue 68 May 2010
There is nothing like the fresh outdoors to get you reacquainted with nature. emel brings you four country adventures to welcome the Spring.

Rambling
My friend Nadia (the more experienced rambler) and I wanted the coupled benefit of enjoying beautiful countryside views and staying fit at the same time.
I've always enjoyed aimless idle walking (yes, the actual definition of rambling) and the answer was on my doorstep and quite cost effective, too. I confess, therefore, that I have unofficially joined a rambling association in my hometown. With rambling, we were killing two birds with one stone (metaphorically speaking, we haven't been asked to kill any real ones on our rambles so far!)
The ramblers I've found are far from aimless or idle: a zealous, sprightly and welcoming bunch and mostly retired. Nadia and I (thirty-somethings) are a novelty for them. We originally looked out of place but quickly became substitutes as grandchildren.
I also found that I had unintentionally joined the one rambling association reputed to be the fastest walking group in Buckinghamshire. There are less fervent dedicated groups out there that graze more and walk less but this is still no picnic in the park.
I confess I love it and with my limited experiences thus far, my additional confessions may perhaps come in use for you: my sense of direction is awful – get an Ordnance Survey Map; don't let the mode age of the ramblers fool you. They are very fit, as I found to my detriment on my seven mile rambles walking up steep gradients around Naphill, Hughenden and Cookham; banana break – bring your own banana (or date loaf); always have a bottle of water handy. That way you can pretend you need a drink and/or stop 'and appreciate the scenery' when really you are dying from the acute pain in your calves and/or cant breathe from exhaustion!
Cottage Getaway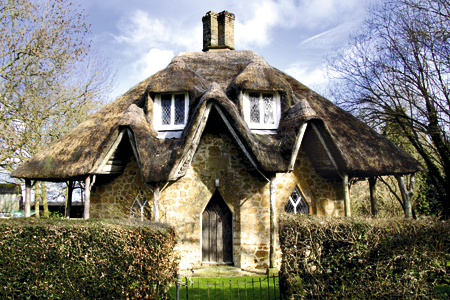 A few years ago, as the summer holidays were dawning, two of my sisters were thinking how best to keep the children busy and entertained. They had nine children between them from the ages of 1 to 12 years. I suggested renting a self-catering cottage in the country. Since they had their hands full, it was left to me to arrange the trip. There are hundreds of holiday properties in the UK which range from modern minimalist to a traditional farmhouse, and locations vary from the wild remote coastal region to the village cottage with easy access to the local town. I made a list of requirements and found a cottage in the Peak District which fulfilled our criteria. Most cottages come equipped with linen, towels and heating though some may charge a supplement, and it is worth checking with the agency or owner that there are no hidden costs involved. A deposit is normally required to secure the booking and the rest of the money is paid prior to arrival. The rental price depends on the time of year, size, facilities and amenities of the property. Most cottages also have a quality 'star' rating from 1-5 awarded by the Tourist Board.
The great thing about a cottage holiday is having the freedom and flexibility to do what you like at your convenience in a 'home from home' set up, without the constraints and concerns of staying amongst strangers. It is a holiday well worth considering if you're looking for the perfect escape from the madding crowd and urban jungle that most of us inhabit.
Canal Boating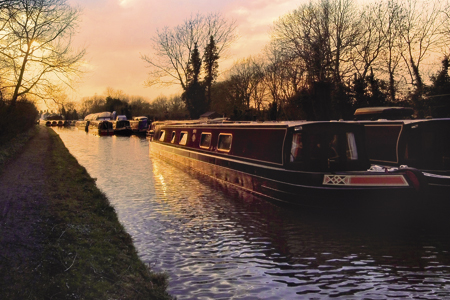 Canal boating is most definitely not for everyone. If you're the active type who likes to play endless rounds of tennis and enjoys beach holidays, then it's perhaps best to avoid canal boating. It is more inclined towards the laid-back, reflective holiday-maker who enjoys winding down to the sight of scenic landscapes.
If you're the 'DIY-guy', then it's a good idea to get some training and try operating a boat yourself. I, on the other hand, prefer to be pampered and thus stick to my comfort area, holiday canal boats.
There are reputed to be over 2000 miles of navigable canals in England and Wales, winding through unspoilt countryside and offering a different perspective on canal-side villages, towns and cities. Don't forget your camera to capture nature in its pure, undisturbed form as you glide gently past it. The canal boating experience provides views you couldn't get anywhere else; sunset on the river bank being one of the most exquisite.
Most cabins are compact but comfortable, with a personal shower attached. Amenities like linens, soap and hair dryers are often all provided so you can pack light – considering you don't have much of a choice where storage space is concerned! Relaxing in the communal lounge for the colder evenings abroad is a great way to make friends with the rest of your fellow passengers. For the warmer days, however, enjoy laying out on the deck and soaking up the crisp summer sun.
Carry on Campers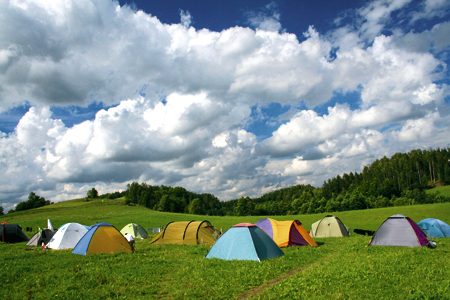 Ah – the great outdoors, the country air. Surely it can only be truly experienced from the vantage point of a tent! Tents bring out the inner nomad in you. It's the tepee or yurt experience! From the moment you get to an empty field and begin to pitch your tent there is an invigoration which pulses through your veins. I think it's the fragility of having little more than a few millimetres of fabric between you and the outside world. Once the tent is pitched you can begin to build your cocoon of blankets inside. You are so close to the elements yet protected. The sounds of the country reach you: rain tapping on the fabric roof, owls hooting, even the breathing of cows in a nearby field will all make you realise your closeness to the land. If the weather is really wonderful you may even think to sleep outside. Sleeping under a star lit sky allows you to contemplate the cosmos.
Then there is the cooking, which brings out everyone's inner boy scout. The meals which can be prepared on a two ring gas hob are only limited by your spirit of adventure. We have made full blown chicken curries, but others may succumb to sausages cooked on sticks in the campfire, followed by toasted marshmallows and camping songs. For the really adventurist – there is nothing quite like spit roasted chicken. For a weekend trip we marinade, then freeze, our food, pack with ice packs and wrap. It lasts for the entire trip.
The best bit of camping though is the praying outdoors. Fajr said in an open field with the stars still glittering in the sky and the birds beginning to sing their dawn chorus is the most wonderful experience and should be enjoyed at least once in your life.
To read this article in its entirety, subscribe to emel today >Read Below<
1) Delivered to your door for only £3.50 with FREE Postage and Packaging
You can get your latest issue of emel with FREE Postage & Packaging.
Click here for terms and conditions
Call us on 020 7328 7300 or email info@emel.com.
2) Find your Local Stockist
Your latest issue of emel is also available in stores nationwide including WHSmith and Borders.
3) Subscribe for one year - now only £29.95
You can subscribe for only £29.95 (that's 50% off the standard UK subscription price) and get 12 issues delivered straight to your door, every month..
Call us on 020 7328 7300 or email info@emel.com
Share this


Link to this
Printer Friendly