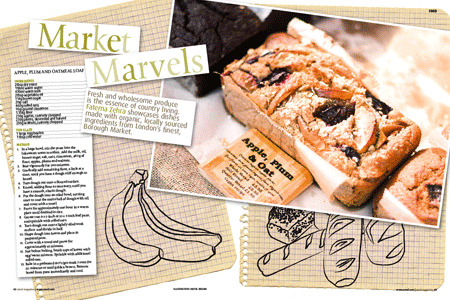 Market Marvels - Country inspired recipes
Issue 68 May 2010
Fresh and wholesome produce is the essence of country living. Fatema Zehra showcases dishes made with organic, locally sourced ingredients from London's finest, Borough Market.
Apple, Plum and Oatmeal Loaf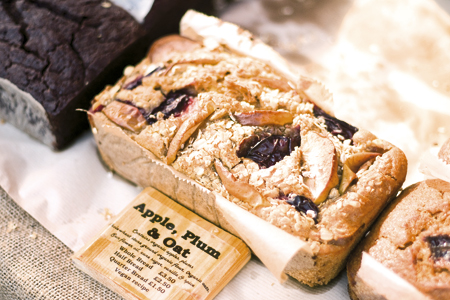 Ingredients
2tbsp dry yeast
118ml warm water
470ml warm milk
2tbsp vegetable oil
114g brown sugar
2tsp salt
460g rolled oats
1tsp ground cinnamon
1.15kg flour
230g apples, coarsely chopped
230g plums, deseeded and halved
230g walnuts,coarsely chopped

FOR GLAZE
1 large egg beaten
1 tbsp cold water

Method
In a large bowl, stir the yeast into the lukewarm water to soften. Add the milk, oil, brown sugar, salt, oats, cinnamon, 460g of flour, apples, plums and walnuts.
Beat vigorously for two minutes.
Gradually add remaining flour, a little at a time, until you have a dough stiff enough to knead.
Turn dough out onto a floured surface.
Knead, adding flour as necessary, until you have a smooth, elastic dough.
Put the dough into an oiled bowl, turning once to coat the entire ball of dough with oil, and cover with a towel.
Prove for approximately one hour in a warm place until doubled in size.
Grease two 9 x 5-inch or 10 x 5-inch loaf pans, and sprinkle with rolled oats.
Turn dough out onto a lightly oiled work surface and divide in half.
Shape dough into loaves and place in prepared pans.
Cover with a towel and prove for approximately 45 minutes.
Just before baking, brush tops of loaves with egg/water mixture. Sprinkle with additional rolled oats.
Bake in a preheated 190°c/gas mark 5 oven for 30 minutes or until golden brown. Remove bread from pans immediately and cool.

For more recipes and to enjoy the entire food feature, subscribe to emel >Read Below<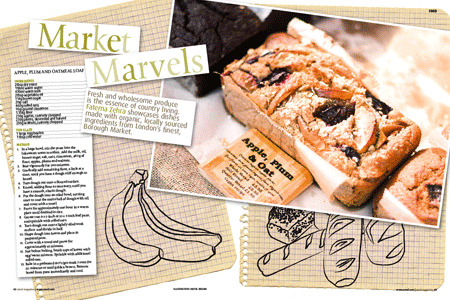 1) Delivered to your door for only £3.50 with FREE Postage and Packaging
You can get your latest issue of emel with FREE Postage & Packaging.
Click here for terms and conditions
Call us on 020 7328 7300 or email info@emel.com.
2) Find your Local Stockist
Your latest issue of emel is also available in stores nationwide including WHSmith and Borders.
3) Subscribe for one year - now only £29.95
You can subscribe for only £29.95 (that's 50% off the standard UK subscription price) and get 12 issues delivered straight to your door, every month..
Call us on 020 7328 7300 or email info@emel.com
Share this


Link to this
Printer Friendly