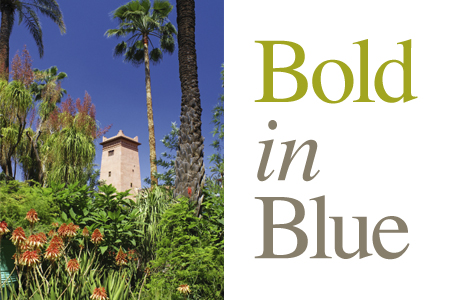 International Gardens - Bold in Blue
Issue 67 April 2010
The penultimate in our series of International Gardens is located at the foot of the Atlas in North Africa. The Majorelle Gardens are an exotic wonder to behold.

The Majorelle botanical gardens combine Islamic and Mediterranean elements with a dazzling array of plants and trees as well as grand architectural design to create an environment of complete serenity – a welcome change from the hustle and bustle of Marrakech's city centre. The lush oasis of the Majorelle Gardens was created by Jacques Majorelle, a French painter who settled in Marrakech in 1919. The gardens, however, appear to be heavily influenced by Islamic design, with water being a central feature in the form of pools, pavilions, fountains and water channels. As Majorelle himself was a painter, it is no surprise that the garden resembles a landscape painting; the striking cobalt blue colour of the architecture reinforcing the serenity of this tropical haven.
After several years of neglect, Pierre Bergé and Yves Saint Laurent purchased the Majorelle Gardens in 1980, restoring it back to its former glory. Majorelle's personal studio is located in the vicinity of the gardens and houses a museum of Islamic Art, containing a variety of Islamic artefacts collected from Morocco. Some of these items include traditional Berber jewellery and embroidery, and valuable 18th century blue pottery from Fez.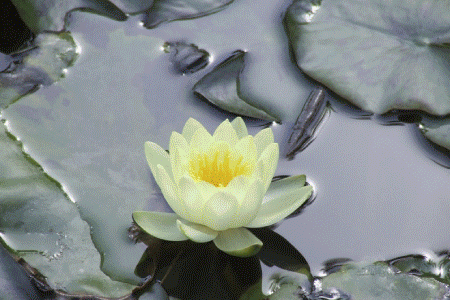 Zellij tiles, which are now recognised as a traditional element of Moroccan design, are used throughout the gardens, emphasising the influence Islamic architecture had on the designer. Similarly, repetitive geometric patterns reinforce the attributes of Islamic gardens everywhere. Like most in Marrakech, the Majorelle Gardens have a traditional courtyard-shaped layout with a fountain as a central focus.
Majorelle's exotic plant collection from olive trees, honeysuckle and mauve to bougainvillea and cacti is astounding. The garden is also home to 15 bird species; all natives of North Africa. The winding, concrete pathway, aromatic orange palm trees and the stunning flowers exude the essence of North Africa.
The exotic blend of Moorish and art-deco architecture, the vivacious splash of 'Majorelle blue' and the natural coral green of the landscape all contribute to the beauty of the Majorelle Gardens.
Click here to enjoy our other garden features.
Get your latest issue of emel magazine >Read Below<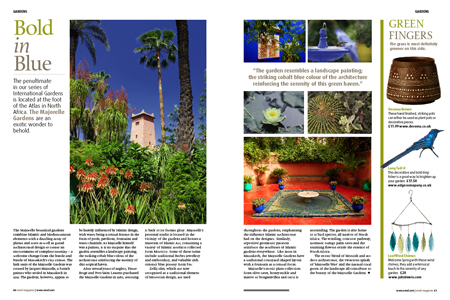 1) Delivered to your door for only £3.50 with FREE Postage and Packaging
You can get your latest issue of emel with FREE Postage & Packaging.
Click here for terms and conditions
Call us on 020 7328 7300 or email info@emel.com.
2) Find your Local Stockist
Your latest issue of emel is also available in stores nationwide including WHSmith and Borders.
3) Subscribe for one year - now only £29.95
You can subscribe for only £29.95 (that's 50% off the standard UK subscription price) and get 12 issues delivered straight to your door, every month..
Call us on 020 7328 7300 or email info@emel.com
Share this


Link to this
Printer Friendly