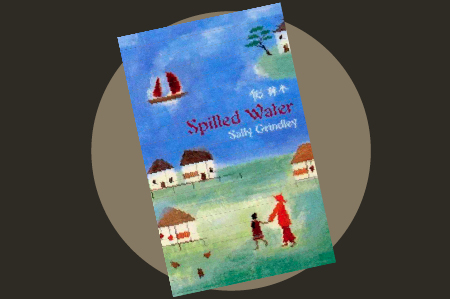 Spilled Water
Issue 68 May 2010
Review by Charlotte Joseph
Spilled Water is a heart breaking tale of an 11 year old girl who lives in the country side of China. Lu Si-Yan, who is pitilessly thrown in to a ruthless route of pain, fear and frustration by her uncle is carried in to a crushing current of hardship. Lu's father dies and leaves his family desperate for money and Lu's younger brother is not yet old enough to work and neither is she, despite that her uncle chucks her aside and sells her. She becomes a servant of a wealthy house hold in the city but when the grandmother of the family finds out that her grandson is to be marrying Lu, she helps her escape; unfortunately this is only the start of Lu's struggle for her old life. Her memories of her loving father are the only thing that helps her fight for her family, money and survival.
With long hours of labour, poor conditions and very little payment, little Lu soon finds herself with many other girls like her working in a factory. Her childhood is wrecked and she clings on to her precious memories of the past as she works. Her unfortunate story made me see how badly treated she is and how fortunate I am to live a life with the chance to go to school, to get a job and live a good life. Unfortunately there are still many parts of the world like Lu's home village in China where girls like her are cast aside like spilled water just like something that has no use and that has been wasted. Lu's life is hardly valued as she desperately tries to help her family. She becomes just another life, just another item to the wealthy businessmen, her country and culture become meaningless.
This is the first book out of the series in which she continues her journey. A brilliantly written story that is heart moving and in this tragic tale Lu isn't the only girl to have a distressing situation even in reality, Lu isn't the only one to suffer such a life. Girls in some Asian communities and areas in the world are still treated like spilled water, are looked down upon and don't have the same rights as the boys in their community or culture. The story 'Spilled Water' is sure to bring tears, many don't realise until they read stories like this or go to other countries that the lives we live here, in comparison is a luxury.
Share this


Link to this
Printer Friendly