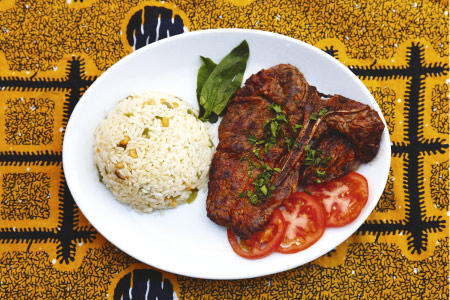 The Braii Meat Feast
Issue 69 June 2010
The word Braai originates from the Afrikaans and can be regarded as another word for 'to barbecue or roast'. This month, Sabiha Khokhar showcases some much loved favourites in South African Braai's.
T-Bone steak (Braai)
Ingredients
1 kg T-bone steak

2 tsp salt

1 tbsp garlic paste

1 tbsp red chilli powder

1 tbsp garam masala

2 tbsp tomato puree

2 tbsp freshly chopped coriander/cilantro

Juice of 1 fresh lemon/lime

Method
Wash the T-bone steaks and remove excess water.
Mix all other ingredients in a small bowl and apply marinade to the steak. Mix in well into the meat and coat all over.
Place covered in the fridge overnight for two hours.
Cook as desired; for rare cook five minutes on each side and for medium to well done, cook for seven minutes on one side, then cover the steak with foil or a bowl for four minutes, then cook other side.
Squeeze the lemon juice onto the steak just before removing from the coals.
To check out more food articles, click here

To enjoy the rest of this feature, get your latest issue of emel magazine >Read Below<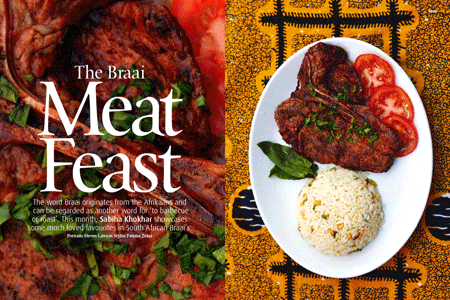 1) Delivered to your door for only £3.50 with FREE Postage and Packaging
You can get your latest issue of emel with FREE Postage & Packaging.
Click here for terms and conditions
Call us on 020 7328 7300 or email info@emel.com.
2) Find your Local Stockist
Your latest issue of emel is also available in stores nationwide including WHSmith and Borders.
3) Subscribe for one year - now only £29.95
You can subscribe for only £29.95 (that's 50% off the standard UK subscription price) and get 12 issues delivered straight to your door, every month..
Call us on 020 7328 7300 or email info@emel.com
Share this


Link to this
Printer Friendly