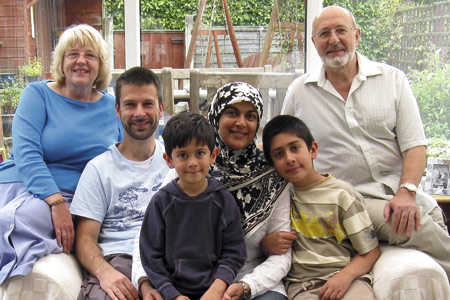 Family History
Issue 69 June 2010
Father and son, Brian and Steven Longden discuss how their relationship has strengthened over time, even after Steven's conversion.
Brian
I guess we had the normal father/son relationship as he was growing up. Steven was principally cared for by his mother whilst I was working shifts as a heavy goods vehicle mechanic at local transport companies.
He is like me, in that he is something of a perfectionist. But I would say that we have different personalities. Steven is more interested in meeting people and finding out their points of view. He has been more educated and has opinions about politics and religion, which I do not always share.
We differ in the sense that I'm not at all religious. I guess I'm more practical and enjoy making and repairing things.
I remember when Steven spent 10 months in Egypt as part of his university course on Arabic - it didn't cross my mind what was to follow. I went to Egypt to join him for a holiday and during my time there, Steven occasionally wore the Islamic headwear. I thought that this was just to 'fit in' with the locals and to make it easier for us to get into places we otherwise would not have access to.
When he returned to the UK, Steven decided to become a Muslim. I had mixed feelings about this decision but in some ways it was more difficult for Steven's mother to accept his conversion to Islam, as she is a practising Christian and brought our children up in that faith.
As a family, we had no experience of other faiths and did not know any Muslims.
But we are proud of the way in which he has proved to be such a devoted and sincere follower of his faith over the years.
I admire the way in which my son has studied hard and has become a respected and sincere member of the Muslim community. He is non-judgmental of others who do not share his beliefs but is happy to explain or discuss his faith.
Now that we are blessed with grandchildren from Steven and Rozina's marriage, we also feel many advantages of being part of a multi-cultural family. We have met many of Steven's Muslim friends who have taught us a great deal about the Islamic way of life. My wife and I can also enjoy the festivals and culture of both religions.
Steven
My dad and I are very close and see each other at least once a week.
We're fairly similar as people. We are both very family-orientated and my father has set an excellent example to me by always putting family first – an example that I try my best to emulate.
Professionally, he's more into technology and practical, hands on things where as I'm more theoretical/conceptual. In that respect, he's more like my wife – I let them get on with all the DIY. They both share the same corny sense of humour – so I have no escape from northern style, mother-in-law jokes.
Religion is something that dad's not interested in. Whereas, I'm fascinated with it and I guess my mum just goes back and forth between us!
Dad and I are both very interested in history. We bore my mum and wife to death with it! He's particularly keen on family history. In 1999 he actually discovered that my great, great, great grandfather converted to Islam – we joke it must be in the genes but skipped a few generations. Our ancestor's name was Robert Raschid Stanley and he was a local, political figure and Mayor of Stalybridge in Greater Manchester. My father discovered that he converted in 1898, at the age of 70 and in 1901, he became the Vice President of the Liverpool Muslim Association and friend of Shaykh Abdullah William Quilliam.
My father didn't know a lot about Islam and Muslims prior to making this discovery. I think the fact that he carefully studied Robert's life helped his understanding and respect for Islam and Muslims.
I admire my father because he's always been there for me and the wider family, and continues to be - what more could a child want from a parent than for them to always be there?
I guess when I converted, he had his concerns about me becoming a Muslim but he kept those concerns to himself; especially considering he's not one for talking about religion. Similarly, when I was getting married, I knew the family would encounter some difficulties but he was supportive as always and helped us through it.
My dad has always been very level headed. He's very consistent in terms of his outlook on life and his relationships with people.
To check out more of our Kith and Kin articles, click here

Share this


Link to this
Printer Friendly