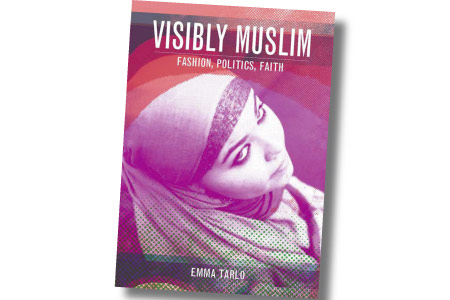 Visibly Muslim - Fashion, Politics, Faith
Issue 69 June 2010
Review by Sumaiyah Forbes
As a reader of Anthropology at a London university, Tarlo's work seeks to offer an insight into the diversity of modern Muslim perspectives on dress, and the sartorial possibilities they are generating; in opposition to Western popular media which depicts Muslim dress as homogeneous. This diversity is what Tarlo labels Islamic Fashion; women are identified as being at the forefront of Muslim visibility in the West, hence the main corpus of work is dedicated to their dress.
Included are biographies of diverse personalities; some known, others not. In these, the subjects discuss their relationship with Islamic wear (principally the headscarf) which is often a complex one. Coloured pictures are included alongside these testimonies, adding a sense of familiarity to the individual's personal style.
Tarlo does not shy away from contentious issues as she considers the Shabina Begum Jilbab and Jack Straw Niqab controversies. She goes on to detail Muslim reactions towards these issues in a Western context, thus highlighting the diversity of Muslim thought on matters such as the wearing of the jilbab and face-covering. I particularly liked how the internet is explored as a key medium through which Islamic fashion has emerged; enabling geographically distant Muslims to interact and share ideas, it also provides space in which Muslim entrepreneurs can market their products.
Visibly Muslim is neither pro nor anti- Islamic dress; throughout the book, anthropological theories are applied to the topics being discussed, thus highlighting its academic nature. Non-Muslims will gain an insight into the complexity [and difficulty] of both the dress and identity of a Muslim in the Western context. For Muslim readers, the book will serve more as a literary recognition of their reality rather than an educating tool. This book also causes the reader to ask some important questions regarding the (often unintended) segregating affect that dressing in an overtly religious manner may bring – such issues are paramount in these times when the EDL are marching against the 'Muslim threat' to British values, and questions of failing multi-culturalism, and lack of Muslim integration are looming.
Share this


Link to this
Printer Friendly