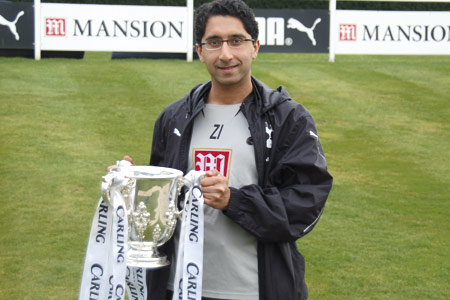 A Week in the life of Dr. Zafar Iqbal
Issue 69 June 2010
Champion's league qualifiers, Tottenham Hotspurs, look to Dr. Zafar Iqbal to keep them fit and healthy for their matches.

As the official club doctor, I look after the medical care of the professional players and I also work as a Sports and Exercise Medicine (SEM) Physician at a Sports injury clinic in Newham.
I've been at the club for nearly two seasons now. I work 9-1pm, three days a week and Friday afternoon at the training ground. I also work two morning clinics at the hospital. As most of the club games are usually at the weekend, I also tend to do sporadic lectures and presentations.
If we're playing an away game during the day, for example a Saturday afternoon, then we travel on Friday afternoon and return on Saturday evening. If it's a European game then we travel the day before. Fortunately we have private chartered flights just for the team and so the travel is not too disruptive or time consuming. Pre-season tours can be anywhere in the world. Last season the team travelled to China and Hong Kong but my colleague had to go as it was around the time of the birth of our son, Zacariya.
I think as a doctor you meet people from all different backgrounds anyway as illness or injury doesn't choose who to affect. However, working in professional elite sport brings a different clientele. As well as treating players from different backgrounds, I've had the opportunity to chat with Muslim players from other clubs.
I've wanted to be a doctor since the age of eight, when one of my sisters was diagnosed with a brain tumour and I was inspired by the care the healthcare staff gave her. My parents made huge sacrifices to enable me to study medicine and I am indebted to them to have helped achieve my dream.
Working as a Sports and Exercise Medicine physician enables me to combine my passion for working as a doctor as well as sport. I still find it a little surreal when I'm visiting stadiums and the team play other teams in the premier league or Europe.
But I'd be lying if said all aspects of the job were enjoyable. There are constant pressures to help make as many players fit and available to the manager as possible. I'm constantly learning and looking at ways to help provide the latest techniques or treatment and have access to specialists from around the world. The busiest time is usually transfer window where you can be up late through the night to try and complete the necessary medical examinations.
The job is rewarding when results go the right way but the mood can change very quickly. I don't think there is anything that can quite provide such highs and lows over a short period of time. It can be very time consuming and I've not had a week off in the last five years. Not that I'm complaining; I'm eternally grateful to my wife, Rasena, who has taken a career break as a doctor to help provide some stability at home and help with our three kids.
The team can be very playful and are always trying to have a laugh at the medical team's expense. I remember a training camp in Spain a couple of years ago where I received an emergency call to see one of the players in his room. I rushed down the corridor of the hotel we were staying in to the player's room and just as I passed this huge freezer on the side, Robbie Keane and Jonathon Woodgate jumped out, making me jump. To make matters worse, all the players were hiding just around the doors to their rooms and had also videoed everything!
The team are also very supportive and considerate. I remember playing Newcastle during Ramadan once. About 10 minutes before kickoff, there was a knock on the changing room door. Our Club secretary and Jonathon Woodgate had arranged for some food for me to open my fast with as they were aware I'd not eaten at the pre-match meal. So, there I was in one corner of the changing room opening my fast while the team was preparing for a cup game. I was touched by the gesture.
Being a Muslim and working as a doctor for a premiership club is a privileged position and so I try and provide the same level of care to amateur athletes in my NHS clinics.
I want to continue working towards being the best that I can be. As my dad constantly reminds me, 'you should end the day with no regrets and continue working as hard as you can in every aspect of your life.'
Share this


Link to this
Printer Friendly