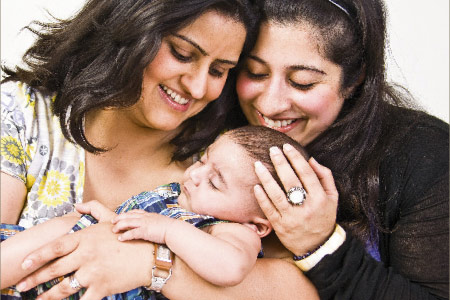 Plane Sailing
Issue 70 July 2010
Kiren and Sabina never imagined that a chance meeting on an airplane would lead to a 16 year friendship.
Kiren

I first met Sab on a plane to Karachi. Initially, I found her quite annoying as after having introduced herself, she wouldn't stop talking! I wanted to sleep on the flight, but every time I dosed off, she'd nudge me or start up another conversation.
I exchanged numbers with her out of courtesy, convinced I'd never see or hear from her again but she called me once I was back in London; almost four months after we had met. Our friendship pretty much developed from there.
She was working at Selfridges at the time and when I mentioned I was looking for a job, she offered to introduce me to her manager, which led to a subsequent job offer. We ended up working together for a good five years.
I guess I'm a lot more bold and unconventional than Sab. Admittedly, we're not very similar at all but our basics are very strong; we're God-fearing, honest and loving people.
We've known each other for over 16 years now, so we've been through a lot together. We share a special bond and I can't imagine my life without her. She's part of my family, just as I'm a part of hers. Her husband is also a good friend of mine and since they've had their baby boy, Shayaan, our friendship has become even stronger.
Like all good friends, we've disagreed a lot and had our ups and downs but we've always managed to come through it. The thing I love most about Sab is her ability to see the best in people. She's never said anything horrible about someone or even spoken behind someone's back. It's just not in her personality to speak foul about people.
Sab has an entirely giving nature. I remember a year ago, I needed to turns some statistics into pie charts as part of my MA. Sab has specialised in IT, so she has a much better understanding of these things than I do. Despite being heavily pregnant with Shayaan and sitting all the way in Canada, she asked me to send her the data and collated it all into the format I needed. I can't imagine her turning down someone in need. She's the most helpful person I know.
Sabina
Kiren and I met more than 16 years ago. I couldn't have guessed she was Pakistani at all. My immediate impression was that she seemed very westernized and mature.
After having exchanged numbers, we kept in touch via phone and I realised she was living in Ilford, which was 20 minutes from me. From then on, the visits became constant.
In all honesty, we couldn't be more different as people; from our taste in food, clothing and people to our hobbies and lifestyles. The only strong similarity I've been able to identify is that we're both very caring and considerate people, which I guess are the fundamentals of a good friendship.
She's always been a great support to me. When I lost my father, I felt I couldn't confide in anyone but her. There's an honesty and sincerity in her that I haven't seen in many others; I can trust her blindly.
Working together in Selfridges was really enjoyable. We have so many memories and funny stories from that time. We were coming back from work once and I was going round the large roundabout at Marble Arch. Kiz was trying to put her hair back with a hair band and all of a sudden, it flew out of the window. She insisted we had to go back for it – screaming that it had cost her five pounds. So she made me go round the incredibly busy roundabout twice and finally made me stop the car in the middle of traffic to the sound of a million horns whilst she stepped out to retrieve her hair band!
There's an ease and comfort that I feel when Kiz is around, which is unparalleled to that of another. I've never felt ashamed or uncomfortable around her because I know she won't judge me.
I admire her femininity – she's probably the most feminine girl I've ever known; with her mammoth collection of shoes and bags! I also admire her loyalty. She'll always tell me the truth and has remained sincere throughout the time we've known each other.
Share this


Link to this
Printer Friendly