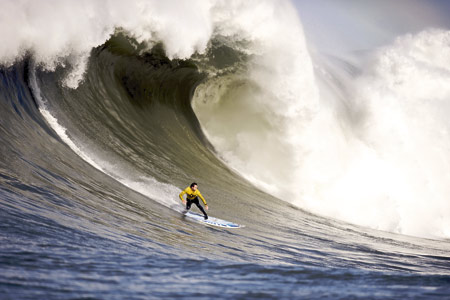 Water Sports
Issue 70 July 2010
As holiday season approaches, why not work on decreasing your carbon footprint by trading in air miles for sea miles and attempting emel's pick of water sports.
Surfing
Khalil Malik
My favourite spot to surf is on the north coast of Cornwall. Ultimately, Newquay is 'California' for the Briton who doesn't want to venture too far from home; although I hear from friends that Ireland is one of the most popular destinations for catching some powerful waves.
I first got interested in surfing after visiting a surfing camp at 12. Considering our weather doesn't always permit the opportunity to practice surfing skills, even if you do live near a beach, a surfing camp is really the best way to go for beginners and those wanting to practice their skills. The camps usually run multi-day lessons that focus on the fundamentals of surfing.
Classes can be quite expensive, however, so it's a good idea to get an idea of what the sport entails before you book. Hang out at any Newquay beach and stop a surfer to ask some questions. As popular culture quite accurately portrays, surfers are indeed very friendly though very few of us on this side of the Atlantic use terms like "dude" and "gnarly" after every sentence!
Like most other water sports, it would help if you're a good swimmer. It sounds obvious but you'd be surprised how many people want to ride large waves but have no theory of survival when I ask how they'd make it up to the surface once the wave envelops them!

Photograph above by Shalom Jacobovitz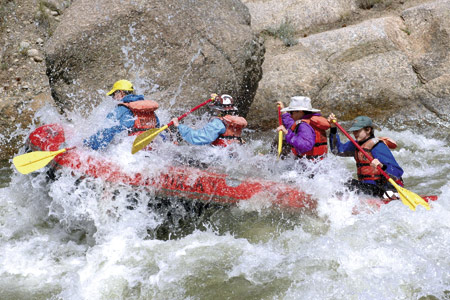 Rafting
Maryam Sheikh
To say that white-water rafting is an intense physical challenge, would be quite an understatement. I was first introduced to the sport whilst I was on holiday in Canada. I've always been a thrill-seeker and after a pleasant yet largely dissatisfying ride on the 'Maid of the Mist', a large boat which takes you into Nigara Falls, I decided I wanted to do something a little more exciting. Whilst on the boat, I overheard someone mention that they were going for a class on white-water rafting on Niagra lake. The rest, as they say, is history.
White-water rafting is quite an active sport – you not only need to be in good physical shape, but also have good coordination and it helps if you're good at navigation. The sport is divided into six classes, otherwise known as grades. These define the level of experience needed to combat those particular rapids as well as the kinds of conditions one can expect. For example, grade four to five can only be tackled by an experienced rafter and thus one should expect large waves, with a strong possibility of large rocks and hazards as well as a significant drop.
Naturally, like everything else, you need lots of practice to get into a good rhythm. Classes can be quite expensive, so it's best to avoid peak season. It's a good idea to book classes in blocks. The sport requires a lot of upper body strength and it's common to pull your peck muscles if you don't exercise your arms enough. You're bound to be quite sore after your first handful of lessons though, so keep an ice pack and a hot water bottle at the ready.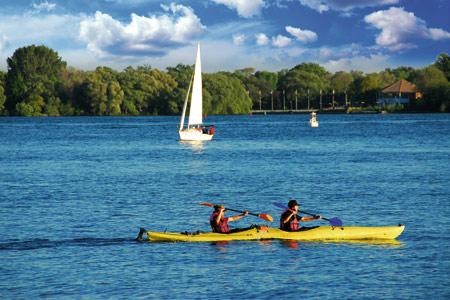 Kayaking
Elliott Marsh
I was first introduced to kayaking in 1998. Twelve years later, you can often find me sat aboard a kayak, somewhere off the Kent coast. I suppose the main attraction is freedom. You can sit off the coast, admiring the view and shooting the breeze with a group of friends; maybe even surf some waves closer to the shore, if you fancy a shot of adrenaline – believe me, it can be fantastically intense! You could hop from bay to bay along the coastline until you find a cove that you like. You never know when you might be confronted with a baby seal just a few feet from your kayak, or intercepted by a lone cormorant gliding over the water. Or perhaps, if you're seeking some measure of peace, you can paddle a mile or so out to sea and lose yourself in the beauty. Behind you, the expanse of the English coast; ahead, a distant horizon calling to you, where no sounds will find you and you will be alone with nature in the endless solitude of the open seas.
Whilst it is naturally tempting to simply cast off from the shore, I can tell you that it pays to be prepared. It goes without saying that you should have the correct gear - it may be pricey, but a good life jacket is essential, particularly if you're turfed out of the boat in rough seas and are too far out to swim to the shore. Also, you can never have too many supplies - sudden tiredness or thirst can easily be overcome by an energy drink or two. Finally, know the area you're kayaking to. Any intrepid traveller should have a look over a map of the coast or river they plan to explore before setting off to scout any natural obstructions or points of interest. You never know what - or who - you might find along the way...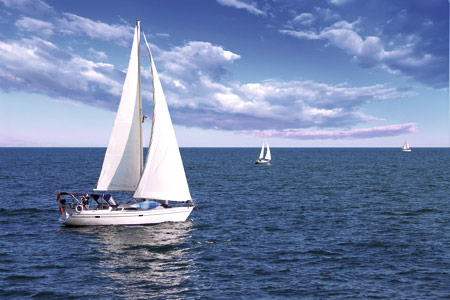 Sailing
Bilal Rashid
I learnt to sail in a small two-man boat in the London Docklands, primarily to avoid having to play football at school. Soon it took over my life and I moved onto larger yachts and the open sea. I now spend much of my holiday time on our beautiful south coast. Within a few hours of leaving the hustle and bustle of the city, I can be completely alone; anchored up a creek listening to the curlew calling across a windy marsh. A pleasant night sail and you could be in the beautiful cruising grounds of Normandy and Britanny, or sailing along with dolphins off the breathtaking Cornish coast. Add to that the essential need of having to use every instinct in your possession to harness the power of the wind to your advantage and survive against an indifferent sea and you'll understand what keeps us sailing. In the words of my favourite sailing author, travelling by boat is avoiding the "modern lunatic urge to go places for the mere sake of arriving."
Share this


Link to this
Printer Friendly