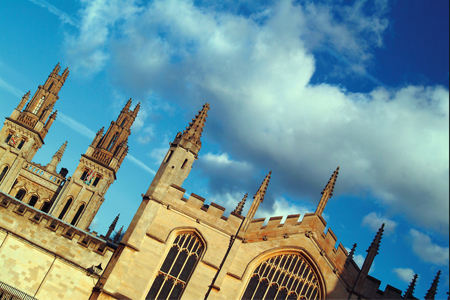 The Muslim Market
Issue 70 July 2010
The Saïd Business School at the University of Oxford played host to a major conference on the global Muslim Market. Allen Lai discusses what trend spotters are calling 'the next big thing'.

23 per cent of the world's population is Muslim. With increased purchasing power, and specific consumption behaviour, Muslim consumers present a strong voice that the globalised world of business is paying more attention to, but has yet to fully understand.
It is estimated that the market for Shari'ah compliant products is currently worth over $2 trillion and growing fast. As Muslim countries develop, there is strong interest from non-Muslim companies that want to understand, enter and penetrate this huge market that spans the food and beverage, retail, cosmetics, healthcare, pharmaceuticals, travel and tourism, and logistics industries amongst others. The challenge for them is how to do this.
Reaching out to the Muslim market is not easy. For example, KFC's efforts in running a trial opening of 80 halal branches in England met with mixed reaction from both Muslims and non- Muslims alike. Whilst some Muslims welcomed the move, there were questions as to whether the chicken was actually halal. Meanwhile some non-Muslim customers were upset by not being able to get their favourite meals with bacon, leading to Facebook groups being set up in protest.
For Islamic companies the challenge is different. How can Islamic brands be built for the global Muslim market? For example, is it sufficient for a prawn cracker producer from Brunei to have a Brunei halal logo on the packet to guarantee global Muslim market access and success? The answer is probably not. There is no universally accepted halal accreditation system so differences in quality standards between countries often prevent halal brands, accredited in an individual country, from entering large markets such as the EU.
Indeed, Ogilvy & Mather's recently launched Islamic branding practice, 'Ogilvy Noor', says country-of-origin matters less. Their recent research carried out with market research specialists, TNS highlights that brand success depends on being empathetic to the needs of the Muslim consumer through focused offerings and communications. The Ogilvy Noor Brand Index ranks companies according to their perceived Shari'ah compliance by consumers. The first index of its kind reveals that global organisations Nestle, Lipton and Kraft all appear among the top five ranked brands, confirming their finding that brands that are consistent with the core values of Islamic branding do well. So where are the Islamic brands and why are they not doing so well?
The Oxford Global Islamic Branding and Marketing Forum will provide insight into the latest understanding of Muslim markets and consumers, what market entry strategies are successful, what the marketing challenges are for the global halal industry, and the future of Islamic Finance. Bringing together Muslim and non-Muslim leaders and companies from the UK, USA, the Middle East, South and Southeast Asia delegates will have the opportunity to discuss how to develop better trade and business relations and to learn from each other about the markets.
The Forum will include speakers such as Dato' Sri Najib Razak, Prime Minister of Malaysia, Shaukat Aziz, former Prime Minister of Pakistan and Sir Iqbal Sacranie, founding Secretary General of the Muslim Council of Britain.
Sarah Joseph spoke at the conference on 'Reaching the Muslim Market - Opportunities and Challenges'.
Share this


Link to this
Printer Friendly