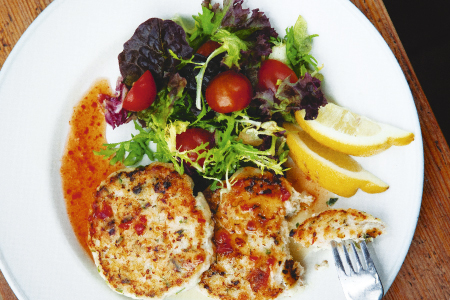 Whet your Appetite - Seafood recipes
Issue 70 July 2010
With a growing threat to the ocean's fish supplies, emel visits 'Seacow'to showcase a selection of sustainably sourced fish dishes for your palette.
Photography by Steven Lawson and styling by Fatema Zehra
Fish cake
Ingredients
1kg floury potatoes

50g butter

568ml milk

350g cod fillet, skin on

2 bay leaves

6 peppercorns

100g smoked salmon, chopped

Handful of chopped fresh chives

Handful of chopped parsley

Flour, for dusting

Vegetable oil, for shallow frying

Lemon wedges, to serve

For the tartare sauce
25g gherkins, chopped

25g capers, chopped

Handful of chopped parsley

Dash of lemon juice

4 tbsp mayonnaise

Method
Cut the potatoes into even-sized pieces and boil in salted water for 15-20 minutes until tender.

Drain well, return to the saucepan and heat for 30 seconds to remove any moisture. Add the butter and a splash of milk, and mash well.

Put the cod in a shallow pan and pour over the milk to cover.

Add the bay leaves and peppercorns and bring to the boil.

Reduce the heat and simmer for 5-6 minutes until tender. Remove from heat.

Flake the fish, discarding any bones and skin. Stir the fish into the mash, with the salmon, chives, parsley and plenty of seasoning.

Divide into eight and shape each into a fish cake.

Coat the fishcakes in flour and shallow fry until golden brown.

For the tartare sauce, mix all the ingredients together – ready to dip your fish cakes in

Heat the vegetable oil in a frying pan and fry the fish cakes for 5-6 minutes each side until golden and heated through. Serve with a mix leaf salad and sweet chilli sauce.

Calamari
Ingredients
vegetable oil, for deep frying

250g plain flour

½ tsp cayenne pepper

½ tsp smoked Spanish paprika

½ tsp salt

500g/ 2oz squid, cut into 5mm rings

2 eggs, beaten

Method
Place enough oil in a wok, large saucepan or deep-fat fryer to come halfway up the pan. Heat the oil to 180C.

While the oil is heating, place the flour, cayenne, paprika and salt in a large sandwich bag.

Drop in the squid and shake around to coat evenly.

Dip the floured squid into the beaten egg and then carefully drop into the hot oil.

Fry for 2-3 minutes until golden. Remove from the oil and briefly drain on kitchen paper before serving.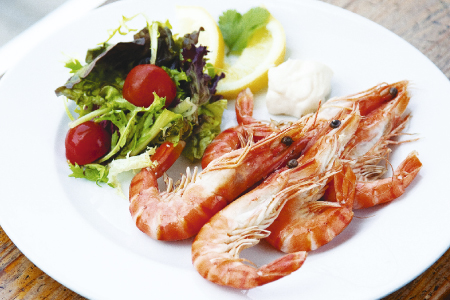 Poached prawns
Ingredients
Salt

2 large free-range egg yolks, at room temperature

2 tsp Dijon mustard

4 tsp vinegar or lemon juice

200ml vegetable oil

1/2 tsp finely grated lemon zest

8 fresh basil leaves, very finely shredded

Method
Bring seven cups of very well salted water to the boil in a saucepan.

Add the prawns, stir once or twice, and poach for approximately 1 - 2 minutes, until just cooked through.

Drain the shrimp and let them cool for 10 minutes.

Mix the egg yolk, mustard and vinegar or lemon juice in a food processor, whilst continually adding the oil. It is ready when the blades leave a visible trail through the mayonnaise. Add the basil leaves.

If the mayonnaise curdles, remove it from the processor or bowl and set aside. Add one egg yolk and whisk briskly, slowly adding back the curdled mayo. The new egg should bring it back together.

Transfer the shrimp to a platter and serve them slightly warm or at room temperature with the mayonnaise.

Snapper
Ingredients
1 tsp salt

2 cloves of garlic, crushed

1 tbsp allspice berries, crushed

1 tbsp coarsely ground black pepper

3 dried bay leaves

1 tbsp chilli sauce

1 tbsp soy sauce

salt and freshly ground black pepper

2 large snappers, cleaned and filleted

drizzle sunflower oil

Method
Score the fillets along the skin.

Mix all the ingredients together in a bowl, leaving out the sunflower oil.

Place the snapper in a container with the seasoning, and leave to marinade for approximately 2 hours.

Heat a pan with the sunflower oil, and place fish skin side down ensuring that your hand is placed on top of the fillet to avoid curling. Panfry for approximately 4 minutes on both sides or until golden brown.

Serve immediately.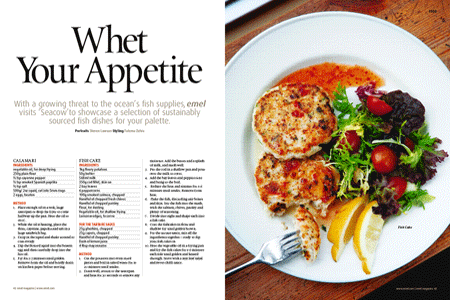 Shoot location
Seacow, 37 Lordship Lane
East Dulwich
SE22 8EW
Share this


Link to this
Printer Friendly