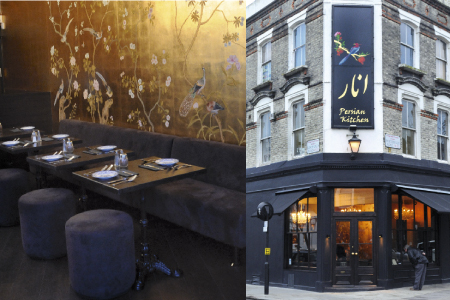 Anar Persian Kitchen Restaurant Review
Issue 71 August 2010
Review by Fayyadh Shamsuddin
Up through the antique markets, restored Art Deco cinemas and vintage market stalls of London's Portobello Road lies the Golborne Road intersection. This colourful pocket of North Kensington, which is currently undergoing a languidly paced gentrification, still maintains an edge reflective of its local North African, Portuguese and Caribbean communities. The neighbourhood's energy and dynamism has more recently led to an influx of fashion/film creatives, innovative gallery spaces and art students. Anar (meaning pomegranate in Farsi and Urdu), opened here in the spring of this year and well encapsulates the mood of its immediate surroundings, indicating perhaps how such disparate elements might complement each other.
Inside, it is elegantly bijou (only 32 covers), high-ceilinged with Classical-influenced powder white cornicing, gold-leaf Oriental inspired wallpaper, exposed brickwork and crystal chandeliers. The Iranian-born head chef offers a menu which draws exclusively on Persian, Afghan and South-Western Pakistani influences. Warm, fluffy, golden naans arrives wrapped in hessian and in woven baskets with starter combinations such as sabzi khordan (mixed salad with walnuts and feta cheese) with must-o-moosir (a cooling shallot and raita-style yogurt) and asheh reshteh (a hearty broth with beans, herbs and native noodles) proving light and subtle.
The straightforward and unadventurous grills aside, most mains come piping hot in clay-fired terracotta pots, highlights include; the Ghormesabzi (lamb and spinach stew) which is deliciously rich and sticky with deep authentic flavours yet admittedly for some, an acquired taste; the baghali polo-ba-mahicheh (lamb shank with dill and broad bean-infused rice) is not only delicately seasoned and tender but 'on-the-bone' leaving a thick and glutinous mixture at the bottom of the pot which when scooped out in spoonfuls, leaves you in no doubt that despite its carefully-managed aesthetic, Anar aims first and foremost to feed and delight. As you would expect the house drink is either natively-imported or hand-pressed anar juice (depending on the season, of course), or sekanjabin (sweet mint, vinegar and cumber mix) an equally refreshing alternative.
Anar offers traditional 'hand-me-down' sub-regional recipes with cooking that is unapologetically confident and proud - without the usual pandering to Anglicised palettes or resorting to cultural pastiches that trade on misguided culinary expectations. New generations of British diners expect high-end, good-looking yet good value neighbourhood eateries like Anar.

Anar Persian Kitchen
349 Portobello Road
London
W10 5SA
Share this


Link to this
Printer Friendly