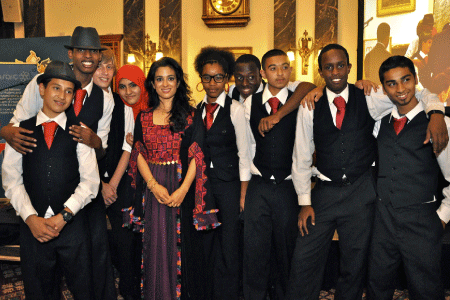 MOSAIC West Midlands Annual Dinner
Issue 71 August 2010
Review by Bilal Mahmood
The Mosaic West Midlands Annual Celebration Dinner left me optimistic, impressed and inspired.
Mosaic is a UK Charity founded by HRH The Prince of Wales. Its mission is to create opportunities for young people of all backgrounds, championed by Muslims. They strive to do this by facilitating mentoring schemes, talks and workshops in all areas: from poetry to politics, scouting to strategy in business. The premise is functionally singular; exposure, inspiration, sustained aspiration. Last year, Mosaic expanded into the West Midlands and the annual dinner celebrated that achievement.
Set in the exquisite Birmingham Council House, the speeches by Mosaic's Chair, HRH Princess Badiya bint El Hassan of Jordan, and its Managing Director John O'Brien were warm yet challenging. They talked of a big society and the confidence to have the curiosity to go beyond our differences as Muslims.
But it was the students' performances and presentations of their work that showed us what the speakers meant. Poetry by the Tapestry of Talent that provoked thought and presentations from students on the Mosaic Stars Leadership Programme that were professional and engaging.
The event and Mosaic's aim are what should be the norm. We can be victims of negativity, yet Mosaic elegantly abates that by putting the students' front and centre, exhibiting what can be achieved with professionalism, dedication and inspiration.
Share this


Link to this
Printer Friendly