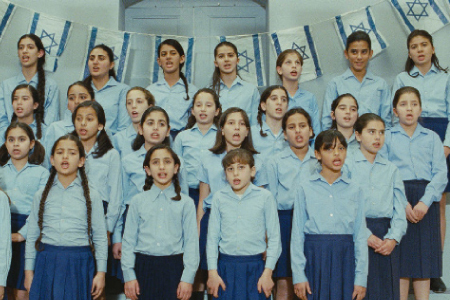 The Time that Remains
Issue 71 August 2010
Review by Mohammed Elshimi
This semi auto-biographical account by Elia Suleiman is a deeply personal, intimate, and refreshingly alternative take on the plight of Palestinians under occupation. Inspired by his father's diaries which documents his role as a resistance fighter in 1948 and the letters his mother wrote, 'The Time that Remains' is a perfect example of how the whole is certainly greater than the sum of each part. The spectator is treated to the absurdity of life under colonisation, the multi-layered and yet straightforward narrative, the deadpan humour which cuts through the stale and banal barren present, and the impact of silent sequences. The result is a visual representation of another sort that works wonderfully well despite the slow pace of the narrative and the questions the spectator is compelled to ask but never really has answered.
The viewer is never left having to connect the dots as a result of the straightforward narrative, which unfolds in the traditional Christian city of Nazareth and which chronicles the life of Elia's family from 1948. The raison d'être of the film is its eagerness to depart from traditional fetishist portrayals of the Palestinian condition. Although we are taken on a journey that spans over five decades, it never feels as if we move through time; the characters age and die, whilst settings evolve subtly to match the relevant time of the plot. But the spectator is never able to overcome the ubiquitous feeling that the lives of the characters happen to be stuck in a perpetual present. It is a present overshadowing the suspended tomorrow whilst looking back at the past nostalgically. This intimate depiction thus achieves what representations in the media and other artistic expressions on Palestine fail to do: articulating the poetic representation of reality beyond the political, military, and religious domains that saturate most accounts of the Palestinian story.
The aim is subtle and yet clear; by personalising the story of the Palestinian struggle under the shackles of occupation, Elia attempts to make Palestine a place that exists everywhere and anywhere so that it no longer belongs only to Palestinians but everyone.
This film is littered with moments of amusement and periods of intellectual provocation. Although not for everyone, the impact is louder than the silent journey. Elia adeptly succeeds in situating the complexity of the Palestinian struggle in the 'arena of speculation' by decolonising space and time. It is a must see for anyone wanting to view this very familiar story in an unfamiliar and substantially different way.
Share this


Link to this
Printer Friendly