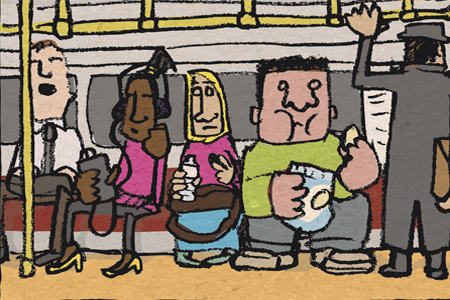 Diary of an Expat - Festive Ramadan
Issue 71 August 2010
It was an experience that I had often envisaged. Imagine, day becomes night and night becomes day. This is what Ramadan was like in the Middle East. Office hours were reduced, allowing those fasting (and those who weren't) to be home by mid-afternoon; a welcome relief for those desperate for a siesta. I noticed that there was a great deal of emphasis on charity work during this month; young and old were encouraged to give what they could to the underprivileged.
One afternoon, whilst at work, I noticed a colleague having a snack at his desk. My boss, who was an adorable old English gentleman and had been living in the UAE for more than twenty five years, saw this. "Patrick! Have some respect! Don't you know that it is Ramadan? If you want to eat, then go into the tea room and eat in there. I don't want to see you eating at your desk for the rest of the month," said Mr Cooper, in a rather stern manner.
I was amazed and pleased at Mr Cooper's reaction. I realised that the only way for any society to function peacefully was for the individuals who make up that community, to respect one another's beliefs. Muslim or non-Muslim, it should not be about which faith you belong to, it boils down to respecting one another and having mutual tolerance.
Ramadan in the UAE was festive. For once, my children realised the importance of this holy month and were delighted when their school and fellow class mates displayed excitement in anticipation of Ramadan arriving. "Mum, do you know that we will be coming home early for a whole month?" exclaimed my youngest. "Mum, we made special 'Ramadan Mubarak' cards in school today and learnt a special prayer that is meant to be recited throughout the month of Ramadan and we are putting up star and crescent decorations!" explained an excited Maryam. It was like Christmas but not Christmas. We all sensed the excitement and joined in the festivities. It was Ramadan and we realised that this is what it was meant to be like.
My memories of growing up in London during Ramadan were mainly of breaking my fast on the tube. I would leave University, rush to get onto the underground - trying to avoid all the commuters who were munching on a packet of crisps and attempt to fight for a seat just so that I could indulge in my 'date' the moment the clock struck iftar time. I would slowly pull out my carefully wrapped date and a bottle of water. Silently, I would recite my iftar prayer. Once off the train, I would run home, change, wash up and offer my salah. Dinner was laid on by my wonderful mother, who insisted we ate a full meal, despite the fact we were not that hungry. There were no Islamic channels; just one radio station that would broadcast the adhan at iftar time, which I would usually miss by the time I got home. And so, the weekends were always a big affair and it is the weekends that made us feel as though the month of Ramadan was unique and special.
In contrast, the UAE was very celebratory of the holy month of Ramadan. This is what made the experience unforgettable. During suhoor, the recitation of the Holy Qur'an could be heard from the mosques, whilst you sat at home. There was food available to buy, should you not wish to prepare anything in your own kitchen at that time. Then, when it was time to make your intention to fast, you would hear the Imam reciting it over the loud speaker from the mosque. It was a spiritual and unifying experience. The majority of food outlets remained closed during the day and opened after iftar. It was not permissible to eat or drink in public and doing so resulted in a hefty fine! Shopping malls would seize playing music during the day. Instead, one heard the recitation of the Holy Qur'an.
After iftar, the streets came to life; the shisha tents sprung up all over town, iftar tents were dotted along the highways for passing travellers to stop and break their fast and most importantly, there were prayer facilities available. This went on until suhoor time, so you could eat from iftar continously (if you had a stomach like a bottomless pit) right through to suhoor! It made Ramadan easier; not to say that fasting in the desert heat of the UAE was an easy task, but the convenience of being able to practice your faith, as part of your lifestyle and for that to be the norm, was indeed a pleasure.
Illustration Grischa Heyer
Words Mehvash Khan
Share this


Link to this
Printer Friendly