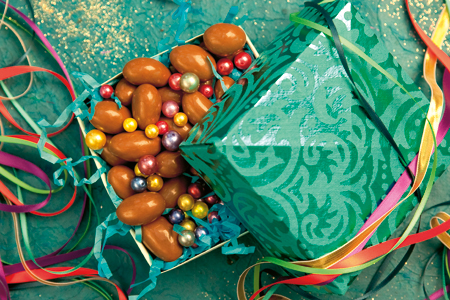 Eid Bites
Issue 72 September 2010
Eid is a joyous time filled with family and friends. Enjoy these great moments, with little morsels of sweetness, perfect for gatherings with loved ones.
Photography by Seven Lawson
Styling by Fatema Zehra
Date and pistachio tartlets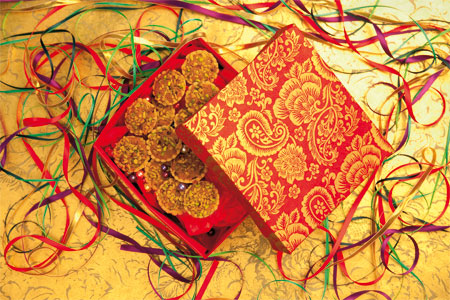 Ingredients
½ x 375g packet chilled dessert short-crust pastry
1 tbsp date jam
30g butter, softened
30g caster sugar
30g ground almonds
1 medium egg yolk
Few drops of almond extract
12 level tbsp chopped pistachios
7cm fluted cutter
Tart baking tray
Method
Set the oven to gas mark six or 200°C.
Roll out pastry on a lightly floured surface. Using the cutter, cut the pastry to line bun-tray holes, re-rolling pastry as necessary.
Mix the jam in a small bowl until it's runny, and then place a very small amount in the base of each pastry case, smearing it out to cover the base.
Beat the butter so it's really soft, and then add sugar, ground almonds, egg yolk and almond extract. Beat until smooth then divide mixture between pastry cases, spreading it out slightly. Sprinkle the pistachios on top.
Bake tartlets in the centre of the oven for 10 minutes, then reduce oven temperature to gas mark two or 150°C, and cook for a further 10-15 minutes, or until they are a light-golden colour.
Remove the tartlets from the oven and transfer them to a wire rack to cool.
Caramel Chocolate Crunchies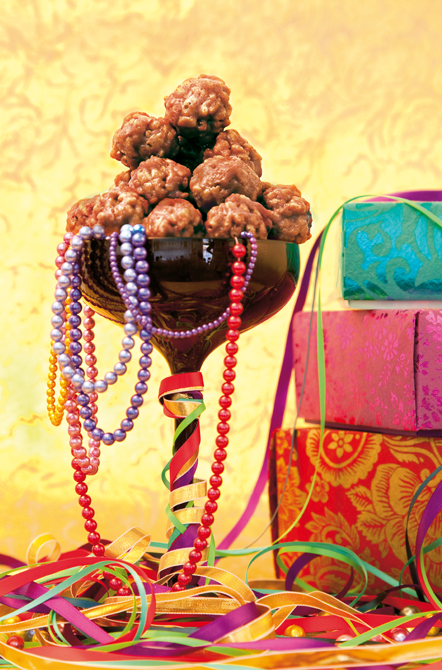 Ingredients
50g golden caster sugar
50g unsalted butter
50g honey
150g chocolate (broken into small pieces)
rice krispies or other cereal
Method
Combine the sugar, butter and honey in a saucepan and cook on a low heat until butter is melted and sugar dissolves.
Turn off the heat and add the chocolate, stir until chocolate has melted.
Add the crushed cereal and allow to cool slightly.
Roll into balls and chill in the fridge.
Cinnamon Fudge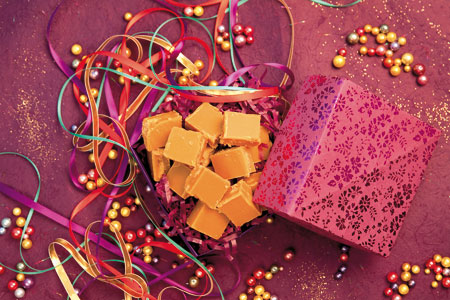 Ingredients
oil, for greasing
300ml milk
350g caster sugar
100g unsalted butter
1 tsp cinnamon extract
Method
Grease an 18cm square cake tin.
Put the milk, sugar and butter in a heavy-based saucepan. Heat slowly, stirring all the time, until the sugar has dissolved and the butter melted.
Bring to the boil and boil for 15-20 minutes, stirring all the time.
When the mixture reaches the soft-ball stage (115°C on a sugar thermometer), remove from the heat and stir in the vanilla extract. Leave to cool for five minutes.
Beat the mixture with a spoon for a few minutes until it starts to thicken and the gloss disappears.
Pour into the prepared tin and leave to set at room temperature.
Once set, cut the fudge into small squares and store in a sealed container.
Lemon Meringues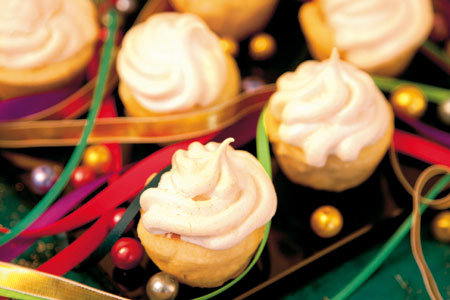 Ingredients
Short-crust pastry
225g plain flour
100g unsalted butter (cubed)
30-50ml cold water
Jar of lemon curd filling
Meringue
2 egg whites
100g caster sugar
Method
With your fingertips, gently work the butter into the flour until you have a fine, breadcrumb consistency.
With a palette knife, mix the cold water slowly into the flour and butter breadcrumbs until the mixture forms a ball but is not sticky.
Wrap in cling film and leave in the fridge for at least 30 minutes.
If you're using a mini-morsel tray, roll into small balls and press into the tray using the wooden tool. Alternatively, roll out to 5mm and cut out using a pastry cutter and line a fairy cake baking tin.
Put in a 200°C oven for 8-10 minutes until the pastry is cooked.
Fill with a ready-made lemon curd filling; an extra zesty variety will give you the best flavour.
Making sure that your utensils are very clean and grease free, separate the egg yolks from the egg whites, making sure that no yolk pollutes the egg white.
Using an electric whisk on high speed, whisk the whites until peaks are formed. Very slowly, add the sugar, whisking all the time.
Spoon into a piping bag, with a wide-end nozzle and pipe over the lemon curd filled pastry cups.
Return to the oven, turned down to 150°C and bake until the meringue is cooked.
Chocolate coated stuffed dates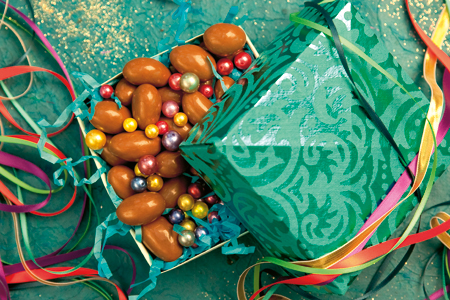 Ingredients
453g semi-sweet chocolate, chopped
20-25 pitted dates
Toasted almonds, walnuts or pistachios
A skewer and parchment paper
Method
Line a large baking sheet with parchment paper.
Stuff each date with the nut of your choice. Melt chocolate in a microwave safe bowl for about three minutes, stirring halfway through cooking time.
Using a skewer, dip each date in chocolate. Allow the excess chocolate to fall off by carefully rotating the skewer. Place dipped date on parchment paper and leave to cool.
Repeat this process with the remaining dates.
Allow dates to set in the refrigerator for about 20-30 minutes before serving.
Peppermint creams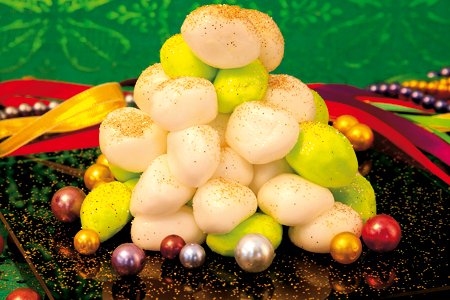 Ingredients
1 egg white
1 tsp lemon juice
400g icing sugar
Few drops of peppermint flavouring
Green food colouring (optional)
Method
In a large bowl, lightly beat the egg white. Add the lemon juice and gradually add the icing sugar, mixing until you have a smooth, firm dough.
Add the peppermint flavouring or oil to the dough and mix together.
Divide into two and add a little pink colour to one and green to the other should you choose to use the colouring.
Knead until the colour is even. Wrap in cling film if you're not using the dough immediately.
Dust a work surface with a little icing sugar.
Using a dusted rolling pin, roll the mixture out and use cutters to cut out shapes or letters.
Leave to dry on a large, lined baking tray, then eat or wrap up ready for later.
Share this


Link to this
Printer Friendly