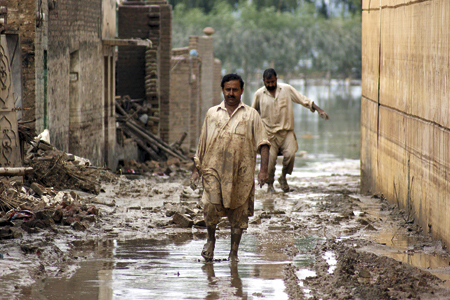 The Forgotten Flooded
Issue 72 September 2010
With 20 million people displaced and an area larger than England under water, Pakistan stands on the brink of chaos. Ethar El-Kataney examines the catastrophe the world is ignoring.
"I will never forget the destruction and suffering I have witnessed [in Pakistan]" said United Nations Secretary-General Ban Ki-moon in mid-August. "In the past I have witnessed many natural disasters around the world, but nothing like this."
Millions of people - at least a quarter of the population - have been affected by the worst natural disaster Pakistan has ever seen. It's estimated that 20 million people have been made homeless, and the disaster is far from over. At press time, warnings of new flood waves and more heavy monsoon rains towards the worst-hit areas threaten to increase that number substantially, and the flooding may continue for weeks.
The flooding has been described by the United Nations as a disaster worse than the 2004 tsunami. But within days of the tsunami, more than £100m had poured into Oxfam, the Red Cross and other charities, whereas weeks after the floods began, a Pakistan floods appeal by the Disaster Emergency Committee barely raised £12 million. Oxfam has raised £28.7 million for Pakistan in 10 days; it raised £476 million in the 10 days following the Haiti earthquake. The UN said on Aug. 13 it had received only 20 percent of the $460 million it needs to provide aid to the homeless and hungry.
The deluge in Pakistan began in late July, when heavy monsoon rains caused the Indus River to swell past flood barriers and into the country. It has continued non-stop for weeks, and is expected to last for more, wrecking a path of destruction through 600 miles, and demolishing thousands of villages. Millions of acres of sugar, cotton and rice crops costing billions of pounds have been decimated, and in some places 90% of agricultural land has been destroyed. The UN says the disaster has affected a fifth of the country's land and Finance Secretary Salman Siddique believes it may cut Pakistan's economic growth in half—it is estimated that the country's GDP will go down by at least 2% this year.
Limited access to water and unhygienic conditions mean that fever, diarrhoea, and cholera are already spreading throughout the country, adding further dangers to the disaster. As of mid-August, at least 36,000 cases of potentially lethal diarrhoea had been reported, with the dirty floodwater, heat, and hundreds of dead animals posing deadly health hazards. The World Health Organization (WHO) estimates that as many as 300,000 people may contract cholera and up to seven million will suffer from diarrhoea.
Food shortages mean prices have quadrupled, with millions of people having little or no access to food. "We have been fasting continuously, even before Ramadan began," survivors have been saying. At least seven million people need immediately humanitarian assistance: shelter, food, clean water and emergency
health care. With bridges, roads, communication and energy networks having been washed away and with media access being limited by state officials, it is estimated that there might be hundreds of thousands of people cut off in remote areas that getting aid to them will be near impossible.
Aid organisations are scrambling to collect donations for a country where more than 73 percent of the population normally lives on less than $2 a day, nearly one-quarter of the population is undernourished, and close to 40 percent of children are underweight. Rebuilding the country is expected to cost billions of pounds - food aid alone needs at least half a billion pounds - and international appeals are expected to only cover immediate needs for the next few months.
Human Relief Foundation, which has been actively working in Pakistan and Kashmir for the last five years, is working to provide those most in need with food, shelter, medicine and hygiene-kits. www.hrf.co.uk
Islamic Relief Worldwide has appealed for £2 million to provide assistance to survivors who need clean water, food and shelter. HRH the Prince of Wales has sent a donation to Pakistan through them. www.islamic-relief.org.uk
Human Appeal International has been working in Pakistan since 1999. They are currently running a mobile clinic in the SWAT region and distributing food parcels, clean water and tents to the worst affected areas. www.humanappeal.org.uk
Oxfam is working to bring water, sanitation and hygiene projects to the affeced areas. www.oxfam.org.uk
Share this


Link to this
Printer Friendly