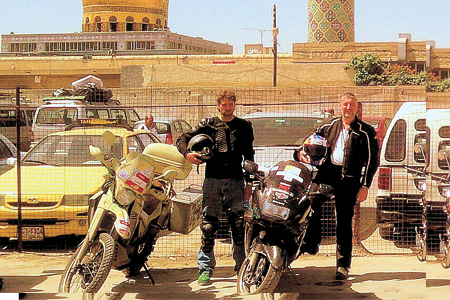 The Bike Diaries
Issue 72 September 2010
Riding from Europe to the Middle East, Anwar and Alexis discuss how their friendship blossomed into brotherhood.
Anwar
I first met Alexis in our local mosque. He came across as a very well rounded, serious individual and he appeared very committed to his faith. Last year, we went on a pilgrimage trip to Syria, and it was during this trip that I properly got to know Alexis. It was a profound spiritual experience for both of us, and although I had been to Syria before, I found that sharing this experience with someone as committed as Alexis actually had an impact on my own way of thinking. When we were back home in the UK, one of the things that kept coming up in our conversations was the plight of children in Syria. It was then that both of us decided that we should do something to help them, and Alexis suggested a sponsored motorbike ride to Syria. Whilst working on that project, the close friendship between us soon developed into to a strong, brotherly bond.
Our most interesting shared experience has been our London to Syria challenge. This was a massive project for both of us, and throughout its planning process, we faced many obstacles to the extent that we weren't even sure if we could go ahead with it in the end. But we managed to resolve all the problems through sheer determination, and the feeling of achievement has been a particularly rewarding one.
I would have to say that the most touching moment was when Alexis and I reached the final destination of our motorbike ride. With tears running down our faces, we hugged one another and without saying a single word, we knew that together we had achieved something wonderful, something that was likely to leave an indelible mark on our lives and stay with us forever.
Though Alexis and I share similar religious and moral principles, we are very different people. Whilst Alexis is a natural worrier and sometimes takes on too much responsibility, I am far more laid back. One of the things I really admire about Alexis is his dedication to whatever task he is entrusted with. His keen sense of duty and very sharp sense of humour make him a joy to be around. I think the mere fact that we are two very different people and were able to bring to life such an ambitious project, proves our special bond, and one that will, God willing, stay strong for the at least the foreseeable future.
Alexis
Anwar and I got to know each other in 2009, during a pilgrimage journey to Damascus and other cities in Syria. The first impressions I had of Anwar were that he was a modest and quiet personality, and that he had big ambitions in the travel industry, focussing especially on the Middle East region.
Anwar had travelled to Syria many times before, but what we have in common is a deep appreciation for what the country has to offer in way of history, culture and archaeological sites. During our journey, we saw many children in need; engaging in child labour with little to no chance of personal or career development. This inspired us to do something in aid of these children, to give them a chance for a better life, which led to the birth of our London to Syria 2010 motorcycle charity ride. It was a tough and incredibly stressful challenge, to say the least.
During our ride from Europe to Turkey, facing dangerous driving as a result of horrendous road conditions and massive heat waves, we often wondered why we were doing all this. It was only when we arrived at the SOS children's villages and were greeted by so many smiling faces that constantly thanked us for our efforts, that we realised our achievement. Their smiling faces made the entire experience, including eight months of constant planning, Anwar's £1500 phone bill to Syria, and of course the journey itself, completely worthwhile.
Anwar and I aren't very similar in personality, but what unites us is our love and passion for Syria, its people and everything that makes the country so special. Though we are different, Anwar's profound knowledge of Syria and its people, combined with my knowledge of Arabic, ensured that we would succeed and overcome the difficulties of this challenge. Our faith is another common bond, as it bridges the cultural gaps within our friendship.
I'd like to think that my friendship with Anwar, particularly over the last eight months, has become something more akin to brotherhood. What I admire most about Anwar is his humility, his calm nature, and his dedication to an objective. Bringing the charity project to life has strengthened the bond between us, and we have supported one another like family on this journey. l
Share this


Link to this
Printer Friendly