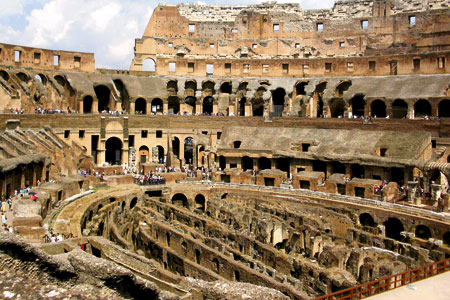 Roman Holiday
Issue 72 September 2010
Roman writer, Cassiodorus, called the city of Rome the eighth wonder of the world. Noha Ahmed marvels at what it has to offer travellers.
Rome, as an unexplored terrain for a first time adventurer, lies less than two hours away from London and is perhaps one of the most beautiful cities in Europe. A lost world of rich history, magnificent tales and beautiful architecture, Rome is an explorer's paradise.
With endless, cobblestone vias leading through some of its most historic piazzas, the best way to discover Rome is on foot. It should be noted then, that unlike Audrey Hepburn's natural ability to look astoundingly beautiful under the intense Roman sun, 'cute shoes' are a no go in Rome. It's comfort all the way; especially considering the 138-step stairway of the Spanish Steps that is bound to leave even the most fit and healthy gasping for breath. The climb is no doubt worth it, as the top of the Pincian Hill provides magnificent views overlooking Piazza del Popolo, St Peter's Basillica, The Parthenon and many more of Rome's staple architectural buildings.
Not far from the Spanish Steps, nestled within the intertwining streets, lies Trevi Fountain. Standing at 25.9 metres high and 19.8 metres wide, Trevi Fountain is the largest Baroque fountain in the city. Naturally, due to its national significance, it's difficult to find a time of day when Trevi Fountain isn't brimming with tourists. But it's definitely worth the photo opportunity and a short marvel at the magnificent attention to detail paid by Salvi in the baroque design of the fountain.
A short stroll away lays one of Rome's most cherished treasures, the Colosseum. The amphitheatre, built between 70-80 CE, is considered to be one of the greatest works of Roman architecture and it is, without doubt, a breathtaking sight. With an ability to seat over 50,000 spectators, the Colosseum was originally used for gladiator battles, executions, dramas based on Classic Mythology and mock sea battles for the entertainment of the Roman public and their emperors. Having withstood multiple earthquakes, parts of the Colosseum have had to be reconstructed; which is clearly apparent when one is stood under the majesty of this architectural marvel. It is, of course, a must see but I would recommend that you spend a little more than the standard 15 euro entry fee, and opt for the 25 euro 'English tour' which allows a queue jump. Though an extra 10 euros sounds steep, under the 45 degree heat, with no air-con and a wait of over two hours, it most definitely is worth it.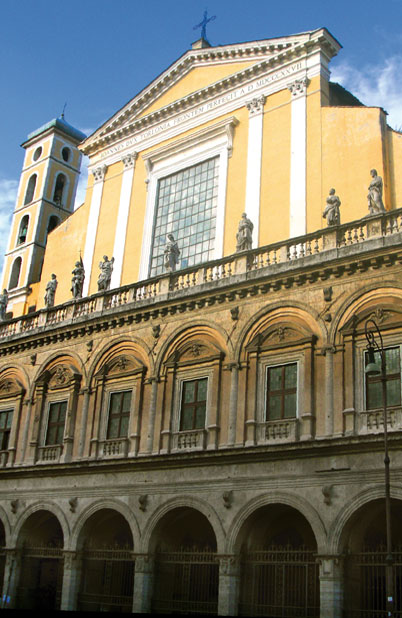 There are over 900 churches in Rome, nestled within its cobbled streets
The intricate details of a carved coloumn, depicting a victorious battle
The most expensive of the tours available is most definitely Vatican City and the Sistine Chapel. At 50 euros, the tour provides an English guide to walk you through the museums and art galleries of Vatican City (of which there are plenty!), as well as providing an in depth analysis of Michelangelo's Sistine Chapel and ending with a short tour of St Peter's Basilica. It is a tour not to be missed.
From some of the world's most intricate and complex, hand-made mosaic patterns, to Michelangelo's David, the Vatican museums provide insight into some of the most world-renowned collections of Modern Religious Art. The walk through the museums to the Sistine Chapel takes, on average, an hour (depending on the season of your visit) and allows for some magnificent views over the Vatican gardens and the dome of St Peter's Basilica.
Rules and regulations are strict within the Sistine Chapel and the Swiss guards are not ones to be crossed; with cameras being strictly forbidden, the first snap results in an aggressive technology tackle and the second, an arrest (I speak only from a spectator's experience, rather than a first-hand one) but I would recommend that you keep your camera concealed at all times. Truth be told, the sheer beauty of the chapel is so overwhelming, that there is little time to reflect on anything but the talent and God-given ability of the artist. It is reputed that Michelangelo once professed, "Lord, grant that I may always desire more than I can accomplish" and that is ultimately evident when stood under the colossal greatness of this masterpiece.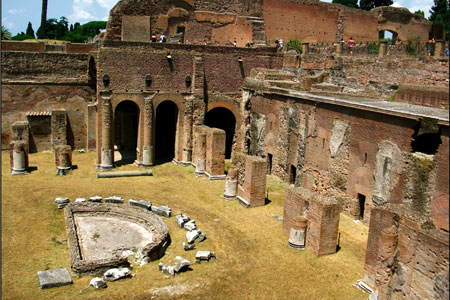 The view from Palatine Hill overlooking some ruins
Rome is a treasure map, just waiting to be explored. From the Palatine Hill which offers a look over the Roman Forum, to the Four Rivers fountain and The Parthenon, Rome is brimming with ancient history and Italian culture.
Pizzas and pastas are, of course, the specialities – so if you're not a big carb-eater, you'll have to adjust to a relatively limited diet. Italians aren't big meat–eaters, in fact, most cuisine is packed with tomatoes and herbs – simple yet utterly delicious. Food isn't too expensive, depending on where you choose to dine and there are delightful 'sofa cafes' dotted around the place that allow a relaxed and authentic dining experience. As far as travel is concerned, the metro is the safest option; with a day pass available for 1 euro.
Rome is, however, one of the most expensive cities – with the majority of expenses being on excursions, souvenirs and taxis. So, be warned that it's probably best to visit around pay-day!
Share this


Link to this
Printer Friendly